Subscribe
2022 Thrive Wellness Olympics Recap
During October, residents and team members from across all Presbyterian Senior Living (PSL) communities participated in the second annual "Thrive Wellness Olympics" and the following events:
Move-A-Thon – Physical Dimension
Kindness Rocks – Spiritual Dimension
Talent Show – Emotional Dimension
Two selections: Cards for the Troops and Humane Care for animals – Vocational Dimension
Guest speaker – Intellectual Dimension
Social mixer – Social Dimension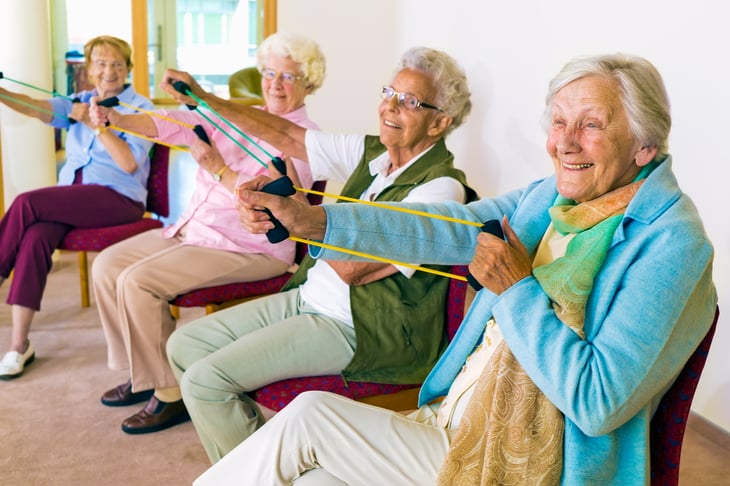 On November 16th, residents and PSL team members from across the organization gathered virtually for their fourth quarterly forum of the year, and a recap of the Olympics. There were approximately 35 to 40 people in attendance from 10 communities.
Each community shared a recap of their October Olympics as well as activities and special events that were held. So many wonderful opportunities were available for fun and fellowship throughout the month engaging both residents and team members. The following is each community's report and does not represent everything that happened in the communities:
Green Ridge Village
Many events were held including a movie event- Hachi- with parrots. Residents delivered 215+ cards to the veterans in the VA Hospital in Lebanon, PA. They also collected 59 lbs of linens for the local animal shelter and held a Move-a-thon! A very popular social event was a haybale/scarecrow event in their circles with neighbors. Lots of Kindness rocks were created and placed around campus. They learned that residents received a reward from the activity since there was a wellness focus on the events.
Ware Presbyterian Village
Residents held a Thanksgiving food drive for a local charity, the Neighborhood Services Center – they filled over 100 boxes of food and donated $3,225. A Move-a-thon was very successful and they "walked virtually" to and from Kiev in honor of Ukraine, and still had 1,000 miles left over! Every 15 minutes of movement was equal to one mile. A Medical care subgroup focused on procuring physician on-site services and telehealth and on how residents can best utilize the services of the health center. Residents are looking into a lecture series and had one already on COVID origination, prevention, and treatment. Kindness Rocks were made - over 150- and were set up as a labyrinth as pictured below.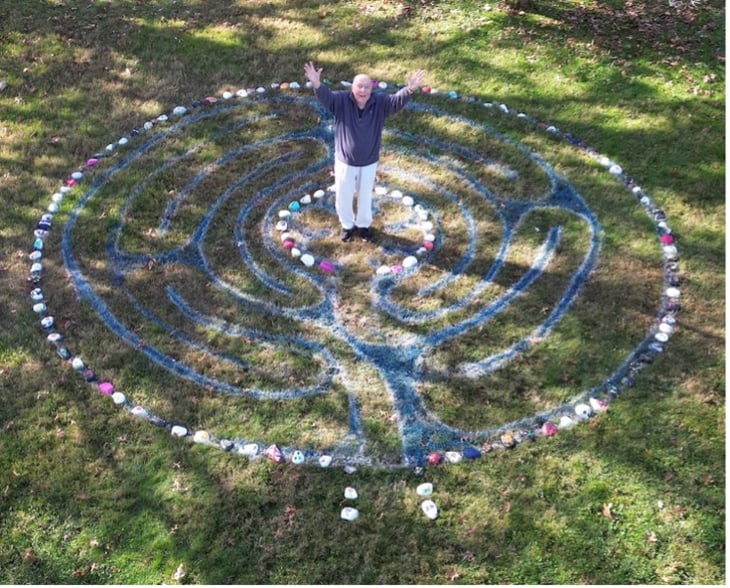 Jim Kirk and the Ware Outdoor Kindness Rock Labyrinth
Westminster Woods of Huntingdon
Residents and team members embraced the theme of inclusivity, ensuring all levels of living were included. They also reached out to St. Andrew's Village, another PSL community, and participated in a social event with them – a Cruise on Raystown Lake! They combined the Vocational with Intellectual dimensions and made contributions to a local Humane Society. Residents filled the giving box 3 times, which equates to 3 carloads! The humane society in return gave a talk about fostering and adopting pets. Residents also shared their experiences with rescuing. "Walk-tober"- consisted of 4 teams of residents and team members – it was competitive between departments/teams and residents. Housekeeping/Environmental Services won. 60 people participated! Thrive is embedded into their culture and not just an extra thing. "Out of the Woods" was held where once per month residents share something of interest to them with other residents. Personal artwork was shared, as were the emotions that informed its creation by the resident artists.
Long Community of Highland
As part of the Physical dimension, Yoga ball drumming had a full room of residents! Cards for troops were sent to a VA hospital and also to the veterans on campus. Kindness Rocks were a lot of fun and are located around the community flag pole. A pie social was held where residents brought a pie to share. The resident/team member Talent Show was super great as 16 residents and staff performed for a packed room! There was a lot of energy and positivity at this event and everyone had a great time.
Presbyterian Village at Hollidaysburg
"Loving Hearts" is a local rescue for which residents collected items. There was a fashion show led by residents, and it was a spoof on high fashion. A Kindness tree was created instead of rocks in a high-traffic area that could be seen by and contributed to by all. Residents held a Carnival – old fashion church style- there were lots of people, games, and stations of things to do! They successfully engaged residents living in the health center as much as possible. One of the local businesses- McClanahans- which is one of the oldest family-run businesses in the United States, gave an interesting talk that was hugely popular.
Glen Meadows
A sound healing meditation session was held with residents. It was so popular it will now be on the regular calendar once a month. For the Intellectual dimension, a guest speaker, Charles H. Twining Jr., was an American diplomat and a career foreign services officer in the state department who lives locally shared his experiences as an ambassador. His topic was on resolving issues through diplomacy. The Fall Festival is a staff appreciation event where staff bring their kids in to trick or treat. They held multiple stations where residents led the event to thank the staff for all they do throughout the year.
Cathedral Village
Residents appreciated that their ongoing activities are in alignment with Thrive, and they worked to determine the dimensions for each program. They challenged themselves to imagine what they can do and therefore tested out some new activities. Musicians on campus held a sing-along with residents living in Independent Living, the Health Center, and Personal Care. A Move-a-thon was held across campus – the top 3 movers had over 17,000 minutes, which were converted to 1,133 miles! Staff and residents made Kindness Rocks together and had a blast! "Village College" occurs 4 days a week where residents share their passions and talents with other residents. There were some guest speakers- Eye health, Medicare updates, Open enrollment, and Fall prevention. A local councilman arranged a jazz performance and lunch for the residents and staff. Residents living in the Health Center participated in the Olympics which were built into their calendar to tailor events to each floor of residents' interests and abilities. Each day they featured a dimension of wellness and were educated on it and the Kindness Rocks were very well received in the health center! As a social mixer, the Halloween party was highly successful including costumes and prizes.
Kirkland Village
Residents held a "Field Day" with a variety of events: quoits, bocce, putting green, and bean bags. Lunch was provided as well as a treat bag. During the Move-a-thon, residents decided to compete against another PSL community; Ware Presbyterian in Oxford, and the Administrative Office in Dillsburg, and moved 104,000 minutes, the equivalent of just under 7,000 miles! Kindness Rocks were enjoyed by all and will go in the new outdoor space. Humane Society donations were collected and as part of Cards for Troops- 40 cards were sent to the VA hospital. Residents went to the Bethlehem Area Catholic High School and shared their veteran stories with students - it was featured in the local newspaper. A residents' Talent Show had 10 participants and many people attended! A social mixer Halloween party was held with residents and team members' families.
St Andrew's Village
The social mixer was a wine-tasting event. Additionally, a "Coffee and Chat" event was held. The community church services are all-inclusive and non-denominational. Resident outings have been very popular, one of which was a day trip to Raystown Lake meeting up with residents of Westminster Woods - it was fantastic! The Comfort K9 dog Axel from the local police station will be visiting St. Andrews in January. Kindness Rocks brought much enjoyment and will be placed in the beautiful outdoor courtyards.
Quincy Village
A Move-a-thon was held and 2,407 miles were moved by 13 residents, equivalent to a walk from Quincy Village in Waynesboro, PA to Death Valley, CA. Residents are still making Kindness Rocks and are starting to see them pop up across the village! Cards for veterans were created and shared with their own resident veterans in the health center. A team member gave a presentation on the local and regional history of the area which was attended by over 80 residents!
Administrative Office
Team members participated in the Move-a-thon, Cards for Troops, and Kindness Rocks. Friendly competition between the AO (Administrative Office) team, Ware Presbyterian Village, and Kirkland Village in the Move-a-thon event had Ware finishing in first place with 10,740 miles moved, Kirkland Village in second place with 6,959 miles moved, and the team from AO in third place with 1,473 miles moved. Team members really enjoyed making and placing the kindness rocks.
The 2022 Thrive Wellness Olympics were a huge success and brought about many ways of experiencing them, particularly to each community, as residents were able to really be creative and decide how they wanted to create their events.
We look forward to more fun and fellowship across PSL next year in the 2023 Olympics!
Thanks so much to all residents, team members, and families for being part of the festivities and creating so many wonderful memories. As part of the Olympics, many charitable contributions were made with a tremendous positive impact on the greater communities across PSL.
In closing, I want to share this resident testimonial from a resident living at Green Ridge Village who is on their Thrive Wellness committee.
"I realized this is what wellness is all about, rather than getting up in the morning and going through the motions, we can adopt habits that improve our quality of living and give us purpose. None of us knows how many days, months, or years of living remain, let's work together to develop habits and practices to help each other thrive in our community."
---
Please stay tuned for next month's post for Thrive Wellness updates and share this information with your friends. Invite them to subscribe to the Waypoints Learning Center. Thrive Wellness monthly blogs will post at the end of each month.
People who come to Presbyterian Senior Living come for more than just a place to live– they come to feel energized, challenged, and fulfilled; they come to THRIVE.