Philanthropy | Thrive Wellness
Today we wish you a very Happy Thanksgiving! To spread the holiday cheer, we'd like to take a moment to reflect on the Thrive Olympic Challenge and the benefits it brought to not only the residents who participated but also surrounding communities as a whole.
Autumn is a wonderful season of the year that brings with it many traditions and celebrations. You can see beautiful colors as the leaves change and participate in various fall events such as hayrides, apple picking, corn mazes, etc. When walking or driving through your neighborhood on a nice day, you may even smell the pleasant aromas of fresh fruit pies and baked goods filling the crisp autumn air.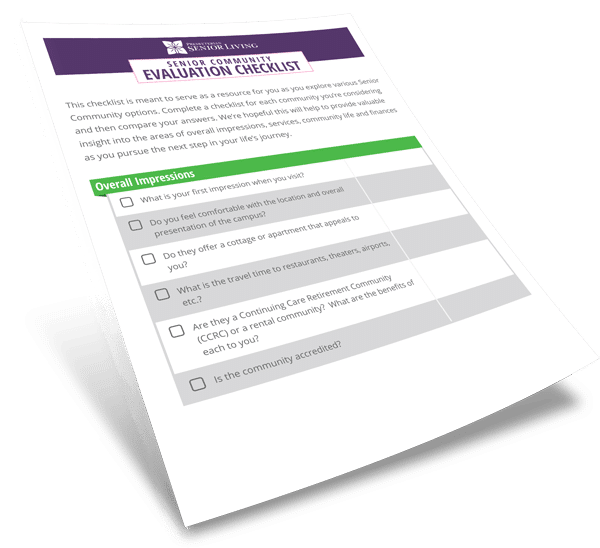 Are You Asking the Right Questions?
Subscribe to the Presbyterian Senior Living blog and receive our free Community Evaluation Checklist to ensure you ask what's most important to you.
2021 has been an exciting year so far for Thrive Wellness, as community committees have been forming in Presbyterian Senior Living's Continuing Care Retirement Communities. Residents have been leading the efforts, inviting team members to join these important committees that meet monthly in each community.
A few months ago, in one of our Thrive Wellness blogs, we highlighted walking as a great way to engage in a simple, easy, healthy physical activity. Walk when you have time and enjoy it – walk inside, perhaps on a piece of exercise equipment, or head outdoors. When walking outside, one not only gains the benefits of the physical movement itself – but can also enjoy other key dimensions of wellness such as emotional, spiritual, and social. Walking is an activity that is beneficial for various reasons, but how a person walks is noteworthy, as well.
April is Volunteer Appreciation Month! Every spring, PSL communities honor and celebrate the valuable contributions that volunteers provide them. Volunteers bring their talents, gifts, and skills to share and positively impact the lives of many residents. In this blog, we'll explain why volunteers are such a vital part of our organization, and hear from two avid volunteers at our communities!
Spring is officially here….and with this wonderful season comes longer days and a trend towards warmer days as well. Fresh air and vitamin D are just a few of the health benefits derived from walking outside. Consider going for a stroll around your neighborhood and community – get outside and really breathe in the fresh air.