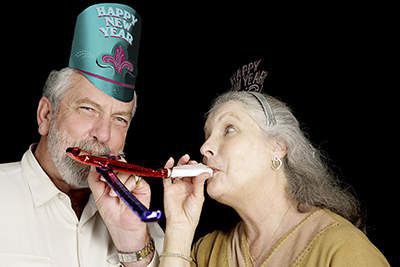 Subscribe
5 New Year's Resolutions for Active and Healthy Seniors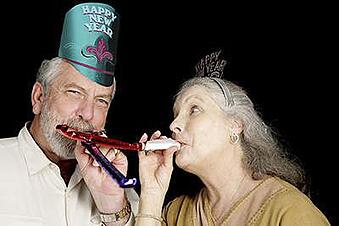 The new year will soon be upon us as 2015 marks the beginning of a fresh start. If you've been struggling on and off with healthy goal setting, prioritizing, and finding time to enjoy the hobbies you cherish, then this is a great time to rethink and plan for the future.
Try not to let another year go by without focusing on what's most important to you. Whether it's personal health and fitness goals, volunteering with a local community organization, or spending time with family and the grandkids, the following 5 New Year's resolutions will help you start 2015 off right.
Pledge to be more healthy and active. Did you know just 20 minutes of physical activity is very beneficial to overall health? Studies show that 20 minutes of low to moderate exercise can lower blood sugar, cholesterol, heart disease, and other chronic health problems. Try taking a walk around your senior living community, biking with a group of friends, lifting weights, or using a resistance band during workouts. You may also want to try balance exercises, which can help to prevent falls and possible injury. In addition, stretching can help to improve flexibility and blood circulation. Remember it's best to check with your physician before starting any exercise regimen.
Pledge to eat clean. Eating clean can be an adjustment, especially if you're not used to it. However, with a little time and discipline, you'll be reaping the rewards of your newly found lifestyle. For instance, eating clean gives your body the nutrients it needs to keep your muscles, bones, and body healthy. Make sure you're getting your daily intake of vitamins, minerals, and protein. Drink water throughout the day to keep your body hydrated and full of energy. If you have a specific medical condition or other dietary needs, check with your physician or nutritionist regarding foods you should or shouldn't eat.
Pledge to discover new likes, interests, and hobbies. Hobbies can improve memory function. According to Psychological Science, older adults who involved themselves in mentally challenging hobbies saw significant gains in memory and cognitive brain function. Not only can hobbies help to improve memory, but they also help to relieve stress. Many senior living communities offer photography, scrapbooking, or woodworking clubs. You can also check with your local community center or YMCA for a list of senior friendly clubs and activities. Without a question, you'll feel good about the new friendships you'll make.
Pledge to finish writing that story or book you started. Writing, just like other hobbies, can be very cathartic; the best part is the written word isn't lost just yet. Whether you enjoy creative writing or simply want to leave a legacy for loved ones, writing offers the opportunity to do just that. Studies have found that writing also helps to delay degenerative brain illnesses like Alzheimer's disease and other forms of dementia. Not the story writing type? Playing games like crossword puzzles and Sudoku can be a great alternative.
Pledge to give of your time by volunteering. Volunteering and giving of your time can bring about a sense of purpose and satisfaction to one's life. As adults age, it's easy to get stuck in a rut—doing the same thing day after day. If you've lost your zest for life, volunteering can bring back a sense of accomplishment while blessing others in return. There are endless opportunities for volunteering, whether it's visiting those that are shut-in, delivering meals to other seniors, or giving of your time at a local daycare or food bank. It could be as simple as knocking on your neighbor's door to sit and talk for a spell.