Subscribe
Active Aging Week 2020 at Presbyterian Senior Living
Active Aging Week was October 5-11, 2020. It is an international celebration of active lifestyles organized by the International Council of Active Aging (ICAA.) This week-long celebration occurs annually and Presbyterian Senior Living (PSL) has participated for the past 8 years.This year Active Aging Week looked a whole lot different at PSL than previous years. We can not deny that the pandemic is challenging us to find news ways for people to connect and be active but remain physically distant. Traditionally each community organized their own events for the week and PSL would hold an organization-wide Successful Aging Retreat at the Administrative Office.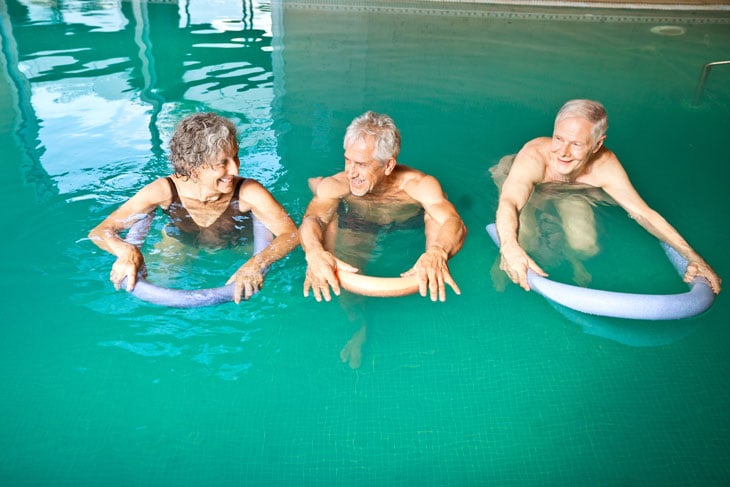 This year we were unable to hold our annual Successful Aging Retreat in-person, which would have been our eighth year of holding the PSL-wide retreat in Dillsburg, PA. We instead quickly pivoted to create mini-retreats and small bites of the retreat every day using the EasyConnect Zoom virtual platform.
These sessions were for residents and team members to attend together. Each "mini-retreat" was a led by volunteers and typically around the lunch hour to be accessible to more people and not compete with other community initiatives and programming. The sessions covered each dimension of wellness – physical, spiritual, social, intellectual, emotional, and occupational. Volunteers included community social workers, fitness directors, and corporate support staff. We appreciate their dedication and commitment.
Here are some of the activities led during this year's Active Aging Week.
Shibashi seated Tai Chi – 18-19 minute seated program. Tai Chi Qigong Shibashi is a set of Qigong exercises which is based on the philosophy of Tai Chi and extracts some of the best movements from the Yang style Tai Chi Chuan. It places emphasis on synchronizing the 18 movements with proper breathing techniques. This session was provided by the ICAA-International Council on Active Aging and led by their ICCA coach, not a PSL team member. You can view this session here.

Joyous Movement (seated, medium pace)- a seated, comprehensive, dance music class with a focus on FUN! No equipment needed – just a chair and willingness to have fun! Led by an ICAA certified coach; not a PSL team member. You can view this session here.
The UnGame- This session was led by Kristie Jo King, Social Work Director and Memory Manager at St. Andrew's Village. This session was not recorded. You can purchase this game for your own use on Amazon for under $10. The UnGame is a great way to learn more about others and have conversations.
Compassionate Touch- This education about using the power of touch and presence to reduce depression, loneliness, anxiety and pain and increase trust and build relations was facilitated by Alicia Fenstermacher, Senior Corporate Director of Purposeful Living. If you would like to learn more, visit Ageucate or read more about it in our blog: Transforming Relationships Through the Power of Compassionate Touch.
Meditation- This session included self-reflection and a quiet mind and was led by Heather Kennedy, Independent Living Manager at Glen Meadows Retirement Community. This half hour session can be enjoyed here.
Total Body Workout – This half hour workout was done with weights or soup cans, or just bodyweight. This session was led by Richard Rodriguez, Fitness Director at Glen Meadows Retirement Community. You can view this here.
Another new event held this year, which is still underway, is the eight week "Obscure American Landmark Tour." Designed by Andrea Teeters, Fitness Director at Westminster Woods at Huntingdon, and James Mangol, Corporate Director of Thrive Wellness, participants will make their way across the USA to see the most popular landmarks. They'll virtually see it all, from haunted houses to gigantic statues and everything in between! It runs from October 8 to December 3, 2020.
Participants will track their exercise minutes weekly to reach a goal of visiting various landmarks across the USA, tallying mileage as a community. All participating residents make up that community's team. There will be a map and information posted to show the status of each community team's location as well as a weekly leaderboard showcasing the progress of each participating PSL community.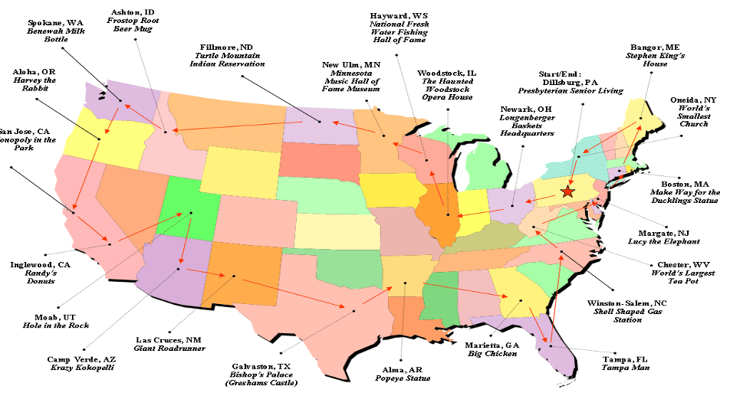 Lastly, communities continue to celebrate Active Aging Week as the residents find most meaningful and as appropriate for their current situation during the pandemic.
Glen Meadows Retirement Community expanded the week to the entire month of October. Their Fitness Director, Richard Rodriquez, will be facilitating education on nutrition and offering the Senior Fitness Assessment to residents. He also has arranged for two virtual meetings with a dietician to highlight nutrition labels and vitamins/minerals for health and combating osteoporosis. Lastly, Bayada will be doing a seminar on falls and the campus therapy department will be doing a fall risk assessment.
Presbyterian Home at Williamsport has announced that their Breast Cancer Awareness events planned for early October are being postponed until late October this year. In the meantime, during Active Aging Week they did 1:1 visits with residents focusing on exercise, brain health trivia and games, songs of faith, relaxation and meditation, and daily chronicle (reminiscing.)
Kirkland Village held its 2nd Annual Bocce Tournament. Seven teams competed, each team representing their respective Independent Living floor. Congratulations to Eastwood first floor who won 9-3.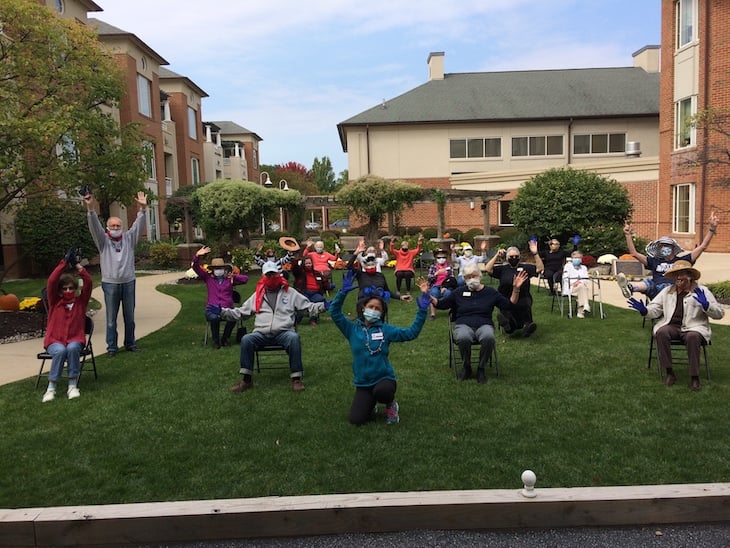 Cathedral Village, Quincy Village and Ware Presbyterian Village all launched a resident communication portal and application called Connected Living during Active Aging Week. Connected Living is an online resident engagement platform where residents can receive community information and connect with each other in one place. It focuses on all dimensions of wellness and engagement. Calendars with campus events, menus, work requests, resident council minutes, community resources and much more is available on this platform. We anticipate this to be available at all PSL Independent Living residents by early 2021 followed by our other care settings in later 2021.
---
However you celebrated Active Aging Week, celebrate yourself and your accomplishments. At all ages we have much to learn, gifts to share, and connections to cherish.
Find your purpose and live it each day. Be well.
A big thank you to our partners:
Thank you to EasyConnect HD with Bright Life Innovations who made the virtual sessions a reality for connection- helping us stay physically distant but socially connected. www.brightlifeinnovations.com
Thank you to AGEucate for bringing Compassionate Touch© to communities across the US. www.AGEucate.com
Also, thank you to ICAA for their encouragement of many people in all different parts of the world to elevate Active Aging Week. www.icaa.cc