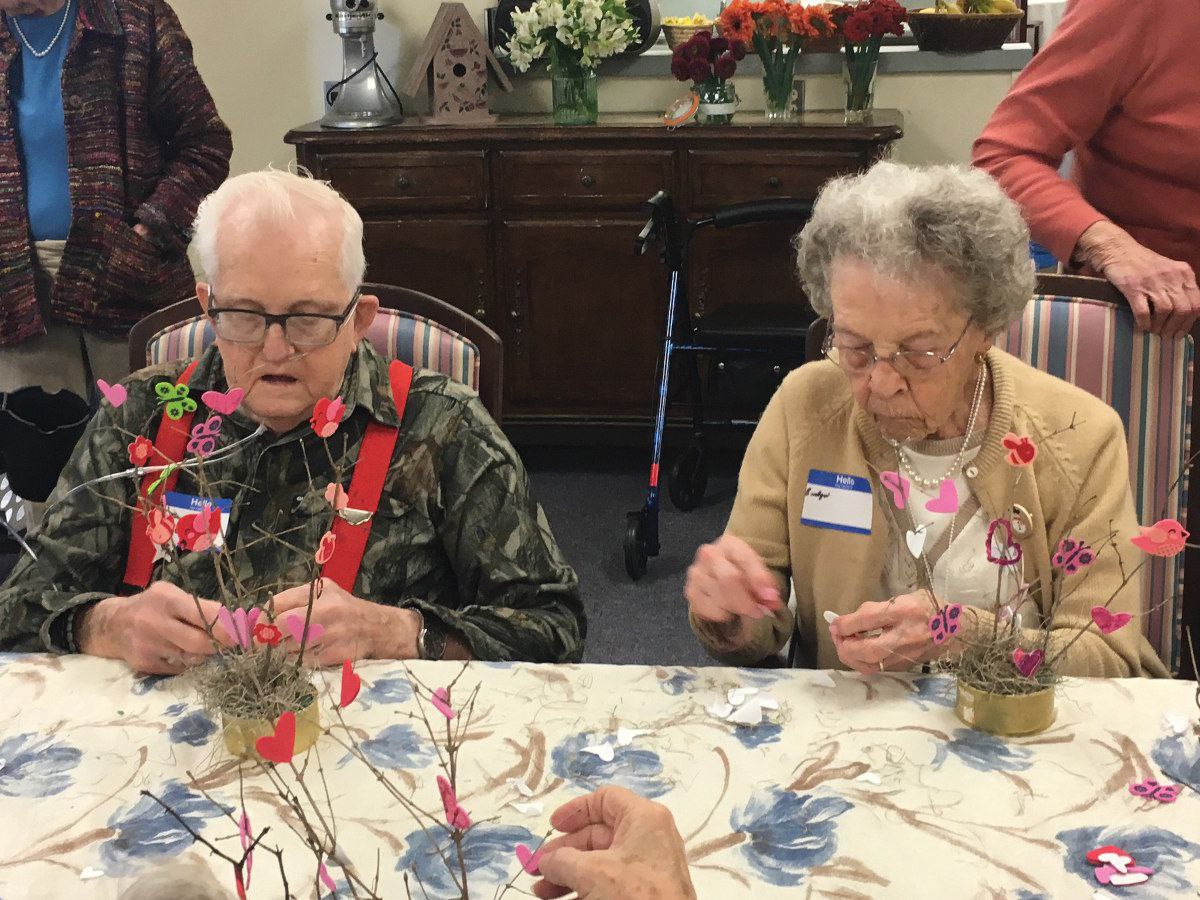 Subscribe
Caring and Sharing: Resident Led Initiatives
Do you need a little sunshine in your life? At Presbyterian Senior Living, our residents make every day brighter with their caring, selfless devotion to others. Through their actions, we are continually inspired. Here are two stories of residents who are making life a little sunnier for others with their resident-led projects.
To learn more about Caring and Sharing, visit our Mission Support page and download the latest issue.
Peg Bridge and the "Sunshine Girls"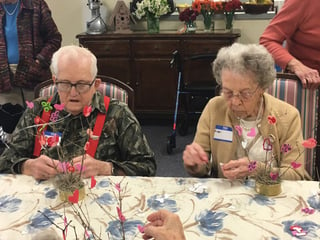 What could make people happier on a cold winter day than bright, beautiful flowers? Green Ridge Village residents Peg Bridge and the "Sunshine Girls" know the power of flowers to perk up the winter blahs. On a recent day, Peg and the Girls encouraged eager participants to take a seat and get ready to put together their own fresh, colorful flower arrangements.
The event was part of a resident-led effort by Peg and the Sunshine Girls — eight fellow resident volunteers Peg has recruited — to bring the beautiful outdoors to residents of the Manor House and the Swaim Health Center at Green Ridge Village in Newville, Pennsylvania. Many of the resident participants previously loved gardening, and some even owned flower shops prior to retiring.
Peg and the other volunteers choose themes appropriate to the season and gather the special materials residents will need for their projects. After the lovely centerpieces are complete, Peg and the Girls lead participating residents in a sing-a-long appropriate to the season, whether Christmas carols, summer tunes or beloved patriotic anthems. The Sunshine Girls say that their volunteer efforts brighten their lives and bring them great satisfaction. Our staff members and the residents certainly appreciate their work.
Bob Davis: Harvesting Fruit for Those in Need
Bob Davis, an independent living resident at Quincy Village in Waynesboro, Pennsylvania, always had a knack for picking wild berries and making delicious jams with his wife, Donna Brandmeyer. When the couple moved east, they became involved in a large volunteer project gathering leftover produce and grain after harvest — known as "gleaning."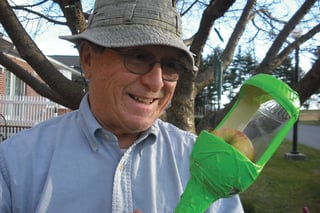 Through Bob's efforts to recruit other volunteers, he and a team of 25 recently picked 3,600 pounds of apples in under two hours, an amazing result. Bob and the other volunteers' effort — part of The Gleaning Project of South Central Pennsylvania — works in phases, starting with gleaning the produce then distributing it to needy individuals.
During one recent event related to the project, 13 low-income volunteers prepared approximately 100 pounds of peaches, and all the participants took home at least 6 quarts of fruit to freeze and use throughout the winter season. Volunteers like Bob provide much-needed free labor, along with his heart of gold and continued efforts to recruit other team members. Bob has even created his own device to reach fruit higher than he can reach on his own.
Bob's selfless volunteer efforts provide for those in need, and his willingness to get others involved multiplies the bounty even further!
Building a True Community
Presbyterian Senior Living is dedicated to helping seniors continue to live meaningful, vibrant lives. Residents like Bob, Peg, the Sunshine Girls and other volunteers inspire and motivate all of us. We salute them for their dedication to making their communities better places to live.