Subscribe
Carol Carter Retiring After 45 Years at PSL
Miscellaneous | Community News
There's an old saying that if you treat employees like they make a difference, they will. This is a tenet that is practiced at all Presbyterian Senior Living communities and one which leads to high team member satisfaction. But even the most loyal of employees don't usually reach the milestone one team member recently hit. After 45 years at the Ware Presbyterian Village in Oxford, Pennsylvania, Carol Carter is retiring.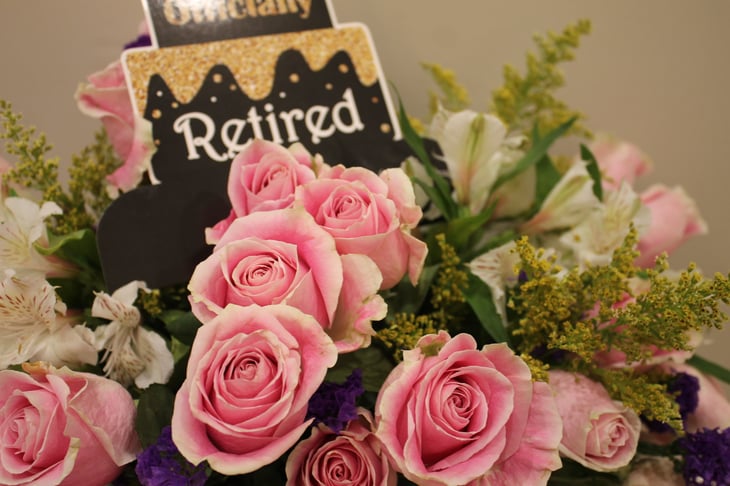 "I've had people over the years say how can you work in a nursing home?" Carol says. "My response is 'How can you not?' At the end of the day, as far as blessings go, the number I receive are far greater than what I give. And, I feel like I give a pretty fair amount."
Carol goes on to share why she's stayed with the organization for over four decades. "It's just wonderful to see somebody that you know come in unable to walk at all. After some therapy, you see them in the hallway and they are able to take a few steps. That is huge! And you celebrate it with them." It's a scenario she's watched play out over and over during her career.
A New Senior Living Community Comes to Town
The career path Carol ended up on is far different than the one this elementary education major envisioned for herself. "I went to Elizabethtown College, and graduated with a degree in elementary education. But the job market was saturated with candidates at the time I finished college." Carol knew she'd have to adjust future plans to make herself more employable. So, she returned to the classroom, this time focusing on the health-care field taking coursework in medical terminology, transcription, and more. When she graduated, she was able to quickly find a job putting her new skills to work in a doctor's office.
After getting married and moving to Oxford, Carol heard that there was a new senior community coming to town. And they were looking for someone with her education and experience for their Medical Records department. Carol applied for the position, and went in for an interview and tour.
"I was actually hired by Steve Proctor, the original CEO. The grand tour was just a visit to the boiler room as the building wasn't even completed yet. But I got the job, and started off in medical records. I did that for about the first 20 to 25 years." As often happens in senior living communities, team members are recruited to help backup the admissions team. Carol was one of them.
"I was backup for admissions from the very beginning. Over the years as several directors of admissions left, I would be asked to take the job. I always said 'No.' Finally, after offering it to me again, they said, 'Why not?'" After thinking about it, Carol decided to give it a try. And 25 years later, she couldn't imagine doing anything else.
Helping Seniors Receive Care
The admissions department for a senior community is a busy place. Carol helps older adults who are coming for short term rehab, long-term care, hospice care, and memory care. She works with both hospitals who contact her with referrals, as well as people from the community. "I take calls from people who need a place for a family member to go. They'll call with situations like, 'My wife slipped and she's in the hospital with a fractured hip.' I'll answer their questions and invite them to come for a tour."
One thing Carol notes is that her role has changed a bit due to COVID-19 safety protocols. "I used to go out to the hospitals a fair amount. I was able to meet folks, and talk with case managers and the nursing staff in person." Now, much of her work is done by phone and through email.
What's Next After Retirement?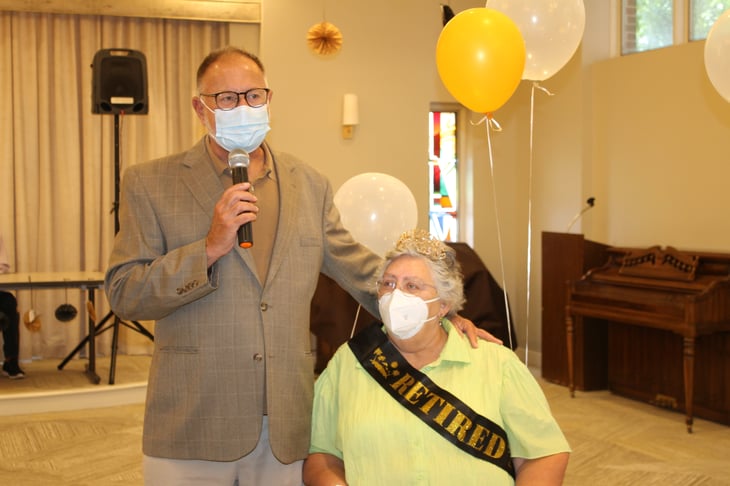 When asked about her post-retirement plans, Carol says you'll still see her around the community. "My mom has early dementia and she can't live on her own. So, she is an assisted living resident here. I'm going to be able to spend more time with her now, instead of mainly on the weekends. And that will be a real joy."
Please join us in wishing Carol all of the best in her much-deserved retirement!