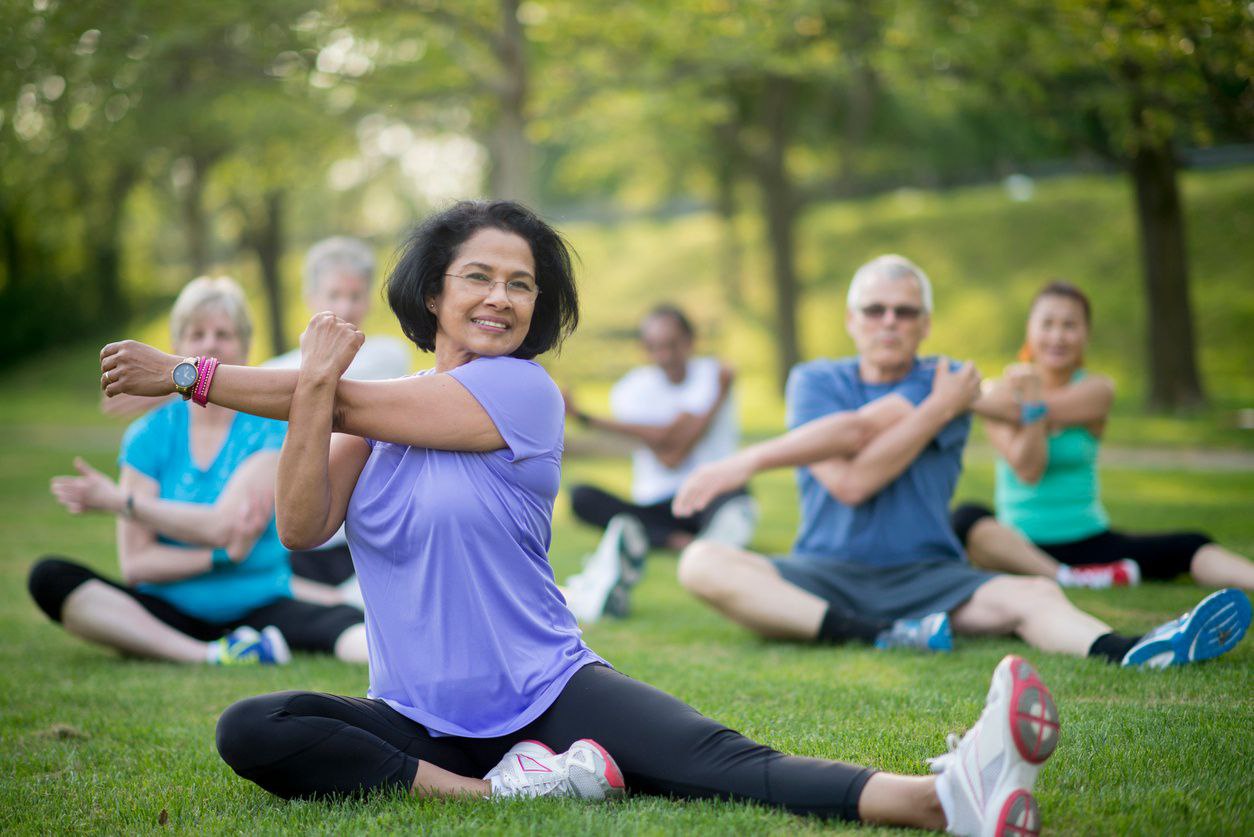 Subscribe
Exercising in the Summer: What Seniors Need to Know
Exercising is a key piece of the puzzle for a healthy lifestyle, especially for seniors. But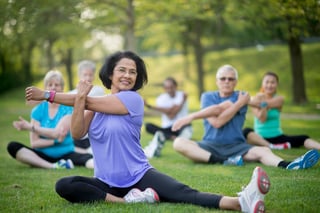 when summer comes around, it can be hard or even dangerous to exercise outdoors due to the intense heat. Of course, moving the workout indoors would be the an easy fix, but not everyone has access to a gym or exercise equipment in their home. Plus, being outside just generally feels better. Luckily, there are quite a few options for safely exercising outside, as long as you keep the risks in mind.
Hyperthermia
Hyperthermia is the main risk older adults face when temperatures get too hot. The National Institute of Health defines hyperthermia as "abnormally high body temperature caused by a failure of the heat-regulating mechanisms of the body to deal with the heat coming from the environment." The two most common forms of hyperthermia are heat exhaustion and heat stroke.
Symptoms of hyperthermia can include:
Dehydration

Fatigue

Flushing

Fainting

Cramping

Stiff muscles

Nausea or vomiting

Fast or shallow breathing

And more
It's important to stay hydrated and wear light clothing during the summer. If you feel like you may be experiencing a heat-related illness, or you see someone who is, get indoors or to a shaded area, lie down, and drink some water if you can. Call 911 if the symptoms are serious.
Safe Outdoor Exercises for Seniors

While it's important to keep safety in mind, that doesn't mean you can't get a small workout in during the summer. There are quite a few activities that can get you the exercise you need to stay healthy. Remember to always consult your doctor before attempting any rigorous exercise routine.
Walking/Hiking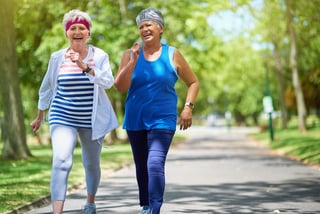 Taking a walk is probably the easiest form of exercise you can do, any time of year. And you can walk leisurely enough during the summer that you can still keep relatively cool. If you prefer a little more of a challenge though, you might want to consider hiking. You can experience the wild side of nature, while staying under the shade of the trees. Don't forget to bring plenty of water!
Biking
Biking can be more strenuous than walking, and you might have to take a break from the heat every now and then, but you'll get more of a workout. The cool breeze you feel as you ride might help with the heat, too. If your bike has a basket, you can consider biking to a park to have a picnic.
Golf
Golfing is fun for all ages, but did you know it's also a great, low-impact way to improve your strength and flexibility? Golfing can be a great way to get some exercise in during the summer months. While the nature of the game means you'll be outside for long periods of time, there are usually shady areas on the course, and golf carts are readily available at most clubs. Golf can also be a great way for seniors to mingle and meet new people.
Tai Chi/Yoga
If you're looking for more low-impact ways to improve your flexibility and strength, you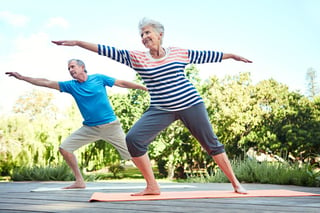 might want to consider Tai Chi or Yoga. Both exercises focus on stretching, movement, and breathing, and can be quite a workout. But the best thing about them is that they can be tailored to a specific person's athletic abilities. So if you're a beginner, you can still reap the benefits.
Gardening
If you've ever spent a few hours gardening, you know it can work up a sweat. Gardening is not only a good way to stay healthy, but it can also be therapeutic for seniors. Just remember to bring extra sunscreen if you plan on staying out for a while. And water isn't just for the plants! Remember to keep yourself hydrated, too.
Kayaking
Kayaking can be a fun way to get out on the water, and can be less strenuous than swimming. Taking a leisurely trip around a local lake can be very relaxing, while still giving your upper body a bit of a workout. Since there's usually not a lot of shade out in the middle of the lake wear lots of sunscreen and maybe even a hat. And don't forget the life jacket.
Fishing
Want to enjoy the water but don't want to have to row yourself out there? Fishing might be for you. You can fish from the shore, or take a ride in a boat to deeper waters. Either way, you'll be able to relax and enjoy the outdoors. If you do manage to get a bite, reeling in the catch can provide some exercise. But even standing has been proven to be healthy for people.
Pool Exercise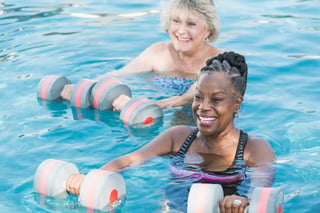 Speaking of water exercises, a pool can be a fantastic way to keep cool while building strength. The water provides some resistance to your normal movement, which will give you a slightly tougher workout than normal.
Water aerobics classes are usually held during the day at most gyms with a pool. The classes focus on aerobic endurance and resistance training, and sometimes come with music. If you don't think you're up for that level of exercise, even just walking around a pool in waist deep water can be beneficial.
If you don't already have a gym you go to, it may be a good idea to look for one. To find out what you should be looking for in a senior friendly fitness center, download our free checklist below. And remember, consult your doctor for the best results.