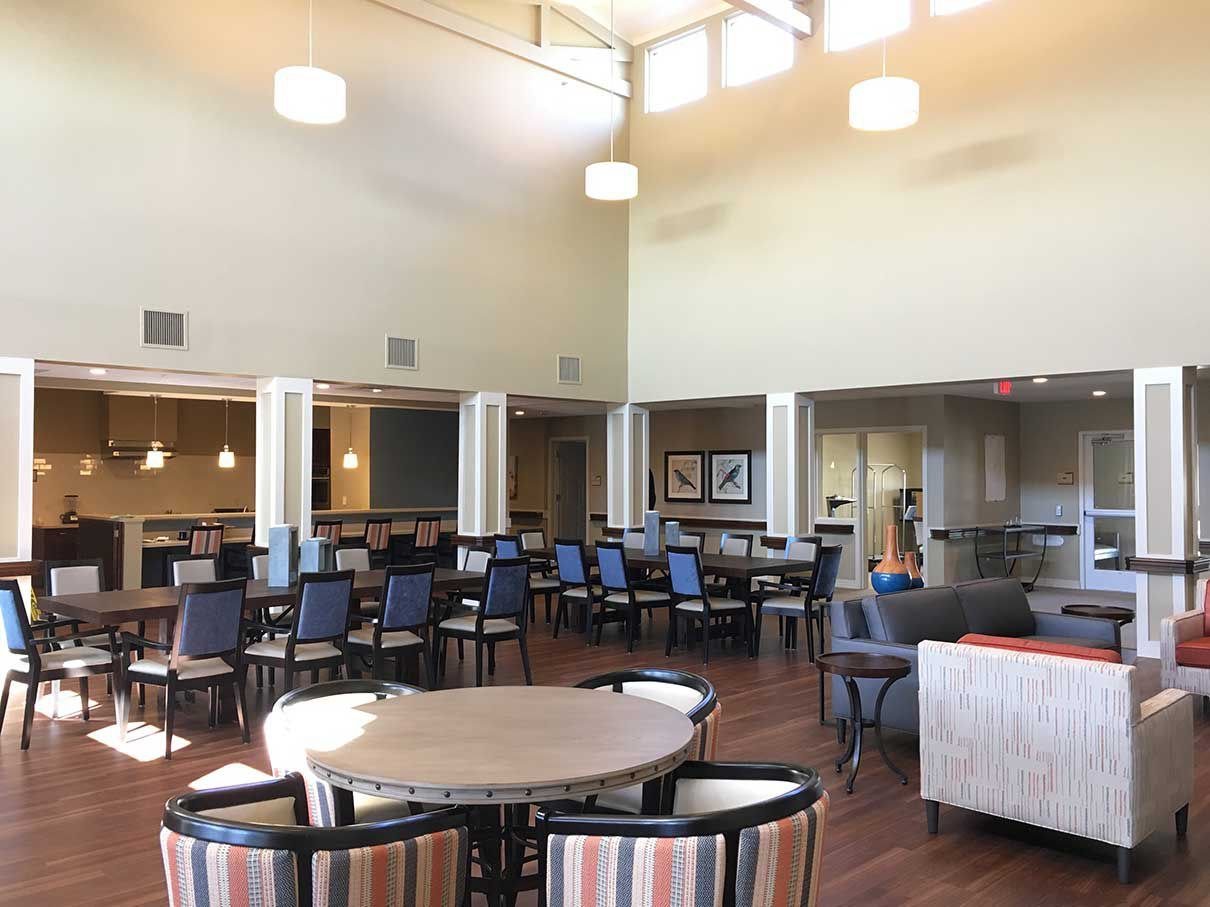 Subscribe
Five Meal Plan: Quincy Village Reimagines Food Services
This article is rebuplished with permission from The Journal on Active Aging. To learn more about Quincy Village, click here.
---
A new dining program in this community's nursing neighborhoods has improved resident wellness and satisfaction.
This article profiles a recipient of the 2016 ICAA Innovators Achievement Award, a category of the Innovators Awards recognizing programs and concepts that advance active aging. Presented in three categories, the annual awards honor creativity and excellence in the active-aging industry. They highlight innovations that lead the way, set new standards, and make a difference in the lives of older adults.
Quincy Village in Waynesboro, Pennsylvania, focuses "on providing older adults with quality service and a meaningful experience." Set amid the mountains, forests and farmlands of Franklin County, the not-for-profit continuing care retirement community provides four levels of living—independent living, personal care, assisted living and skilled nursing—and serves approximately 450 residents ages 55 and older.
As a Presbyterian Senior Living campus, Quincy Village embodies the organization's mission "to provide compassionate, vibrant and supportive communities and services to promote wholeness of body, mind and spirit." Some amenities and services include a clay and fine arts studio, woodworking shop, resident flower and vegetable garden, plus fitness centers, resident-directed clubs (e.g., Book Club, Model Railroad Club), and social and cultural opportunities. The community also partners with Masterpiece Living to support residents' physical, spiritual, social and intellectual growth.
A recent addition to Quincy Village opened on the 380-acre campus earlier this year. Parker House Assisted Living encompasses three "small house" residences designed to allow individuals to age in place by accommodating increased need for care. Sixteen private suites provide residents with personal space. Parker House also features common spaces such as a dining/living area, open "country" kitchen, pantry and spa/ hair salon, along with a front porch, back porch and patio. Family-style dining is encouraged. Residents also participate in preparing meals.
"Quincy Village is always looking at how we can raise the bar and deliver and support the best engaging services and culture, and in doing so, enhance the quality of life for our residents," says Director of Community Life and Volunteer Services Laura Glass. "For example, we determined a need to enhance the dining experience within our community."
Quincy Village staff researched and designed a new meal program that they believed would work best for residents in nursing care. "This plan breaks away from the traditional tray service found in nursing homes and replaces it with fresh, made-to-order food five times a day (instead of three)," Glass says. Called the Five Meal Plan, the new dining program "has truly allowed us to provide quality resident-centered care," she adds.
Recognizing Quincy Village's efforts to reimagine its food services, the International Council on Active Aging® named the Five Meal Plan as a winner of its 2016 Innovators Achievement Award. The plan also won for person-centered culture change, program effectiveness and addressing the physical dimension of wellness.
To learn more, the Journal on Active Aging® asked Glass to describe how the Five Meal Plan works, what it involves and how it benefits the residents, staff and community at Quincy Village.
JAA: Please briefly describe the Five Meal Plan and the catalyst for developing it.
LG: The Five Meal Plan is similar to having a cruise-dining experience in your home. It includes:
continental breakfast (pastries, bagels, cereals, eggs, fresh fruit), 7 a.m.–9 a.m.
brunch (one hot breakfast item and one lunch item offered), 11 a.m.– 1 p.m.
fiesta snack (cookie, brownie, granola bar, smoothie, root beer float), 2:30 p.m.
supper (half a sandwich and soup), 5 p.m.–6:30 p.m.
substantial bedtime snack (deviled egg, bologna and cheese, peanut butter and crackers), 8 p.m.
Meals are made hot and fresh right in the dining room where residents are served. If someone doesn't want an item being served, this person can always request a grilled cheese sandwich, eggs made to order, or just about anything.
Quincy Village's resident council and resident concerns were the catalyst for developing the Five Meal Plan. Three years ago, residents voiced concerns about the dining services, mentioning the selection and the timing of offerings versus resident preferences. Also, meals weren't made as fresh or served as hot as some would like.
The Five Meal Plan has enhanced our dining services. We wanted to offer our residents the opportunity to sleep in and still be able to come down and enjoy some of their favorite foods at any time, day or night. Individuals who are not "morning people" no longer need to worry about having hot food or getting up to go to the dining room. They can grab brunch.
JAA: What are the key components of the Five Meal Plan?
LG: The key components are flexibility, availability and accountability. We are still ensuring proper nutrition with each meal offering, but the residents have more choices now than ever before. The meals/food is hot and fresh.
JAA: What are Quincy Village's objectives for this new approach to dining services? Have these evolved since the initiative's launch?
LG: This initiative was put into place to increase residents' dining-experience satisfaction, decrease the amount of weight loss and better regulate diabetic spikes and drops. The dining aides really know the residents and the residents know them—and the initiative ensures they have more time together. We also continue to do audits and satisfaction surveys.
JAA: How did Quincy Village introduce the Five Meal Plan dining approach to residents and family members? And employees?
LG: This was a two-year vision. We talked about the new dining approach in the Quincy Village newsletter and through learning circles [groups that engage in open discussions about an issue] to gain input and suggestions and hear concerns from every discipline and from those we serve—the residents and the families. There were "beach-ball conversations" (where, like the stripes on a beach ball, everyone has a voice that is heard and valued) before, during and after the roll out of the Five Meal Plan.
JAA: From an operational perspective, are there things the program requires practically that are different to the previous dining program?
LG: From an operational standpoint, the space remains the same. The Quincy Care Auxiliary assisted with the input of the country kitchens, which have granite countertops, ovens, built-in steam tables, griddles, panini makers, coffeepots, toasters, industrial dishwashers and microwaves. Supplies haven't really changed. In fact, there is actually less waste now because residents order and receive what they want to eat rather than being served something they may not want. When it comes to staffing, we simply shifted from so many people working directly in the kitchen to get food to the neighborhoods, to training dining aides to make the food and be solely responsible for the Five Meal Plan in their neighborhoods.
JAA: Most initiatives encounter challenges. What challenges have you encountered with the Five Meal Plan, and how have you addressed them? Have you been able to capitalize on any unexpected opportunities?
LG: One of the biggest challenges was the fiesta snack. We addressed these concerns through learning circles and a beach-ball conversation. Nursing staff expressed concern that the afternoon snack was being delivered to private suites where residents lying in bed could choke on it. We also heard that the pies and cakes were too messy. These items soiled clothes and left crumbs on the floor, which created concerns for housekeeping staff, who also viewed it as a dignity issue. So we tweaked the menu to reflect better handheld options. This snack has been a success ever since.
In addition, there was some resistance to change among certain longer-term team members when we introduced the Five Meal Plan. The "open kitchen" concept requires staff to shift from a "structured times only" mindset to one that focuses on availability. We have found that ongoing education helps people buy in to the new approach.
When it comes to capitalizing on opportunities, we have blurred lines and broken down department silos by reimagining our dining program. Besides our dietitian and dining services, key players include our administrator, service committee, frontline staff, housekeeping, beautician, community life, therapy, and residents, families and visitors.
JAA: How have you measured the impact of the Five Meal Plan? And what are the most notable outcomes to date for residents?
LG: We measure the impact of the Five Meal Plan in many ways—meal consumption, weight loss/weight gains, glucose levels, resident satisfaction—with these data points showing the program's benefits. The most notable outcomes are a decrease in weight loss and an increase in socialization, which means happier, healthier and more engaged residents.
JAA: In your view, has the Five Meal Plan advanced wellness at Quincy Village? If so, to what do you attribute the program's successes?
LG: Since we introduced the Five Meal Plan, more nursing residents than ever are eating their meals in the dining areas. We went from sending out 18 trays to a hall to just two trays. Residents are also eating better and more. Weights have been stable, while residents with diabetes are educated in making appropriate decisions and enjoy all the offerings.
We attribute the successes of the Five Meal Plan to everyone working as a team to bring this dream to life. Overall, the experience has been enjoyable for all involved. The staff is building better relationships with the residents, and nurses/aides have more time for activities of daily living with them. Scores for resident and family satisfaction in dining are higher than ever. And resident testimonials prove the reimagined dining service to be a great success. Within Franklin County, the Five Meal Plan is a successful and proven marketing tool for Quincy Village.