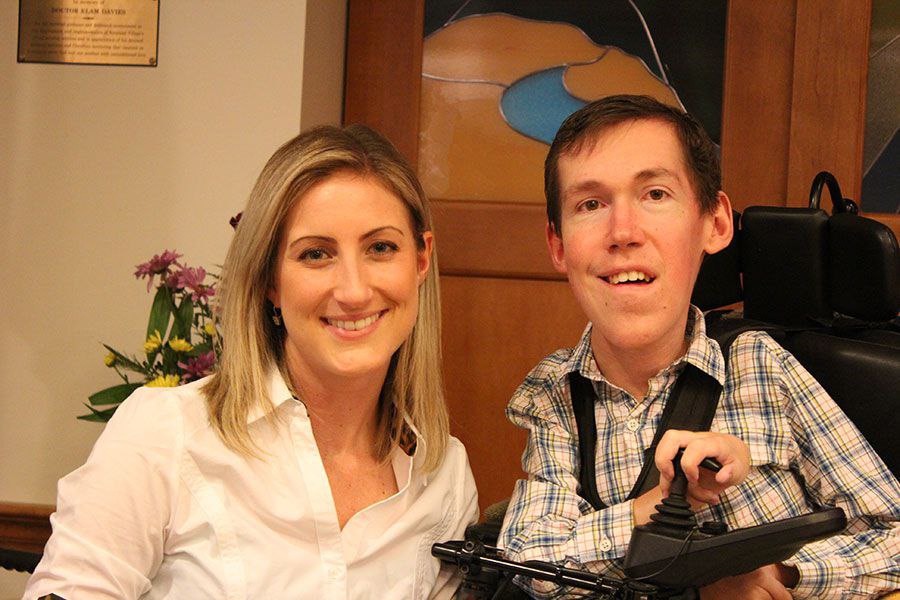 Subscribe
Helping Others Live a Happy Life with Humor
Hilarious, touching, and educational. That's how most people would describe the unconventional motivational speaker who came to one of Presbyterian Senior Living's communities this month. Shane Burcaw is in his 20s, and has a disease called Spinal Muscular Atrophy (SMA). That means he is slowly losing control of his muscles, which could eventually prove fatal.
Despite this, Shane is an award winning author, Emmy winning producer, and the writer of the blog Laughing At My Nightmare with more than 600,000 followers. He and his cousin, Sarah Yunusov, founded Laughing At My Nightmare, Inc.; a non-profit dedicated to teaching people how humor can overcome their challenges.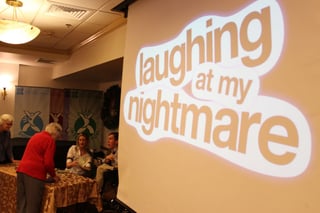 That message of positivity was the topic of their presentation at Kirkland Village in Bethlehem, PA. Shane is a master of sarcasm and self-depreciating humor, and it showed whenever he spoke. He told stories of the sometimes-intimate challenges he faced due to SMA, stories that if viewed from a different angle could be upsetting, and was able to make everyone in attendance laugh out loud.
He began with a frank discussion of his disease, and how it would eventually cut his life short one day. Shane admitted it's not an easy thing to talk about, but said it gives him a unique view on life; one filled with laughter and a positive attitude to help him navigate the difficulties his life presents to him. He's made it his mission to spread his view on life with as many people as he can, in order to make the world a happier place.
The presentation included adorable and humorous pictures of Shane from his youth, including one of his younger brother holding Shane above his head. The main focus, however, was what Shane and his cousin Sarah called the "happiness pie," a pie chart showing how each part of your life affects your happiness. They would reference and explain the different pieces of the chart several times throughout their presentation, but surprisingly, the majority of their time wasn't spent talking about the largest section. Instead, they said the second largest section, the "intentional activities" you do every day, was the piece of the pie that really mattered, since that was the piece that you had the most control over.
Shane gave some great examples of how an intentional activity could affect your happiness, including one hilarious story of what happens when you try to hoist your brother up to the basketball hoop using some rope and a motorized wheelchair. Listen to an excerpt of his story from the presentation below.
According to Shane, approaching each decision you have to make with a positive, goal-oriented outlook can greatly increase your happiness, while accepting defeat without a fight will lower it immensely. The concept may seem like common sense, but Shane was able to bring a fresh perspective and much needed humor to the highs and lows of life.
Shane and Sarah closed out the presentation with a short reading from his memoir. It was an emotional passage of the first time Shane ever spoke to a crowd. The story was a fantastic depiction of how reaching for your goals can impact your life and the lives of others in a positive way. Afterwards, many of the residents in attendance were able to talk with Shane and Sarah. They told him how his story affected them, and gave them the courage to face their own obstacles head on.
Kirkland Village and the other Continuing Care Retirement Communities (CCRCs) of Presbyterian Senior Living's non-profit organization, strive to make it as easy as possible for the people we serve to follow their goals and live life to the fullest. Events like this are held throughout the year, and other groups in the surrounding communities are always looking to join in and help out however they can.
If you would like to learn more about Shane's message, you can read his blog at laughingatmynightmare.com/blog. You can also order his book online, or find it in most bookstores.
For information on how a community like Kirkland Village can help you reach your goals and enrich your life, download the free e-book below.