Subscribe
Holiday Decorating for Seniors with Memory Impairments
With Halloween now behind us, many will start thinking about decorating for Christmas. For some, it can be tempting to go "all out" and give your home a short-term holiday themed makeover. It can be a lot of fun, but if you have a loved one with a cognitive impairment, you may want to reconsider. Those decorations may be causing them unnecessary distress.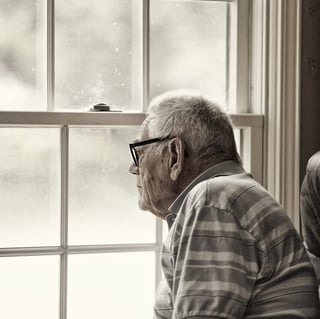 For those with cognitive difficulties, unexpected or unusual decorations may cause disorientation and even fear. The decorations themselves may not seem scary to you, but the disruption of your loved one's routine may be enough to cause distress. Sometimes, this fear doesn't appear as you might expect, either. Instead, it may result in your loved one withdrawing, refusing to eat, or some other behavioral change that you may not connect to fear.
Behavior Changes to Look Out For
If your loved one suffers from dementia or Alzheimer's, even small changes in their routine can result in anxiety. These changes can include anything from new decorations to holiday activities and family visits, and even rearranging furniture. If your loved one is showing the following behavior changes, check to see if you've done anything differently in your home.
Loss of orientation; your loved one may be unable to find their way around, or they might not be able to locate a certain room.

Lingering longer in specific rooms, even though the extra time results in missing out on other activities, or even incontinence.

Resistance to care and caregiver attention. This often occurs when once-familiar room layout is changed.

Falls or near falls due to disorientation.
If you're worried that you won't be able to decorate your home, that doesn't have to be the case. Talk to your loved one and try to explain the changes that are coming, or that are already in place. And be on the lookout for a negative reaction to a specific decoration or change. You may be able to remove only that decoration.
Decorating Tips
If you're unsure what decorations are a good idea for your loved one to be around, here are a few more tips to make your home safe:
Replace twinkling or blinking lights. Lights that twinkle on and off are popular decorations, but for someone with dementia, the constant blinking can be disorienting. Consider using holiday lights that stay continuously lit instead.
Avoid real flames. Candles are also popular during the holidays, but an open flame can be dangerous for someone with a memory impairment who may not have the ability to exercise good judgment. Plastic candles with electric lights are much safer, and shouldn't make as much of a mess either.
Cut down on clutter. You may have noticed it in your own home, but generally things tend to pile up more around the holidays. Between decorations and gifts, the risk for a fall can increase. Make sure extension cords are taped down or placed under rugs, and the traffic areas your loved one uses are kept clear.
No moving decorations. These can be frightening for someone living with dementia or Alzheimer's. Life-sized characters that have voice animation, or motion detecting decorations can be especially problematic. Try to avoid using them this year.
Avoid choking hazards. For someone with Alzheimer's or dementia, decorations that look like food might be perceived as real food. Limit the use of anything that looks like it could be mistaken for real food, like fake fruits or cookies.
Use non-breakable decorations. Shiny, breakable objects that easily catch the eye may be a safety hazard for your loved one. It is best to avoid using them, but if you must, try to keep them well above your loved one's eye level so they aren't tempted to grab them.
At Presbyterian Senior Living, our communities are dedicated to providing the people we serve with a safe and welcoming environment. Many of our communities take these potential triggers into consideration when decorating for seniors living in our memory care units.
"At the Easton Home, our autumn decorations are more of a fall harvest theme with pumpkins, sunflowers, and leaves," Jennifer Woolley of the Easton Home in Easton, Pa. said. "We put some handouts in our Dementia Library area. We distributed the information to [Personal Care Assistants]. As for the Christmas holiday, we try to keep things as stable, routine, and as normal as possible without rearranging furniture in common areas. We will add holiday reminiscing events to our weekly schedules, but we will basically keep programming routine."
Ware Presbyterian Village in Oxford, Pa. decorates similarly:
"At Ware, our Chapelwood seasonal decorations are often more home like," Tammi Bennett, Director of Community Life said. " [That means] seasonal flowers in the dining room windows, and window clings. Often families bring in seasonal door signs and place them on resident doors and seasonal window clings on their windows in their rooms. We often focus on seasons vs. holidays, except for a few like Christmas. We put up a Christmas tree with ornaments that do not break."
Other communities are also planning to decorate this way.
If you're looking for a thoughtful community like the ones above, or if you are starting your search for an Assisted Living or Personal Care community for your loved one with dementia or Alzhemier's, download our free checklist below. It has tips on what to look for, and can help you find the community that is the best fit for your loved one.