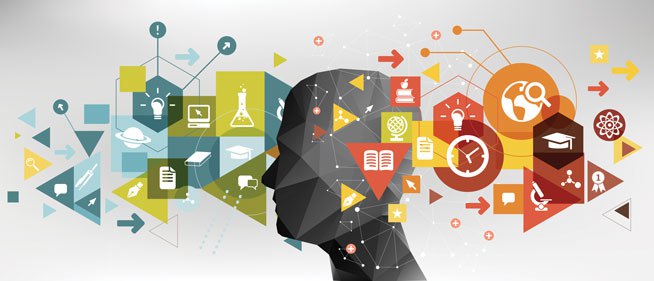 Subscribe
How to Keep Your Mind Sharp to Help Prevent Dementia
Alzheimer's disease is the sixth leading cause of death in the United States. The disease affects 43 percent of people ages 75 to 84. Over 800,000 Americans are estimated to be living with Alzheimer's, and women are more likely to develop the disease than men.
Dementia is a scary topic, and a growing concern for many people. The best way to avoid experiencing the effects of dementia is to take as many steps as possible to keep your brain sharp and exercise your neural connections on a daily basis. We have compiled a comprehensive list of ways to exercise your mind and keep yourself sharp below.
Physical Games
One way to actively practice sharpening your brain is to complete puzzles on a weekly, or even daily basis. Puzzles offer cognitive training that improve multiple areas of the brain such as memory, reasoning and speed processing. These brain activities produce a cognitive reserve that could potentially delay clinical onset dementia by years. Some puzzles that are great for training the brain are:
Crosswords
Word searches
Sudokus
Riddles
Picture comparison games (find the difference)
Rubix cubes
Jigsaw puzzles
Sliding puzzles
By participating in these sorts of games you are practicing recall abilities and working different nerves within the brain to help keep them healthy.
Apps

Lumosity

Lumosity is a brain training app with over 40 games and activities that challenge five core cognitive abilities. The app offers insights on your strengths, weaknesses and cognitive patterns.

In addition to brain games, the app has the option to participate in mindfulness practices, an exercise that improves source memory. Lumosity has a free and premium version available.

The premium version costs $11.99 for a month or $59.99 for a year and unlocks all games and activities in the app. There is also a desktop version of Lumosity available for those who prefer to use a desktop rather than a portable smart device.


Elevate

Elevate is an app that is "designed to improve focus, speaking abilities, processing speed, memory, math skills and more. The app has been proven to boost cognitive skills, productivity, earning power and self confidence."

Elevate includes a personalized training program that tailors your experience to your needs. Another feature of this app is access to performance tracking, personalized daily workouts and a workout calendar to help you stay accountable and motivated. There are over 40 games available to increase critical cognitive skills.

The free version of this app offers limited access to features, while the Pro version of this app is $39.99 for a year subscription and unlocks unlimited access to all aspects of the app.


Brainwell- Brain Training

Brainwell is a brain training app that focuses on problem solving, memory, language and visual skills, mental math, logic and more. The app offers over 50 games to choose from.

In the free version, you have access to three games a day, while the premium version gives you access to Brainwell's full library of games. The premium version costs $9.99 per month or $69.99 for a full year.

Both versions of the app offer new games daily, performance tracking and the ability to share scores and compete with friends. Brainwell also offers an online version for those who would rather play on a desktop than use a portable smart device.


Websites
Brain Metrix

Brain Metrix is an online website that has over 22 brain games. These games include memory tests, reflex tests, color training, concentration games, math problems and more, all of which help sharpen the user's mind.

This website is completely free to use and offers baseline testing to see how your performance has improved over time.



Brain HQ

Brain HQ is an online website that provides brain training exercises and courses to help keep the brain sharp. The system is built and tested by an international team of neuroscientists.

The site has an option for free exercises or full access to the site with a $14 monthly, or $96 yearly subscription. The free version of the site offers four exercises and five courses.



CogniFit

CogniFit is a website dedicated to cognitive development that is "backed by an international team of scientists, neurologists and psychologists that investigate and combine the latest discoveries about the brain with advanced algorithms making simple tasks in the form of games."

The website offers 11 assessments from an ADHD cognitive assessment to a driving cognitive assessment, in addition to personalized brain games, cognitive exercises and patented methodology.

CongniFit is offered for individual needs, family needs and for professional usage. The subscription rates for CogniFit range from $20 to $49.95. CogniFit also offers a portable smart device compatible app.
Learn something new
Second language

The American Academy of Neurology found that people who are able to speak two or more languages are less likely to develop memory problems than those who only speak one language. It has been proven that bilingual people developed dementia 4.5 years later than monolingual people.

Learning languages increases both the language centers of the brain and the hippocampus, an area of the brain that is often one of the first affected by dementia. Learning languages also increases neural pathways and increases blood flow in the brain, both of which combat against dementia.

There are many resources available to aid in learning a new language, which range from local classes to online learning programs such as Rosetta Stone.



Adult classes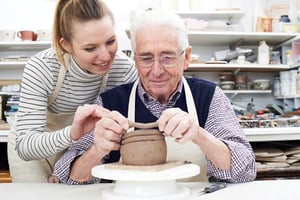 Whether you take a cooking class, a woodworking class, or even observe a local college lecture, you are exercising important parts of your brain. Anytime you are learning, your brain is exercising and creating new neural pathways that help to keep your mind sharp.


Diet and Exercise

According the the Alzheimer's Association, diet and exercise are an important part of improving overall health and preventing dementia. The cardiovascular benefits of exercise can significantly improve brain function by providing more blood and oxygen to brain cells.

Additionally, exercise increases the level of brain chemicals called growth factors, which help generate new brain cells and establish new connections between brain cells—aiding in the learning process. For those looking for an even bigger brain boost, complicated activities like playing tennis or taking a dance class provide even more mental stimulation.

Exercise appears to protect the hippocampus, which governs memory and spatial navigation, and is one of the first brain regions to succumb to Alzheimer's-related damage. Even mild activity like a leisurely walk can help keep your brain fit and active—fending off memory loss and keeping skills like vocabulary retrieval strong.

Another important aspect of keeping your brain sharp is to maintain a healthy diet. The Alzheimers Association recommends two types of diets: the DASH (Dietary Approaches to Stop Hypertension) diet and the Mediterranean diet.
DASH diet

Vegetables and fruits
Fat-free dairy products
Whole grains
Fish and poultry
Beans
Seeds
Nuts
Vegetable oils
Limit sodium, sweets, sugary drinks and red meats

Mediterranean diet

Whole grains
Fruits and vegetables
Fish and shellfish
Nuts
Olive oil and other healthy fats
Limited red meat
---
What activities have you found help keep your mind sharp? Let us know in the comments below and don't forget to download our eBook for more information on staying healthy in your senior years.