Subscribe
National Nutrition Month 2021
National Nutrition Month is a time to learn more about how to make informed food choices and develop sound eating and physical activity habits. Set small, realistic goals that help you make positive changes to avoid becoming overwhelmed or being too restrictive. Try the following weekly goals in your daily routine during the next 4 weeks!
Week 1: Eat a variety of nutritious foods every day.
Choose healthful foods from all food groups. Half your plate should be vegetables and fruits.
Hydrate healthfully with beverages like water, milk, or tea.
Learn how to read and understand Nutrition Facts labels.
Week 2: Plan your meals and snacks each week.
Use a grocery list to shop for healthful foods. Evaluate the food in your refrigerator, freezer and pantry to generate the list.
When dining out, review the menu ahead of time to help locate healthful options.
Choose healthful snacks to have on-hand each week.
Week 3: Expand upon your range of food choices to diversify your diet and find new flavors to enjoy.
Next time you go grocery shopping or dine out, select a new fruit, vegetable, spice or whole grain to try.
Try a new international dish, like Middle Eastern, African, or Asian Indian.
Start with familiar favorites with one new food or flavor on your plate. Commit to a few bites and know you'll have an "out" by eating the other foods on your plate.
Week 4: Visit a Registered Dietitian Nutritionist (RDN) to help you thrive through the transformative power of food and nutrition.
RDNs provide sound, easy-to-follow personalized nutrition advice to help you meet your nutrition goals.
Ask your doctor for a referral to an RDN or meet with RDNs in a variety of settings throughout your community.
To find an expert in your area, visit the Academy of Nutrition and Dietetics' website.
---
Check out some recipes to try this National Nutrition Month!
Brussels Sprout Chips with Basil Yogurt Dressing
Varying your diet has never been so easy with these crispy baked parmesan brussels sprout chips drizzled with this savory basil yogurt dressing. Loaded with nutrition and deliciousness, enjoy this dish as a crunchy snack during the day or serve at a meal.

Ingredients:

Brussels Chips:

12 oz Brussels sprouts, sliced
11/2 tbsp Olive Oil
3 tbsp Parmesan cheese, grated
1/4 tsp Salt
3/4 tsp Black pepper

Dressing:

1 1/4 cup Low-fat plain yogurt
3/4 tbsp Basil, fresh, diced
1/2 tbsp Lemon juice
3 tbsp Cucumbers, diced
1/3 tsp Black pepper, ground
Preheat oven to 400 degrees. In a large bowl, toss Brussels sprouts with olive oil, parmesan, and garlic powder and season with salt and pepper.
Spread in an even layer on a medium baking sheet.
Bake for 10 minutes, toss and bake 8-10 minutes more, until crisp and golden.
While the Brussels sprouts bake– prepare dressing.
Dressing (will make 12 servings, extra): combine yogurt, basil, lemon juice, cucumbers, and black pepper, mix together.
Serve dressing drizzled on top of brussels sprouts and enjoy as a side dish or snack!


Download a printable PDF of this recipe!
---
Green Goddess Dressing
Try something new! Enjoy this easy-to-make homemade dressing filled with fresh herbs and spinach. This dressing provides nutritious healthy fats and can be enjoyed with various dishes. Perfect on top of a plate of mixed greens, used as a dip for grilled seasoned shrimp or chicken, or added to your veggie filled burrito bowl for a pop of flavor.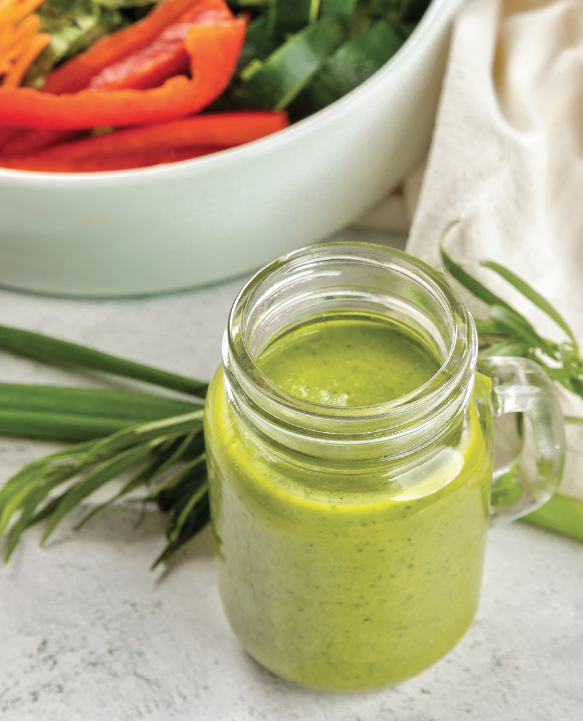 Ingredients:

2.5 oz Baby spinach, fresh
1.5 oz Parsley
1.5 oz Cilantro
2 tbsp Tarragon
0.5 oz Sliced green onions
3 oz Avocado, diced
1/3 cup Apple cider vinegar
1/4 cup Lemon juice
3/4 cup Water
1/4 cup Olive oil
1/4 tsp Salt
1/4 tsp Pepper
Instructions:
Thoroughly wash all fruits and vegetables before cutting.
Wash herbs, gently dry and pick leaves off the stems. Chop spinach and green onions. Squeeze lemon juice and set aside.
Measure & combine all wet ingredients but keep oil separate.
Remove seed and skin from avocado. Dice into small pieces but do not cut until ready to make dressing so avocado does not brown.
Place spinach, parsley, cilantro, tarragon and green onion into blender with avocado. Add vinegar, lemon juice, and 3/4's of the cold water. Blend until smooth, vibrant green color appears, about 30 seconds. Slowly add oil to emulsify the dressing, and add additional remaining water as needed if dressing is too thick.
Finish by adding salt and pepper to taste, and place in air tight container or mason jar.

Download a printable PDF of this recipe!
---