Subscribe
Pets and Seniors: A Mutually Beneficial Friendship
Pets usually make loyal companions who love us unconditionally. They provide a sense of joy and purpose that may be especially welcome during the retirement years. Also, the health benefits associated with owning a pet are numerous. The key is to find the right kind of animal for a senior's budget, lifestyle, and space.

Pets Nurture the Body, Mind, and Spirit
Wondering if you or a loved one should consider getting a pet? It might seem like more work than it's worth. Pets are a responsibility and require regular care and attention. Pets are also an expense. These issues need to factor into the equation when making this decision.
There are also several health benefits associated with having an animal that you should keep in mind. Here are a few of the most common reasons to consider making a pet part of your family:
Prevent loneliness:

Health care experts use the phrase "pet therapy" to describe the meaningful bond that develops between people and their animals. Pets are non-judgmental and ready to listen on difficult days. Having a heartfelt conversation with your furry or feathered friend can lift you up when you are feeling down. For those grieving the loss of a loved one, a pet can provide critical companionship. By combating loneliness, they can help aid in healing and finding peace. An animal can also help a pet parent avoid the health risks associated with a sedentary lifestyle, such as weight gain, depression, and diabetes.

Manage stress:

People sometimes assume retirement is a stress-free season of life. In reality, seniors can have worries, they may just be different from those in their younger days. Finding healthy ways to manage that stress is essential for mental and physical well-being. Ample research shows that pets can aid in reducing stress and even help lower blood pressure. For example, the repetitive motion of stroking an animal's fur can be calming.

Encourage activity:

Pets keep us moving, especially dogs who need to take a walk or two every day. Whether it's a couple of laps around your neighborhood or a stroll in your favorite park, encouraging fitness activities are another benefit pets offer. This can help improve stamina, balance, and core strength. Each is important for preventing falls, a leading cause of disability in older adults.
Before you sprint to your local humane society to adopt an animal for your senior loved one, there are a few things to keep in mind.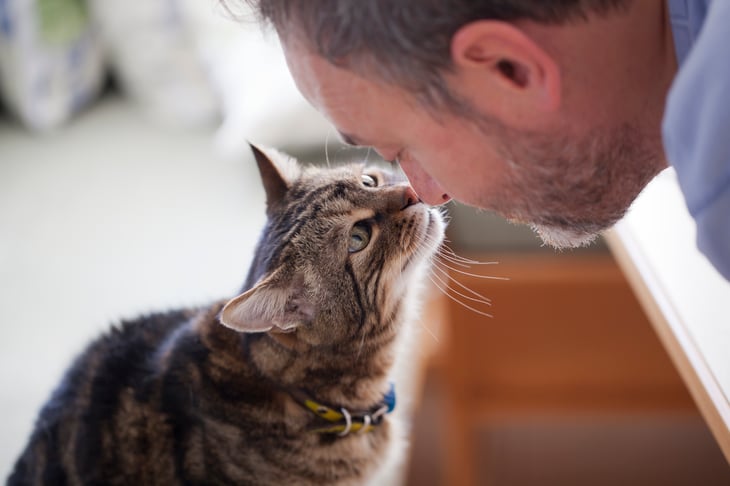 What to Consider Before Adopting a Pet
If you or a senior family member has decided to adopt a pet, there are a few considerations to be mindful of in your search. From space requirements to grooming costs, make sure you think this decision through carefully.
First, take your space into account. Do you or the senior have an outdoor area that could be fenced for a dog or is there a place to walk them? If not, a cat may be a better choice than a dog. House cats can utilize a litter box which eliminates the need to go outdoors multiple times a day.
Next, you'll want to think about your budget. Some animals are more costly than others. Several breeds of dogs require frequent grooming while others have dental issues that require professional cleaning. Some breeds are prone to health conditions that lead to higher vet bills. Cocker Spaniels, for example, experience skin allergies, hearing problems, benign tumors, and cataracts. These can take a bite out of your budget. Research the breeds you are considering and prepare for what veterinary costs might be.
Lastly, make sure you understand the animal's disposition and how much care they require. If you have grandchildren or are planning a move to a senior living community, a dog or cat with an even temperament is best. If you have any doubts, call the veterinarian's office you would likely use to solicit their advice. Most will be happy to answer your questions and offer helpful suggestions.
PSL Communities are Pet Friendly
Because we understand the role pets play in our lives, PSL communities are pet friendly. If you or a family member are considering a move to senior living, you'll want to ask each community if they accept pets and what restrictions there might be. Pet policies can vary greatly from one community to another.
One tool you may find helpful as you are visiting senior living communities in this Evaluation Checklist. You'll find it useful in objectively comparing all the communities on your list!