Subscribe
PSL Residents Create Note Cards to Benefit Ukraine War Refugees
The horrific images coming out of Ukraine over the last few months have left people around the world shocked and heartbroken, including the residents from Long Community at Highland in Lancaster, Pennsylvania. "When the war first started back in late February," explains Community Life Coordinator Connie Hazeltine, "we would talk about and pray for Ukraine and its people during our devotions."
Like many of us, the residents of Long Community at Highland felt helpless as events in the country began to unfold. They wanted to do something to help the people of Ukraine but struggled to figure out what that could be. After some deliberation, residents decided to host a fundraising project. Their goal was to make a meaningful difference by raising money to send to Ukrainian relief efforts.
That's when Connie suggested turning sunflower art, a symbol of Ukraine's national identity, into cards and stationery that residents could sell. "Right away, the residents really liked the idea and wanted to do a good job with it," Connie said.
Most of the art projects Connie develops for resident workshops begin with a pep talk given to residents in order to build their confidence. "Normally, I have to spend some time helping residents overcome doubts they have about their abilities and creativity."
With this project, however, she didn't have to do much of that. Knowing that the money raised would be going to the Ukrainian people gave residents an extra incentive to engage and get busy.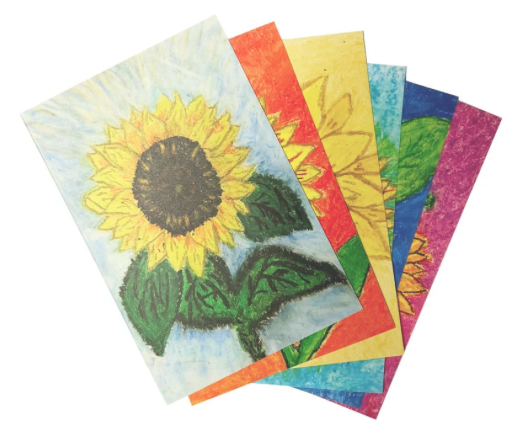 Art As a Form of Self-Expression
Art and other creative endeavors have long been part of daily life in senior living communities. Campus Administrator, Susan Saxinger, believes the production of art gives residents something tangible to show for their time. "Art classes and workshops allow our seniors to leave with an engagement piece. When their family and friends come to visit, residents can show loved ones the piece and talk about it."
The current project allows residents who are creating the sunflower cards to realize the benefits that come from giving and receiving. Research shows that creativity can spark joy and boost the spirit when people are feeling troubled. Scientists refer to it as positive affect or PA. It usually lasts for several days after a person engages in creative activities.
As Connie reminds participants in her art workshops, you don't have to have master-level creative skills to reap the rewards. You just need to relax and enjoy yourself.
How You Can Support the Ukraine Sunflower Cards Fundraiser
To purchase the Sunflower Cards, please visit: https://pslcardsforacause.square.site
All proceeds from the sale of this card will go to support a fund which provides refugee care packages and distribution of supplies to families displaced from Ukraine coordinated by Bethany Slavic Church in Ephrata, PA.