Subscribe
Top 6 Places for Seniors to Eat in Philadelphia
If you're a Philadelphia resident or making senior travel plans to visit Philly, you're in luck. There are numerous options for any type of cuisine, any occasion, and any price range. Plus, Philadelphia is easy to navigate and senior-friendly, making it the perfect day trip destination for seniors living in Pennsylvania, New Jersey, New York, or Maryland. This short train ride or drive can open up a world of possibilities for seniors who want a culinary adventure.
After you stop by some of Philadelphia's historic landmarks, you can visit one of these delicious dining choices:
Traditional Philly Cheesesteak - Cheesesteaks are synonymous with Philadelphia. This is a casual, affordable, and iconic dining experience for anyone visiting the city. Plus, if you've been to Philly, you know that all locals have an opinion on where to find the best cheesesteak. Some of the options that are popular with Philly residents include: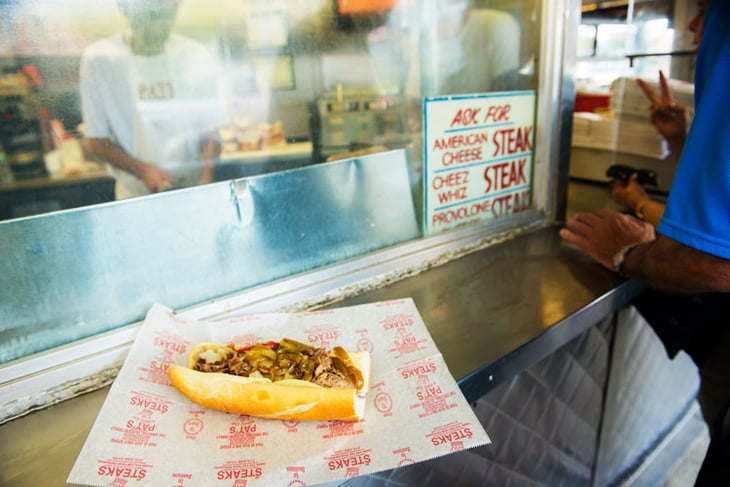 Mary Cassatt Tea Room in The Rittenhouse - For a fancy and memorable experience, take a trip to the Mary Cassatt Tea Room. Named for the American Impressionist Mary Cassatt and her sketches that hang on the walls, this beautiful dining experience is located in the Rittenhouse Hotel. You will never forget enjoying little tea cakes and finger sandwiches while a harpist plays. (This option is on the expensive side, but would be the perfect location for a special occasion luncheon.)
The Dandelion - After a visit to Philadelphia's iconic City Hall, you can make your way a few blocks to The Dandelion for upscale English dining options featuring delicious and inventive plates. This restaurant takes traditional pub food and transforms it into a unique culinary experience. You'll feel like you're right at home in this cozy spot straight out of a Dickens novel.
Reading Terminal Market - When you're feeling adventurous, the Reading Terminal Market is the best place to try new foods. From baked goods to cheese to seafood and more, Reading Terminal has dozens and dozens of vendors and is one of the oldest public markets in the country. It's also housed in a National Historic Landmark building. The market is open every day, making it an easy spot to visit.
Philadelphia is one of the nation's best locations for visitors who want a memorable meal. With so much history and so many choices, you can easily find a delicious spot to dine.
---
Seniors in the Philadelphia area have so many exciting dining options, there are simply too many to list. When you take the time to explore not only this area, but the Philadelphia urban center, you're sure to find a cuisine and dining experience for any occasion.
But what if you visit Philadelphia and fall in love with the city and its surroundings? We have you covered there! Philadelphia is home to Cathedral Village, a Continuing Care Retirement Community is located in the city's Roxborough neighborhood. There is no other senior living community like Cathedral Village. It's as distinctive as each of the individuals living here.