Subscribe
Spring Cleaning Tips for Seniors
Spring brings the promise of warmer weather, outdoor activities, chirping birds, and longer days, but with it also comes the chores you've been putting off all winter. Whether it's giving your car a deep clean or reorganizing your "junk drawer," spring is the best time to dive into your long-awaited cleaning projects and get your home feeling fresh and new. In this blog, we have compiled some helpful spring cleaning tips for seniors.
Sanitization During COVID-19
Since we are living in a pandemic era, it is important to put a more concerted effort towards sanitizing your household. Spring cleaning is a great time to spend some time sanitizing high-traffic areas of your household.
Here are COVID-19 disinfecting recommendations from the CDC:
Clean high-touch surfaces regularly (for example, daily) and after you have visitors in your home.
Focus on high-touch surfaces such as doorknobs, tables, handles, light switches, and countertops.
Clean other surfaces in your home when they are visibly dirty or as needed. Clean them more frequently if people in your household are

more likely to get very sick from

COVID-19. You might also choose to disinfect.
Clean surfaces using a product suitable for each surface, following instructions on the product label.
Medicine Cabinet
Medicine cabinets tend to be neglected. People typically throw all their medicine in one spot, use their daily meds, and leave the allergy, pain reliever, and cold medicine aside except for the days they're suffering symptoms.
One issue with this is medicine often expires without you even realizing it! By adding the medicine cabinet to your spring cleaning list, you ensure you are never accidentally taking expired medicine.
Refrigerator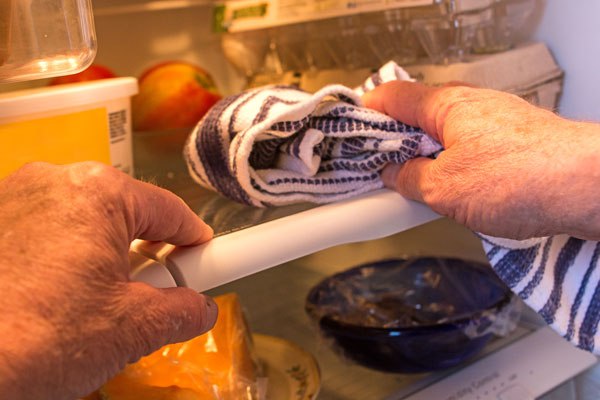 The refrigerator is an item that is typically used daily and can be a huge location for long-term build-up. While it is smart to frequently wipe up any spills in your refrigerator, it is good to take the time once or twice a year to completely empty it and deep clean all the nooks and crannies you may miss during a quick clean.
Additionally, removing everything allows you to get rid of any expired food or condiments and get rid of something you bought for a specific recipe but haven't touched in months. This step is especially important for anyone beginning to experience dementia to prevent accidental ingestion of spoiled food.

Another great tip for freshening up your food in your refrigerator and freezer is to use a baking soda air freshener. This will keep your refrigerator smelling fresh and clean for months!
Vacuum Floors
Although vacuuming floors is typically done frequently, taking the time to do a thorough deep clean is a great idea.

During the winter months people and animals tend to bring in lots of salt and debris, so dirt can get built up in places you don't always think about. During your spring cleaning, it's a good idea to move your furniture and vacuum underneath.
To prevent injuries, enlist family and friends to help with moving heavy furniture.

To avoid creating a tripping hazard, try using a cordless vacuum. Not only is this safer, but you also won't have to move the plug when cleaning from room to room!
Windows
Cleaning the windows is often a dreaded chore, but it can make such a difference! Spring is a great time to do this because it is usually warm out and you can get rid of all of the winter gunk that has built up on your windows.

Seniors can easily use a squeegee to get rid of the dirt without the added wrist strain of trying to rub out the streaks. You'll get rid of the dirt without too much effort!
Improve Air Quality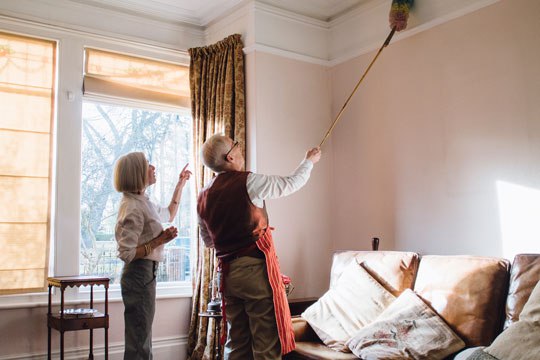 Air quality in a home is something that often gets overlooked. What many don't realize is poor air quality can affect your everyday life.

During your spring cleaning, make it a priority to thoroughly dust your house. Don't forget to dust light fixtures, fans, baseboards, shelves, table tops, and electronics.
To avoid having to use any kind of step stool, use a duster with an extended handle. The handle will help you in both high and low hard-to-reach places.
Looking for a way to easily get that stubborn dirt off of your baseboards? A simple dryer sheet can help! The sheet's strong fibers can help to remove the dust and leave your baseboards looking and smelling great.
Washing all of the linens in your home can also help maintain great air quality. Add drapes, bedding, pet beds, blankets, rugs and towels to your list of items to wash. These items are often forgotten and can accumulate a lot of dust particles!
The final piece to increasing air quality is to replace the air filter in your home. New filters are more effective at trapping the tiny dust particles in the air and can even improve the energy efficiency of your system.
Reduce Clutter
Throughout the year, people tend to accumulate items that they think they may need in the future. During spring cleaning, make the future now.
Go through any mail piles you may have and get rid of the documents you know you no longer need. Another great idea is to clean out any kind of junk drawer or cabinet you may have. Most people have a space where they throw things that they are holding onto but have nowhere else to go. Take the time to clean out this space and get rid of anything you no longer need.
When downsizing your clutter, a good rule of thumb is if you haven't used it in a year and it doesn't bring you joy, get rid of it!
Evaluate Safety
As your needs change with age, it is common for your current home set up to need updates. During spring cleaning, evaluate your needs and change your home to accommodate them.
For example, you can take some time to get rid of any tripping hazards. Rugs that bunch up easily or slide around are a huge cause for concern. Either get rid of it, replace it, or get a rug grip to reduce sliding and bunching.
If your furniture arrangement has become a hassle to you, enlist family or friends to help you rearrange your furniture for the easiest accessibility. Never move heavy furniture on your own.
Try to reduce overall floor clutter in your home. This can easily be done by getting organizational baskets for things like pet toys and living room accessories or putting things on shelves.
---
Spring cleaning is a great way to keep your home clean and keep up with your ever-changing needs. Let us know some of your favorite spring cleaning tips! For more information on staying healthy during your senior years, download our eBook!