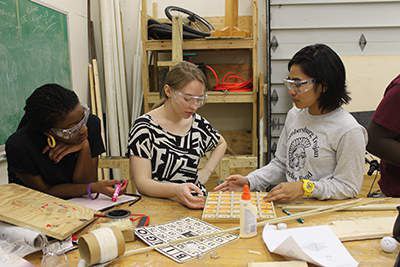 Subscribe
Students Develop User-Centered Technology for Seniors
Freshman engineering students, from Penn State Mont Alto, may have just changed the way we play a game of Bingo. Daniele Grant, Morgan Goodhart, and Lara Vera visited the Presbyterian Senior Living community of Quincy Village on Friday, November 21 to share a prototype of their new user-centered Bingo board with 103-year-old resident Ruby Hussey.
The students were instructed by Professor Jacob Moore, who teaches Introduction to Engineering Design at the campus, to think about the needs of their clients and design a solution to meet those needs. Moore says, "An important lesson in design is to understand your user."
Truer words have never been spoken, especially in a world where adults are living longer and needs are ever changing. Health, mobility, and dexterity decline as we age. According to the Centers for Disease Control and Prevention, an estimated 55.7 million adults will suffer from degenerative conditions such as arthritis and osteoporosis by 2015 and 67 million by 2030. As these numbers increase, so will the need for assistive technology and adaptive devices. The students at Penn State Mont Alto are definitely on to something.
Sammy Hazlik, nursing assistant at Quincy Village and student at Penn State Mont Alto, is helping to facilitate the project. The objective is to help students understand how people experience and solve problems in real-life settings. Hazlik assists as part of a volunteerism component for her HDFS 431 (Family Disorganization) course. It's been an ongoing collaboration between the HDFS program and Quincy Village. The end goal is to develop user-accessible bingo boards for adults suffering from tremors and loss of arm control.
Vera, Grant, and Goodhart met with the residents of Quincy Village to evaluate the boards. They were required to design user-centered technology for seniors catered to traditional masculine activities. Quincy already has apparatuses that assist with traditionally feminine activities such as sewing. Students introduced themselves to the residents, explaining the purpose of their board and the results they hoped to achieve. Ruby, who is an avid Bingo player, had several suggestions: make the numbers bigger and yellow with a black background, so older adults can better see them; smooth the top of the wood to prevent splinters. She went on to say, "I like to use the bottle caps upside-down," so they can more easily be clasped.
The Penn State Mont Alto students will have three weeks to improve and complete their prototypes, incorporating feedback from the residents. There will be a final demonstration and presentation of the newly designed boards at the end of the term. Godhart quotes, "It was good to get a real-world application for our project and get both good and negative feedback."
The students plan to donate the new and improved Bingo boards to Quincy Village for use by the residents.
Learn More About Our Commitment to New Senior Living Technologies and Quality of Care.

Click or Call 1-800-377-3102