Subscribe
Thrive Wellness: Tips for Staying on Track During the Winter
Are you happy with where you are along your wellness journey? Do you frequently take time for YOU? Time to exercise, walk, engage with friends and family, read, relax, meditate, listen to music – whatever it is that you enjoy doing in your free time? Are you actively pursuing and engaging with hobbies that interest you? What are some ways you engage your body, mind, and spirit along the six dimensions of Thrive wellness: Emotional, Vocational, Social, Intellectual, Physical, and Spiritual? Now, are you finding all of these things more difficult during these cold winter months? If your answer is yes, you are not alone.
Many people express having challenges to their wellness journey in the winter – this is certainly not uncommon. Wellness is an essential part of our lives. The decisions we make along our wellness path are a part of who we are and impact all aspects of our health. For various reasons, honoring our personal definition of wellness during the winter months can be challenging, more so than any other time of year.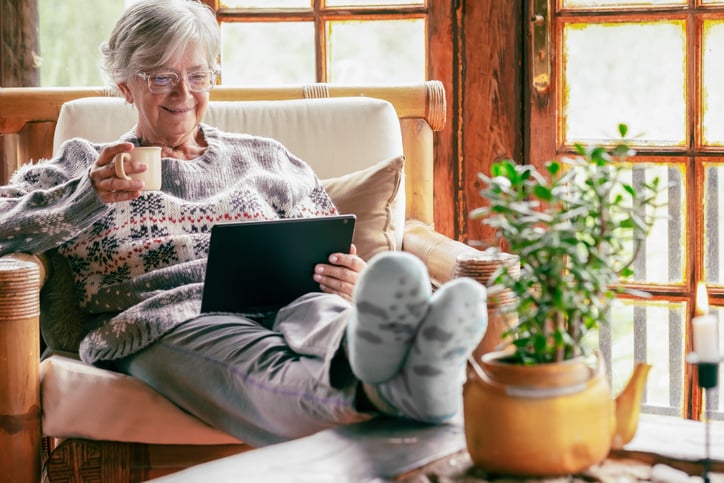 For one, it gets dark outside much earlier during the winter months. For many people, this averts them from walking outside and/or engaging in other outdoor activities that they usually enjoy. Fewer hours in the day mean less sunlight, which in turn means your body is consuming less vitamin D than it does during other times of the year.
Winter months tend to also be cloudier on average than other months of the year, and when the sun does shine outside, we often cannot find the time to get out there and enjoy it. We may be too busy, stressed, overwhelmed by work and home duties, etc. Another challenge of the winter months is the colder temperatures and frequently inclement weather: wind chill, heavy snow, ice, and so on. As if the usual challenges of our everyday lives were not enough of an obstacle to pursuing our wellness, combine that with shorter days, less sunlight, and inclement weather, and you're bound to feel less inclined to pursue your wellness goals.
What to do? What can we do to honor our personal wellness journey during the winter months? First off – if you are noticing and recognizing these challenges to your wellness, then kudos to you! That is a positive first step in the right direction. It is important to honor your feelings and validate that they are real. After you've recognized these feelings, take the time to forgive yourself and acknowledge that it is completely okay and normal to feel this way. Yes, you may be very busy, stressed, and even overwhelmed, but noticing these challenges allows us to be more attuned to improving and making positive additions or changes to our routines.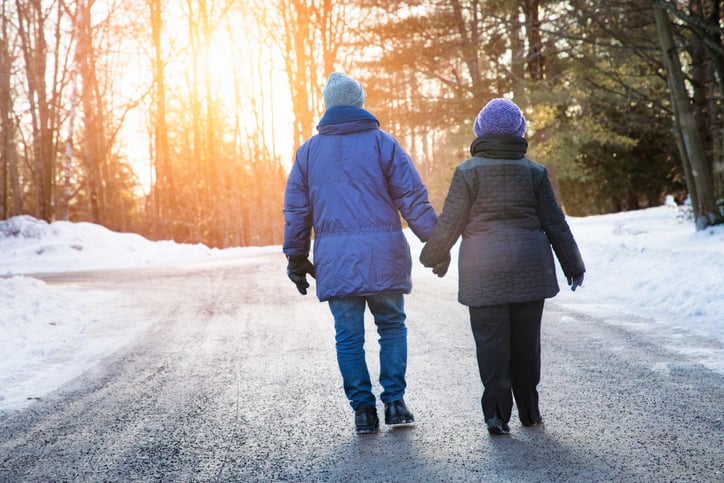 So, what are some things you can do to stay on track with your winter wellness journey during the winter?
Share your thoughts, concerns, and feelings with a family member or friend– perhaps they have their own challenges with wellness during the winter months. Having a sounding board and person to discuss our challenges can be very helpful. It can sometimes lead to finding someone to help keep you accountable for meeting your wellness goals, or a partner who will join you in your preferred wellness activities! Having someone to lean on can even make you look forward to the time you set aside to commit to your wellness.

Even though it's cold, try to set aside some time during your week to get outside. Of course, never put your health at risk or go out when weather situations prove to be dangerous, but on mild days make an effort to bundle up and get even a 10-minute walk in the fresh air. Walk a pet, park a little further away at the grocery store, or even take your phone calls outside. It may not seem like much, but even small doses of the great outdoors can have huge benefits on both our mental and physical well-being.

Talk to your physician about a vitamin D supplement. Adding supplements to your daily routine is not for everyone, so make sure to consult your physician to see if it could be a fit for you. As mentioned earlier, opportunities to be outside vastly decrease during the winter months, so our bodies consume much less vitamin D. Adding this supplement can help us make up for what we would consume during the warmer months. Another option is to open your shades and blinds during daylight hours and try to get as much natural light into your home as possible on a daily basis. Not only will that naturally help boost your vitamin D (yes, you can still absorb it through windows!), it may also help lower heating costs.

Consider your diet as well during the winter months. It is common to want to dive into your favorite comfort foods that may not necessarily be the healthiest during the cold winter months. While there is undoubtedly a place for your favorite winter comfort foods in your diet, it is crucial to maintain a balanced diet year-round. Add some additional servings of fruits and vegetables to your daily diet, and be conscious of your hydration. Staying adequately

hydrated during the winter

months is not as often discussed as in the summer but is equally as important.

Check out some additional ideas for remaining active during the winter months from the

Mayo Clinic

.
However you decide to engage your wellness this winter, feel good about your decision and efforts, and pat yourself on the back. Even the smallest of things you do to honor your health during the cold winter months is a big win! Start slow, and remember anything is better than nothing. You will also enjoy the positive feelings and energy that will accompany it. Hang in there. Do your best. If you have a setback, so be it. Forgive yourself and move on. Just jump back into your routine when you can and remember, the days are starting to get longer, and spring is right around the corner! Be well!