Subscribe
Thrive Wellness: Volunteer Appreciation Month
April is Volunteer Appreciation Month! Every spring, PSL communities honor and celebrate the valuable contributions that volunteers provide them. Volunteers bring their talents, gifts, and skills to share and positively impact the lives of many residents. In this blog, we'll explain why volunteers are such a vital part of our organization, and hear from two avid volunteers at our communities!
Volunteers come from various sources- they include residents, staff, family members, friends, community members, and more! All of these groups of volunteers are a great blessing and a critical part of creating and sustaining the culture of care and compassion we know at Presbyterian Senior Living.
PSL is grateful for these gifts of service and would like to thank all of our volunteers. Their service and time are greatly appreciated throughout the entire organization.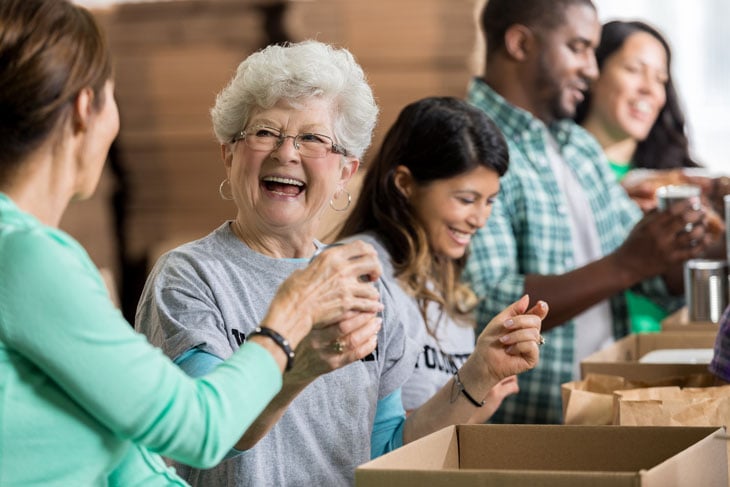 Since the onset of COVID-19, volunteering has looked a bit different in our communities. We have not been able to have on-site volunteers due to regulations and CDC, county, and state guidance. However, you cannot keep a volunteer's spirit and heart at bay --- some people have still found a way during this pandemic to bring value and their gifts of service to the residents we serve. We cannot thank all volunteers enough who provide such wonderful and meaningful service to our residents. We truly appreciate everything they do.
How valuable is volunteering to our communities? Why do we record volunteer hours, and why is that even important?
There are many reasons that PSL requests that volunteers record their hours. Here are a few reasons why recording hours helps the campus and PSL as an organization:
The recorded volunteer hours help retain PSL's 501(c)(3) not-for-profit status. This way, we can stay true to our mission and serve seniors, not shareholders.

Recorded volunteer hours assist our PSL grant writer when applying for grants and awards for our communities. Grants help the staff purchase additional equipment or supplies.

The recorded hours help PSL apply for loans to expand our senior housing through remodeling and new construction. When PSL can show that the residents and staff who live and work in our communities provide service to the surrounding community, that makes a statement to the lenders: it shows that we are a good neighbor and an active participant in the greater community.

Each volunteer hour has an associated value national average of

$28.54/hr

(April 2021 figure per the Independent Sector with the Do Good Institute). For example, if your community records 10,000 volunteer hours in one calendar year, multiply that number by $28.54 and $285,400 in donated time was contributed! This is a huge benefit to the campus and the larger community in which a PSL campus is based.

It is a way to highlight the work of volunteers to our staff, who may see volunteers from time to time, but are unaware of the wide range of activities that volunteers support. PSL staff is continually inspired by the commitment of volunteers to PSL's mission. By giving their time freely, they validate the efforts of staff, often sustaining them when the work becomes difficult.

We use this information in our recruitment efforts for other volunteers throughout the PSL system. People are more likely to join an ongoing and successful effort than a volunteer in a vacuum. Just knowing that they are becoming a part of a volunteer program that has attracted other people like them can be enough to inspire them to become a volunteer.

PSL's charitable purpose as a not-for-profit organization is validated in a specific, quantifiable way to those who are considering us as a potential donor. Foundations routinely ask for a summary of our volunteer hours as evidence of our connection to the broader community and affirm the community's understanding and support of our charitable purpose. Individuals are also impressed by the comprehensive support that is illustrated by volunteer activities.

The record of hours in each PSL location is used to monitor the strength of volunteer efforts and provide feedback on the positive or negative trends in attracting and retaining volunteers. We use this information to make changes to improve the quality and quantity of volunteer activities.

Finally, our sincere desire is to let everyone who works as a volunteer know how much their work means to the people we serve. While we know that not everyone records the hours that they spend as a volunteer, we are always pleasantly surprised by the large number of volunteer hours worked, which affirms the overall impact of volunteers on the culture and ministry of PSL in the service of seniors.
---
Interviews with PSL volunteers
Don Roark, volunteer and resident of Westminster Village at Dover.
How did you first become interested in volunteering?
For most of my working life, I worked in in-house training. I always enjoyed helping others learn the material being taught and felt satisfaction when I accomplished the objective.
What sparked your interest in volunteering?
One need I have is to feel the satisfaction that I've accomplished something to the best of my ability. Volunteering gives me an outlet to achieve that, first, by helping others and, second, by doing something I enjoy doing.
What are some of the things you do as a volunteer? How long have you volunteered at PSL?
My wife and I have lived at Westminster Village in Dover for just over three years, so I have volunteered here for about two and a half years now. Currently, I volunteer in the following areas:
Treasurer of the Resident Association, therefore, a Member of the Executive Committee
Chairperson for the Employee Appreciation Initiative
Chairperson for the Activities Committee
Chairperson for the Bylaws Committee
Member of the Biographies Committee
Write the monthly Newsletter for independent living residents at Dover, which includes a Crossword puzzle for brain stimulation
Besides the organized activities above, I work with the Library Committee and with an in-house religious service to prepare flyers for their various functions.
What has your volunteering experience meant to you?
Foremost in any volunteering project, you must find a task you enjoy doing, and then it becomes something you WANT to do rather than something you NEED to do. I feel as though I have accomplished something worthwhile when I complete a project that brings satisfaction to others. I found that if you enjoy the task, you will do very well at it.
PSL is so grateful for your dedication and efforts. Thank you so much. What advice would you give to others who may be considering volunteering their time with Presbyterian Senior Living?
Volunteering helps you learn more about your community. It's a rewarding experience. I would encourage people to try their hand and find something that brings a smile to themselves. Smiling has many positive effects on ourselves and those with whom we come into contact.
---
Rebecca S. Sterley, a greater community member and volunteer at St. Andrew's Village.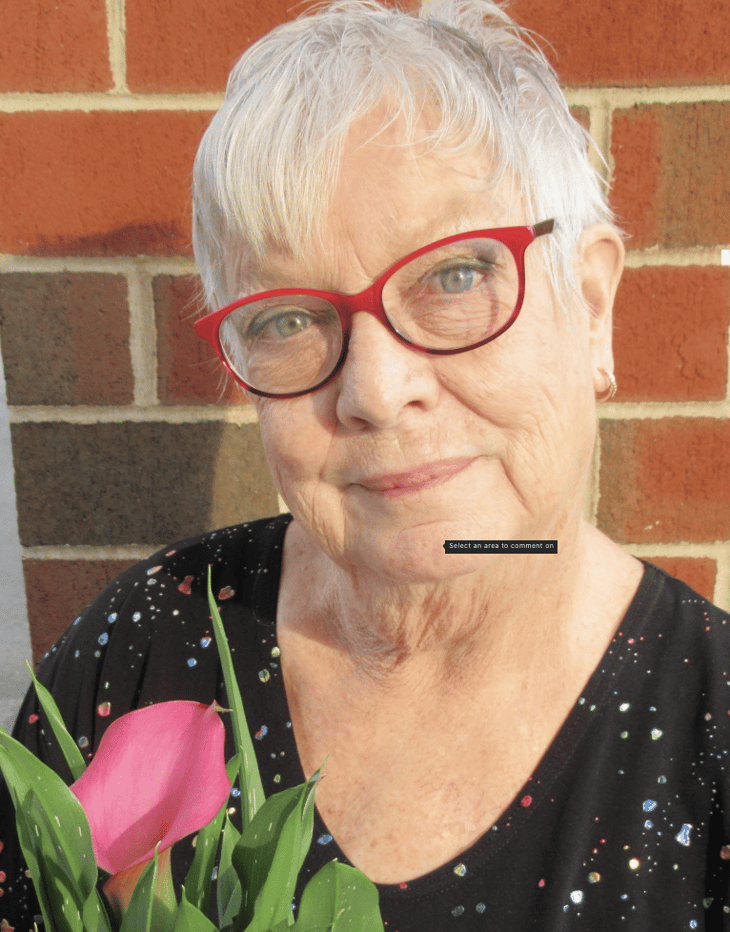 How did you first become interested in volunteering?
My mother was in an Assisted Living retirement home, and I often visited her. During my visits, I saw that the residents needed something to do to keep their spirits lifted. I wanted to help and give my mother something to do and thought, why not do something for everyone and include my mother. I started by asking the Administrator to be a guest presenter and was granted permission. During my presentations, I saw the joy in the residents' faces when I presented my travel experiences and animal facts. I most remember a resident saying to me, "take us away from here (the home they were staying at)- to anywhere –to learn anything." I found that most compelling and wanted to give the residents something new and refreshed every time I presented.
What sparked your interest in volunteering?
When I retired, I wanted to contribute to the community and give back to residents needing a change of scenery from the Nursing Home and decided to do that by taking them on "a journey with Rebecca." Travel is my passion, so I thought it would be a delight for me to take residents around the world.
What are some of the things you do as a volunteer? How long have you volunteered at PSL?
I put together and share powerpoints about my travel around the world. During my presentations, I ask the residents what sparks their interest or what they would like to learn about and put together programs according to their interests. In advance of my presentations, I print memory sheets to bring forward memories and experiences they have had and encourage interest in the upcoming program. Since Covid, I have been creating activity packets for every holiday and extra programs for whatever the Volunteer Coordinator may need. We work together to make the event special for all the residents.
I have volunteered at St. Andrew's Village for the last 11 years and started volunteering after I retired.
What has your volunteering experience meant to you?
As the Covid pandemic hit, my interaction with residents came to a screeching halt, and I worked with the Volunteer Coordinator to see how I could help during this time. Volunteers and families were not permitted to come into the building, and I wanted to do something to help.
I was once a resident at St. Andrew's Village after a hospitalization and realized how difficult it is as a resident unable to go home. I realized part of the healing process is to be comfortable in your surroundings. I know firsthand what it feels like to be away from home, not able to go home, and all the emotional frustration that goes along with the situation. I can truly relate and understand completely as I have walked in the resident's shoes. Volunteering gives me something to look forward to, and I realize helping to get the residents' minds working could help get them home sooner. Unless you experience being a resident, it isn't easy to place yourself in a resident's shoes.
PSL is so grateful for your dedication and efforts. Thank you. What advice would you give to others who may be considering volunteering their time with Presbyterian Senior Living?
We all have different strengths, interests, and talents. When you are volunteering and see a resident's smile of appreciation, it is worth your time and effort to explore volunteering. I leave my volunteer experience with such a sense of love for what I am doing. The personal thank you from residents is a reward in itself. If you are interested in volunteering, please seek out a Volunteer Coordinator. Your time is a precious gift, and your help is needed.
---
Please stay tuned for next month's post for Thrive Wellness updates and share this information with your friends. Invite them to subscribe to the PSL blog. Thrive Wellness monthly blogs will post at the end of each month.
People who come to Presbyterian Senior Living come for more than just a place to live– they come to feel energized, challenged, and fulfilled; they come to THRIVE.