Subscribe
Women's History Month: The Woman Behind Who We Are Today
As many are aware, March is Women's History Month. As an organization, we decided what better way to celebrate women's history than to share the story of how we began, by the means of a remarkable woman, Ellen Parker. In addition to being the driving force behind the inception of our organization, it was 9 women who were the first residents to join us. Our organization's history traces back over 95 years to Newville, PA, which is today the site of Green Ridge Village.
Ellen Parker was born on July 20, 1852, in Lewistown, Pennsylvania. Her father, Dr. Lewis Hoover, died when she was one year old. Ten. Years later, her mother married Captain Cyrus K. Mark, a Civil War veteran. Captain Mark adopted Ellen soon after the marriage.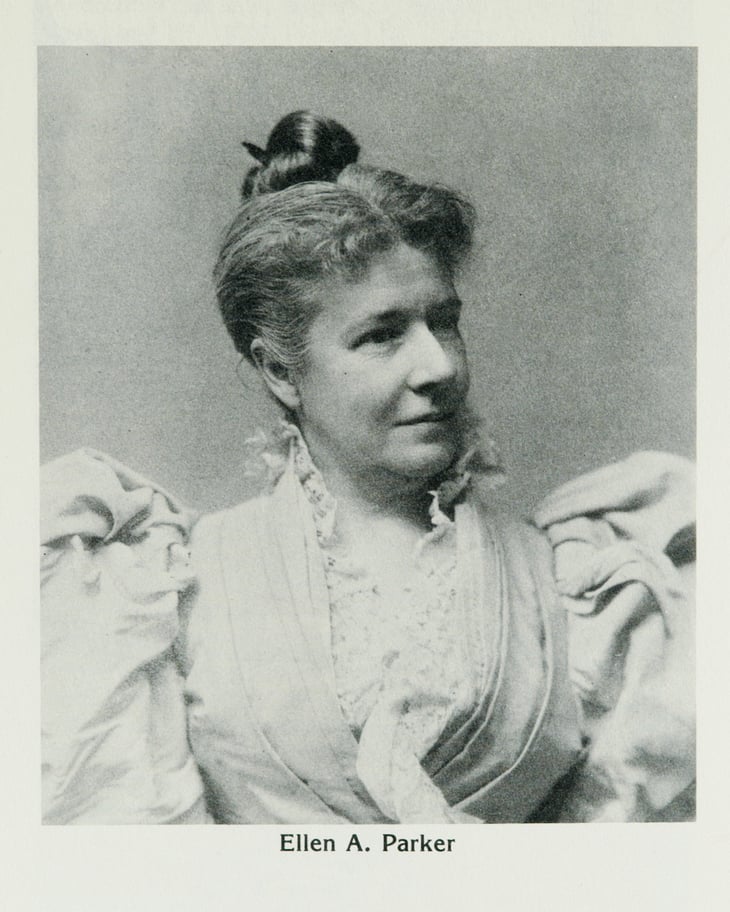 Ellen was brought to Cumberland County when her stepfather took a job with a Lebanon iron ore company and moved to Pine Grove Furnace, 12 miles south of Newville. She soon became known as "the Belle of the Cumberland Valley."
When Ellen was twenty years old, she married Samuel Given, son of the owner of a paper mill at Mount Holly Springs. Before she could celebrate her first anniversary, Samuel died of tuberculosis at the age of twenty-four. Ellen, "a child of sorrow and acquainted with grief," remained a widow for four years before marrying William Henderson Parker, scion of two notable Carlisle families.
The Parkers ranched for a few years in Wyoming where Ellen participated in cattle drives. Once she crossed the flooded North Platt River with her husband in a pony cart. In 1884 the Parkers sold their ranchlands, returned to Carlisle, and bought a large home at 315 North Market Street, Carlisle, and a 258-acre farm near Newville. In February 1886 Ellen was widowed a second time when William, age 38 died following a lengthy illness. She never married again. Instead, Ellen devoted her life and wealth to the care of orphaned children and aging persons.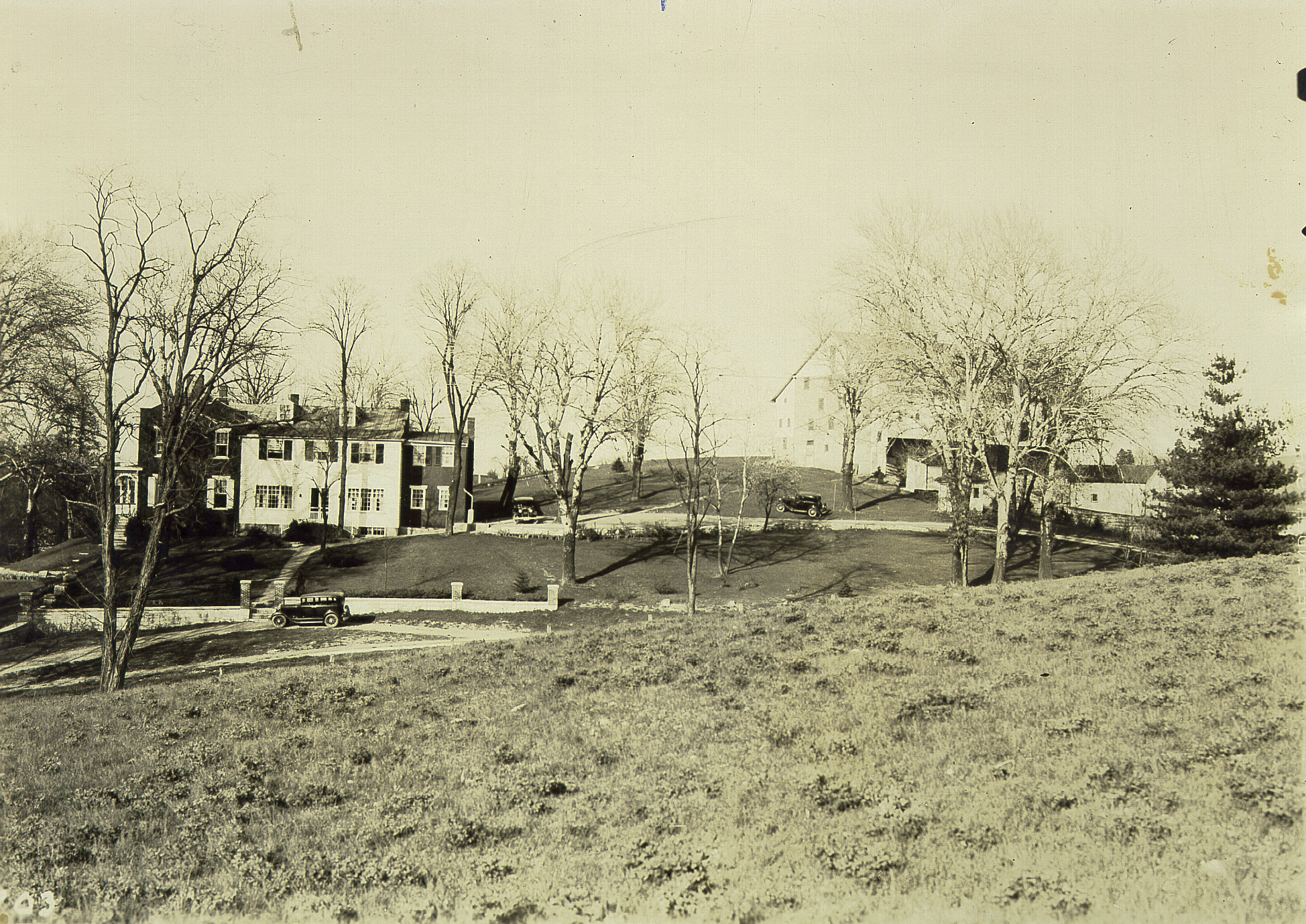 Original Parker Homestead
In 1890 she adopted a two-year-old foster child whom she named William Lewis Parker.
Mrs. Parker had run her own orphanage for four years, which she designed, build, financed and managed personally at 601 North Hanover Street, Carlisle. Health problems forced her to close the orphanage in 1915. She recuperated in Alabama for the next two years.
Mrs. Parker dreamed of developing another orphanage and, possibly, a home for the aged as well. Upon her return to Carlisle in 1917, she heard about the efforts of local Presbyterians to develop an orphanage as well as a home for the aged, and she offered her full support to the cause.
In 1927, Mrs. Parker conveyed her Newville property consisting of a farmhouse and 91 acres to Presbyterian Home of Central Pennsylvania. It was an act of generosity that launched PHI (what we now know as Presbyterian Senior Living) as an organization, turning the intentions of the three founders of Presbyterian Homes into a reality.
Mrs. Parker's Newville farmhouse became the Parker Home and opened its doors to nine women on September 17, 1928. All nine residents arrived on the same day, creating a scene of confusion and near bedlam. Mrs. Mary Hartzell was hired as the Matron. The original guests were Miss Helen Floyd, Harrisburg, Miss Mary Fulton, York, Miss Nettie Green, Dickinson, Miss Helen Gossler, Northumberland, Miss Christine Gourley, Harrisburg, Miss Helen Jones, Williamsport, Mrs. Helen Luther, Lock Haven, Miss Matilda Underwood, Mechanicsburg, and Mrs. Margaret Waterfield, Carbondale.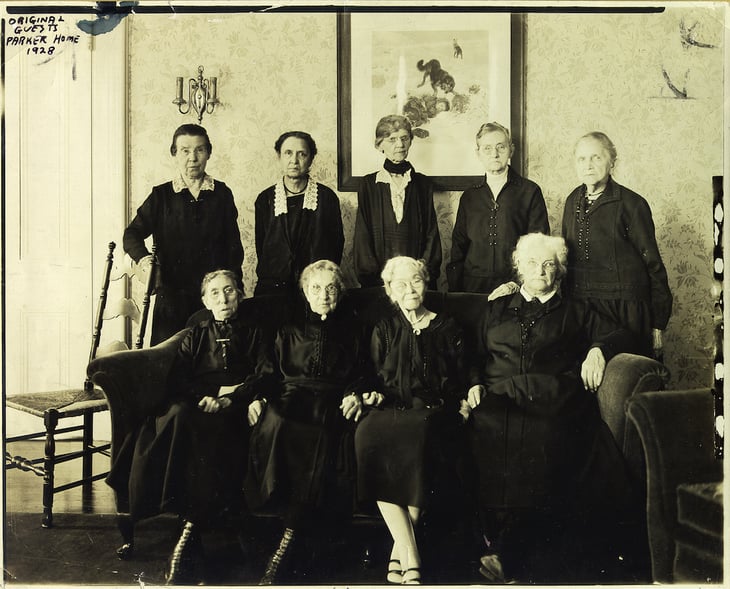 Original guests
The guests had several things in common: they were old, frail, and poor. Most were farm women looking for a clean, warm place to call home. What they found was an environment that offered much more. It was a home-like atmosphere which included elegant touches such as linen napkins, silver napkin rings, private rooms, and lots of love. Most of the guests resembled the women portrayed in the painting of "Whistler's Mother," a copy of which hung appropriately in the living room of the Parker Home. Indeed, the Board of Trustees adopted the portrait of "Whistler's Mother" as the symbol of the home, to be used in the manner of a trademark.
In 1931, Mrs. Parker sold to the Home 93 acres of land in West Pennsborough Township contiguous to the farm property already donated to the Home, to be paid for an annuity bond in the amount of $4,500, paying 4.5% interest, or $202.50 in annual income. Payments on the annuity were to cease upon the death of Mrs. Parker. Mrs. Parker refused to accept any of the interest payments. She augmented her benevolence by contributing her silver service and china closet to the Home.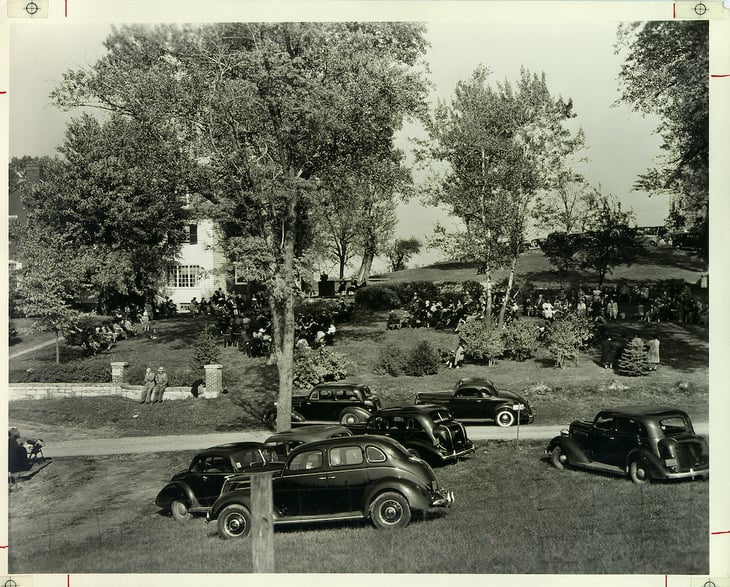 Parker Home Outing
Mrs. Parker died on April 8, 1935. She left her entire estate, valued at $187,000, in trust for the Home. The Board of Trustees prepared the following Memorial Record on the passing of Mrs. Parker:
"Mrs. Ellen A. Parker, a member of the Board of Trustees of The Presbyterian Home of Central Pennsylvania, entered into her rest April 8, 1935, having reached the ripe age of 82 years. She leaves behind her memories of an outstanding personality and benefactions that will keep her in remembrance as they continue their ministries of helpfulness in the years to come.
In 1927, by the gift of a farm of 90 acres and Mansion, later by the gift of an adjoining farm of like acreage, and the deeding of a valuable property in Carlisle, she made possible the opening of the Home for Aged Presbyterians."
---
Today our organization has seen many changes, and now cares for seniors of all backgrounds. We are thankful for the philanthropic woman who made it all possible. Were you aware of the impact Ellen Parker had on PSL's history? Let us know in the comments below.