Keep your loved one safe, happy and warm this winter!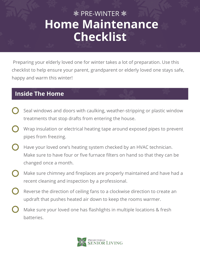 We want to make it as easy as possible for you to care for your loved one. Print this checklist and use it to make sure you don't miss anything while getting the house ready for winter.
This checklist includes reminders for:
Getting the inside of a home ready for winter
Preparing the outside of a home for snow, sleet, and the cold
General tips that can save money and reduce headaches
We hope you enjoy this Pre-Winter Home Maintenance Checklist. Just fill out the form on the right, and it's yours!
Download the checklist and get ready for winter!
Worried About Your Information? We have you covered.
Your trust is vitally important to us at PSL. We take great care to protect your personal information and assets, and to keep your information confidential. To view our complete privacy policy
click here.