Everything You Need to Create a Winter Disaster Supply Kit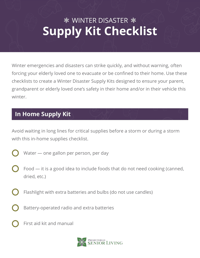 Winter can be a challenging time with colder and more dangerous weather, a little preparation goes a long way. Print this checklist and use it to create a winter disaster supply kit for your loved one.
This checklist includes recommendations for:
An in-home supply kit
Cold weather clothing
Supplies to always keep in your vehicle
We hope you enjoy this Winter Disaster Supply Kit Checklist. Just fill out the form on the right, and it's yours!
Download the checklist and be ready for anything this winter!
Worried About Your Information? We have you covered.
Your trust is vitally important to us at PSL. We take great care to protect your personal information and assets, and to keep your information confidential. To view our complete privacy policy click here.