Subscribe
Presbyterian Senior Living Communities Celebrate Active Aging Week
Active Aging Week (AAW) was founded by the International Council on Active Aging in 2003 and is celebrated annually from October 1 to 7.

AAW's objective is to call attention to today's aging positivity and to celebrate it wholeheartedly.
The main goal of this week-long campaign is to reduce the societal stigma about aging by demonstrating that seniors can live as fully as anyone else in all fields of life, regardless of age or health.Many senior health care providers engage during AAW by hosting a variety of physical, social, spiritual, emotional, academic, professional, and environmental-centric services.

During these events, the hope is to provide the chance for seniors to experience wellness and participate in activities in a secure, supportive setting and to encourage the advantages of a healthier, more active lifestyle.

Every year, Presbyterian Senior Living communities embrace AAW by offering enjoyable activities for residents to engage!
Cathedral Village
Active Aging Week at Cathedral Village was full of fun events for residents! Throughout the week fitness director Kristine Labhart hosted Aqua Fun and Chair One fitness classes for residents to attend.
During Aqua Fun, residents can sit on the in-water ledge or stand in the water and have fun passing beach balls, playing tag, and hitting the ball back and forth to each other in the pool. During this class, residents laugh, move, and have fun! One resident said, "this class makes me feel like a kid again!"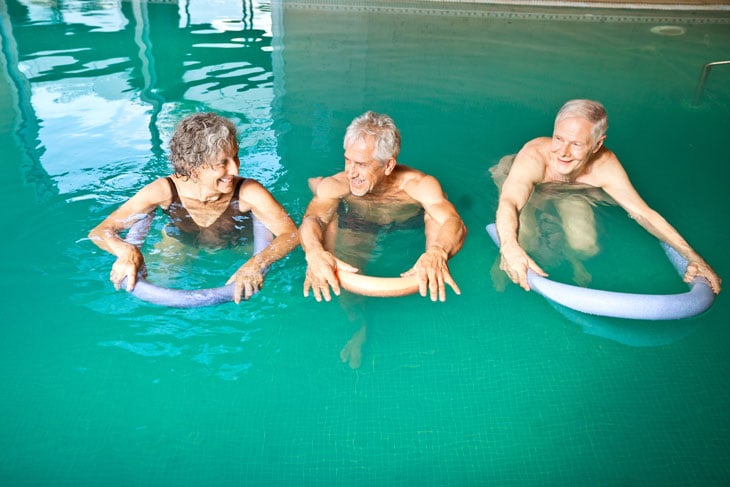 Chair One fitness classes can be done in any stable chair (wheelchair included). During this class, residents participate in upbeat, interactive, fun moves in a chair as they clap, laugh, and sing along! It's a great way to get physical, socialize, and have fun!
In addition to the weekly class offerings, Cathedral Village residents had the opportunity to participate in two special events: farm day and a climate change strike.
On September 14, residents, their families, staff and the local community came out and participated in learning about and petting farm animals, face painting and making balloon animals among other farm day fun. It was a great day of learning, socializing, and enjoying the company of each other and the local community.
To wrap up Active Aging Week, Cathedral Village residents took to the local community on September 20 to protest climate change. They stood on a local corner with signs and bull horns protesting and supporting the national youth climate strike. They wanted to help encourage the students to fight for this good cause.
Westminster Woods at Huntingdon
Westminster Woods at Huntingdon started their Active Aging Week celebration on October 1 by implementing Nature Rx principals and taking a hike spending time in nature at Blair Park. In addition to the hike, residents were encouraged to do yoga, meditate, paint, socialize, or anything else they desired while immersing themselves in nature and soaking up some vitamin D.
On October 3, residents trained with Fitness Director Andrea Teeters for a 5k walk in State College, PA that they will be participating in on November 10.
To wrap up Active Aging Week, Andrea presented on Healthy Hydration on October 7 to help encourage residents to showcase the importance of hydration.
Kirkland Village
This year, Kirkland Village fitness director Lynn Diaz tied in their annual mobility review with AAW. The mobility review is used to benchmark the activity levels of residents and help promote physical activity. If a resident who has already completed his/her review brought a resident with them who had NOT, both were entered into a drawing to win two free personal training sessions. Afterward, the residents were invited to reward themselves with a self-serve yogurt, fruit, and granola bar.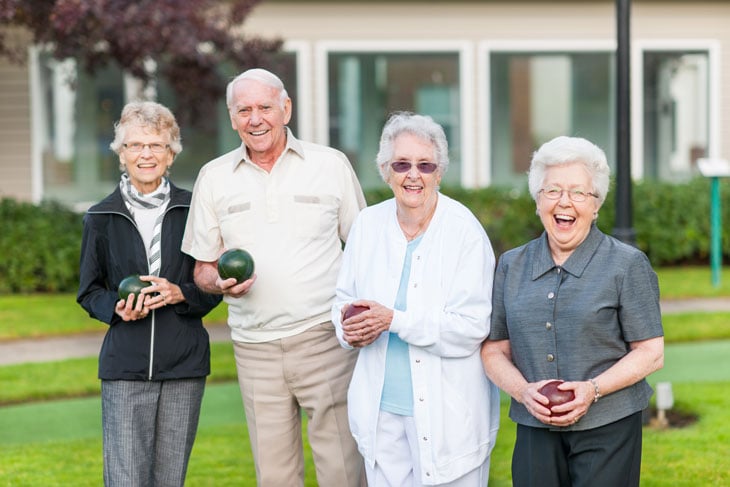 On Wednesday, October 2, Kirkland Village hosted their first annual bocce ball tournament. Each floor was made into a team equaling seven teams total. The seven teams competed in the single-elimination tournament and followed up with refreshments and an awards ceremony to celebrate the bocce ball champions!
Ware Presbyterian Village
Ware Presbyterian Village kicked off Active Aging Week by celebrating the beauty of Autumn with "Walk With the Wolves." Independent living residents celebrated their active lifestyle by joining fitness director Victoria Kates on a mindful walk through Wolf's Hollow Park, a lovely wooded local park.
In addition to Walk With the Wolves, Victoria organized a variety of exercise classes throughout the week:
Outdoor Seated Tai Chi and Guided Imagery
Tai Chi, a popular fitness class hosted at Ware Prebyterian Village, takes a new spin and goes outdoors to bring awareness and connection between residents and environmental wellness.
ChairOne Fitness
A special, low impact chair one fitness class took place for health center and personal care residents with Fitness Director, Victoria Kates, and Community Life Aides co-teaching.
AI CHI (pronounced: eye-chee)
God Bless You! No, not a sneeze, Tai Chi gets wet in this exciting offering. Using the warm atmosphere, gentle resistance, and soothing properties of the indoor pool, participants will learn the fundamentals of Aquatic Tai Chi to increase strength, balance, flexibility and improve executive functioning essential for brain health.
STEP it UP
STEP it UP is a small group, high energy class focusing on multi-joint exercise and functional mobility. A variety of circuits and disciplines were combined with upbeat music to provide a challenging and stimulating workout.
Green Ridge Village
Green Ridge Village kicked off Active Aging Week with a ping pong tournament on October 1. A group of residents who play ping pong every weekend invited any residents interested to join the fun and get active.
The following day fitness director Fred Wall organized residents to hike, bike and enjoy a picnic lunch on the Cumberland Valley Rail Trail.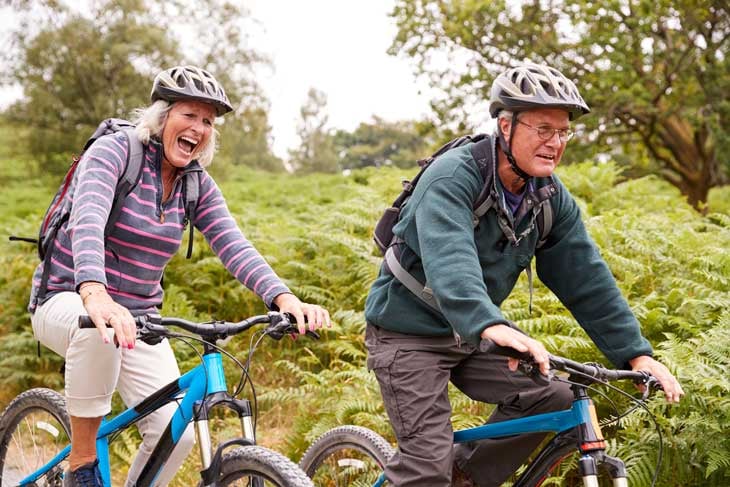 On October 3, residents and employees had the opportunity to compete in a Wii Bowling Tournament. Wii Bowling is a great way to get your body moving without the stress of maneuvering a heavy bowling ball or exposing yourself to slippery floors.
On October 4, Green Ridge Village hosted a Oktoberfest Friday with Friends brunch followed by a program on the history of beer and home brewing.
To wrap up Active Aging Week, residents were invited to participate in a Balance and Strength program on October 7th to bring awareness to fall prevention and discuss building a regular exercise routine.
---
The result of all these events was another successful year of Active Aging Week. You can download our free checklist to learn more about how to find a senior fitness facility to increase the activity levels of you or your loved one!