Subscribe
Are Electric Vehicles a Good Choice for Older Adults?
Health & Aging | Miscellaneous
Gas prices have been on a roller coaster over the past few months. Because COVID-19 kept more people at home, demand was low in recent years. That led to deflated gas prices that most of us became accustomed to. With demand for gasoline soaring and supply more limited than ever, people are looking for alternatives. This has brought the issue of electric vehicles to the forefront once again.
Seniors in the market for a new car might wonder if an electric vehicle is right for them. In the past, these vehicles were either small and cheaply made or too expensive for the average person. Inconsistent range and few charging stations made many people hesitant to invest in an electric vehicle.
Now, however, there are more models from which to choose and a greater number of charging stations across the country. We'll take a quick look at the pros and cons of purchasing an electric vehicle to help you make a confident decision.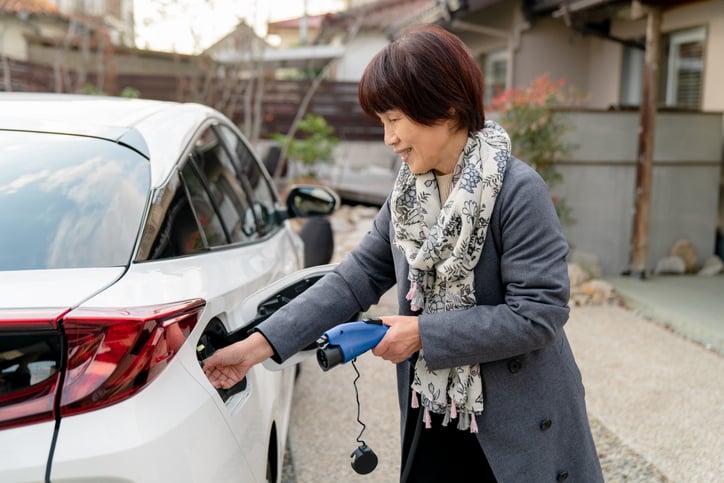 The Positive Side of Electric Vehicles
Here's what experts say are advantages to purchasing an electric vehicle as your next vehicle:
Environmentally Conscious
This has always been a leading reason to invest in an electric vehicle. They are simply better for the environment. Quiet-riding electric vehicles aren't chugging out climate-damaging emissions. According to the International Council on Clean Transportation, electric vehicles produce 60%–68% fewer emissions than conventional vehicles.

Go the Distance


Electric vehicles can now go further on a single charge. The average range for 2020 model vehicles is around 250 miles. That's a decent range, especially for city drivers. And when you do need to recharge, today's electric vehicle batteries do so more quickly than those of the past. Some can be at 80% in as little as 30 minutes.

Low Maintenance


Let's face it, cars powered by gas have complicated engines. Depending on the model, they can require a lot of maintenance. Not so with an electric vehicle. You'll spend less time in the service department at your car dealer, which also results in the electric vehicle being cheaper to maintain. On average, owners of an electric vehicle can expect to save $4,600 over the life of the vehicle when compared with a gas-powered car.
More Attractive
Most of us remember the early electric vehicles as having been pretty darn unattractive. Fortunately, those days are gone. While there still are some models that aren't as visually appealing, you'll now find better-looking electric vehicles at every price point.
Fun Driving
Today's electric vehicles are quick to start and easy to zip around in. Auto experts compare driving an electric vehicle to the fun of driving a go-cart combined with the comfort and style of a car. And who doesn't like driving a go-cart?

Tax Credits


If you purchase an electric vehicle, the car salesperson is likely to share a variety of tax credits you might be eligible for. These can help offset the cost of the car. You can also check the government's Fuel Economy page to see if there are other tax incentives your vehicle might qualify you to receive.
A Few of the Drawbacks of Electric Vehicles
While there are numerous reasons to buy an electric vehicle, it's also important to learn about the downside of electric cars:
Upfront Expense
While the pricing on electric vehicles has improved, even for mid-range vehicles, there is still some sticker shock when comparing an electric vehicle with a gasoline-powered car. On the lower end of the electric vehicle price spectrum, the BMW Mini Cooper SE electric and the Mazda MX-30 have prices in the $30,000 to $40,000 range. By contrast, higher-end electric cars like the Porsche Taycan Turbo S, Audi, and Tesla are well over $100,000. Manufacturers like Ford, Volkswagen, Cadillac, and BMW are a few that have electric vehicles priced in between.
Access to Charging Stations
While the number of charging stations nationwide has climbed in recent years, there are still areas of the country where stations are great distances apart. According to data from the U.S. Department of Energy, there were 28,000 charging stations with about 94,000 outlets in November of 2020.
This last item is one that can be considered both a pro and a con. Home charger pricing has improved. Most retail between $300 and $700. But you'll likely have additional fees for installation, such as permits, supplies, and an electrician's time. Those can add as much as another $3,000 to your bill.
Transportation is Included at Many PSL Communities
If you'd like to eliminate the headaches and expense of owning a car altogether, a move to a life plan community might be a solution. These thoughtfully designed senior communities offer transportation services for residents. From doctor's appointments to group outings, it's a convenience residents appreciate.