Subscribe
Avoid Fire Safety Risks During the Holidays
Health & Aging | Miscellaneous
The upcoming holidays are eagerly anticipated seasons of the year. Many people decorate their homes with candles, twinkling lights, and fresh scented trees. It's a welcome way to gather with friends and loved ones.
What isn't welcome, but sometimes happens during this time of year, is home fires. The holidays are when fires in the home happen most often. From overloaded breakers to burning candles left unattended, taking a few minutes to learn more about the most common risk factors can help protect you and yours.
Tips for Preventing Holiday Home Fires
1. Use caution decorating with lights and fresh greenery.
In less than 30 seconds, a Christmas tree fire can engulf an entire room. Taking steps to ensure your tree and other holiday greenery isn't presenting a hazard is important.
Display fresh greenery a safe distance from open flames, such as candles, fireplaces, and stoves.
If you opt to decorate with a real tree or fresh garland, make sure they are not dried out when you purchase them. You can tell how fresh they are by shaking the greenery or tree, and watching how many needles fall off.
Check and water your tree and greenery daily. Misting with a spray bottle is a great way to keep garland fresh.
Monitor the health of any fresh greenery and recycle them when they begin to look dry or become brown.
2. Purchase quality holiday lights and follow the instructions.
Lights are a holiday decorating staple for most households. When used improperly, however, they present a fire hazard. Here are a few precautions to keep in mind when you are decking the halls this year:
Look for and purchase lights that have a UL tag. That means they were safety tested by Underwriters Laboratories.
Before you hang your lights each season, check for any fraying on the cord and plug. Recycle those that show signs of wear.
Follow the manufacturer's instructions on how many strands of lights you can safely string together and connect.
Use extension cords sparingly. Overusing cords or connecting too many cords together can overload a circuit and cause a fire.
Make sure to use indoor lights inside and outdoor lights outside.
Turn off lights before leaving the house or going to bed. Timers can be helpful in making sure you don't forget.
Use plastic hooks to hang lights. Metal clips and nails can damage lights, increasing the risk of a fire.
3. Exercise caution when using real candles.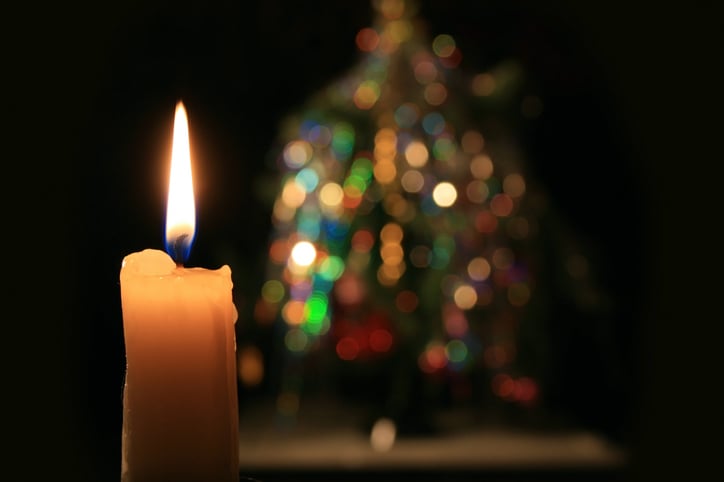 Candles are a staple during the holidays. Yet fire safety experts say home fires caused by candles spike during the holiday season. While that doesn't mean you have to skip using candles entirely, it does mean you should exercise caution while doing so.
Burn candles only when you will be home and awake to monitor them. Don't leave a lit candle unattended, even to go into another room.
Watch where you place a burning candle. Some household items you wouldn't necessarily notice can be flammable, such as pot holders, curtains, towels, and other décor. Experts say you need at least 1 foot of clearance.
When you are lighting candles, be careful of tops with billowy sleeves, long hair, jackets, and other items that might drop in the flame and ignite.
If an adult who lives in or visits your household during the holidays has Alzheimer's, flameless candles may be a safer solution to consider.
One final safety tip is to make sure you and your senior family member's homes have working smoke detectors installed in key areas. A small, easy-to-handle fire extinguisher is also a good idea.
---
Older Adults and Winter Safety
While holiday fire risk is a serious concern for seniors, winter can create other hazards. Take time to help your senior loved one be prepared in the event a weather-related disaster occurs. Download this Winter Disaster Supply Kit Checklist at no cost today to get started!