Subscribe
Halloween Safety Tips for Adults with Dementia
Health & Aging | Caregiver Support
Halloween is a night celebrated in many neighborhoods across the country with a variety of traditions being practiced. Decorating homes and yards, hosting a block party, and donning costumes to go trick-or-treating are just a few. The festivities are usually fun for people of all ages.
For adults with dementia, however, the night can be anything but enjoyable. Because dementia causes a decline in cognitive abilities, a senior living with it might have difficulty distinguishing fantasy from reality. Even over the days leading up to Halloween, this can be a problem.
Witches, vampires, ghosts, and zombies are typical sights on Halloween, but they can be frightening for a person with dementia. Family caregivers should be mindful of the challenges Halloween can present for people with memory impairment. A senior may become frightened, confused, and anxious, depending on the stage of their disease.
The risk of wandering from home might also increase on or around Halloween. A senior may be frightened by what they see and try to seek a safe place. The fall time change that causes darkness to fall earlier, can also exacerbate the situation. For a senior who experiences sundowning, which is linked to agitation and wandering, Halloween celebrations can become even more problematic.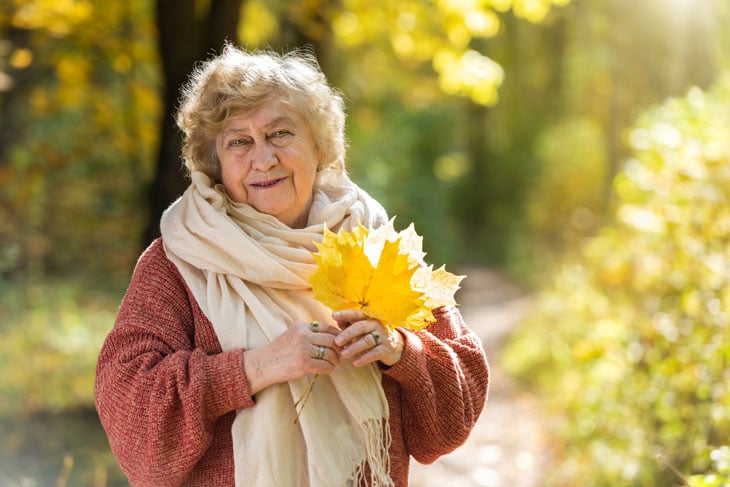 To make your family's Halloween festivities safe for a senior loved one, keep these tips in mind.
Keeping a Senior with Dementia Safe on Halloween
Use caution with decorations


Halloween has become a big deal in this country. In fact, experts believe 80 million people a year decorate for this spooky, seasonal event, spending an estimated $2.6 billion! If your family traditions include creating a scary yard scene or decorating your place like a haunted house, try seeing things through your loved one's eyes this year.

For people with dementia, distinguishing make-believe from reality can be tough. Coffins, skulls, tombstones, spiders, and bats can be alarming. As can décor that pops out when you walk by or make loud noises. While it might not be as exciting, it's probably safer to opt for decorations like mums, pumpkins, and corn stalks this year.
Be mindful of decorations in public places
As is true for most holidays, every place from shopping malls to dentist offices decorate for Halloween. It's easy to overlook scary decorations in public places when you are busy reviewing your shopping list or filling out medical forms. If a family member with dementia accompanies you on errands, be mindful of your surroundings. Keep an eye out for seasonal decorations, spooky music and costumes that might be frightening.
Make a plan for Halloween evening
Halloween night usually presents the greatest challenges when it comes to keeping an adult with dementia calm and safe. Trick-or-treaters ringing the doorbell can be confusing. Not to mention opening the front door and finding people in scary costumes on the doorstep. For a senior with memory impairment, the night can be disorienting and frightening.

That's why it's important to have a plan for Halloween night. Maybe ask a friend or family member to spend time with your senior loved one in a quiet area of the house during trick-or-treat hours. Provide them with some activities they can enjoy together, such as watching an old movie or completing a craft project. You could also put a sign in the yard that requests no trick-or-treaters come to the door. You can add a bowl of candy by the sign if you'd like to still join the festivity.


---
Managing Caregiver Stress
Without a doubt, caregiving for a senior family member can be rewarding. But it can also be stressful and worrisome. From guilt to sadness, caregivers experience a rollercoaster of emotions. Learning how to manage them is key to protecting your own physical and emotional well-being. The guide Caregiver Stress: 5 Tips for Managing Life as a Caregiver offers insight into navigating the role of family caregiver. Download it at no cost and share it with loved ones.