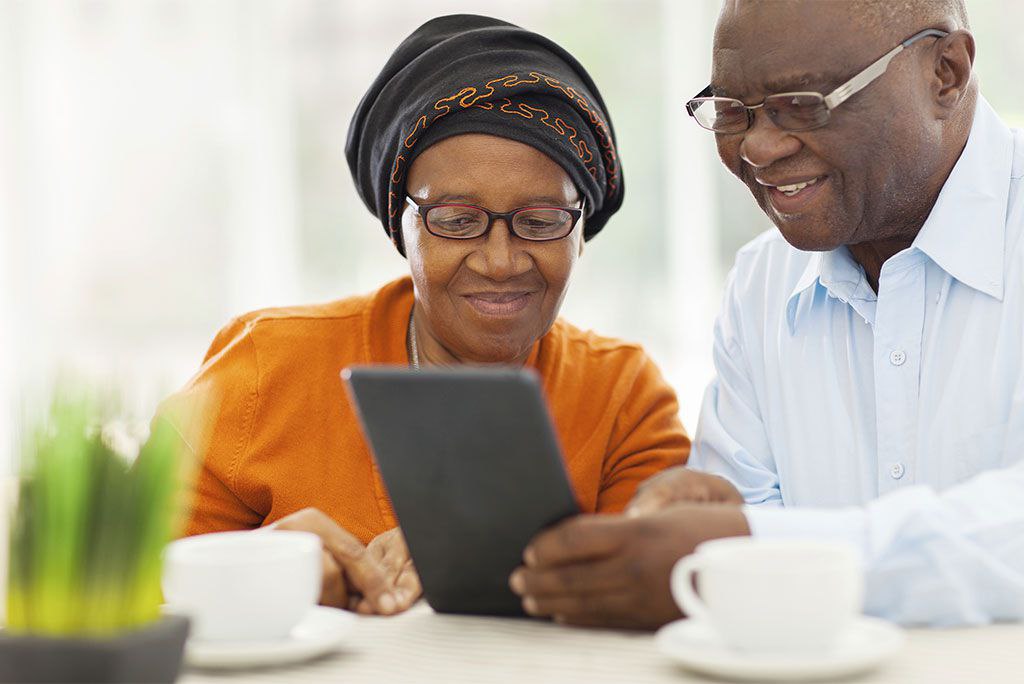 Subscribe
How We Help Residents Embrace Technology and Improve Quality of Life
Health & Aging | Caregiver Support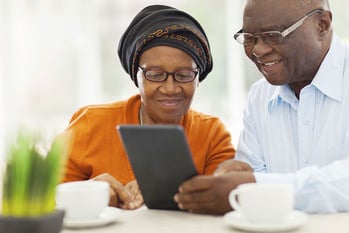 Technology is a great resource for caregivers and seniors, especially due to the percentage of adult children caregiving from a distance. According to MetLife/Mature Market Institute, thirty-four million Americans provide care to aging parents and other relatives, with 15% of these caregivers living at a distance to their loved ones. With all the difficulties caregivers face, meeting the challenges of long-distance caregiving can be overwhelming. Presbyterian Senior Living wants to help alleviate these challenges and bridge the gap between caregiver, caregivee, and how society views aging. One way we are doing this is through the use of technology.
Using Technology to Stay Connected
During the Fall of 2014, two Presbyterian Senior Living communities (Glen Meadows Retirement Community; located in Glen Arm, MD and The Long Community at Highland; located in Lancaster, PA) partnered with Generation Connect—a technology training company that helps seniors stay in touch with family through the use of iPads. Designed for new learners with selective content and through the use of familiar language and visual guides, Generation Connect has been able to foster new methods of communication between adult children and their loved ones.
Classes are offered in six different sessions held weekly for 90 minutes at a time. Residents at The Long Community at Highland and their family members have found the classes to be be very informative and instrumental in helping them stay in touch. "I was very encouraged by the residents' inclination to help each other. They were eager to share features that were personally impactful. That goes a long way, since many of their peers are hesitant to adopt new technologies," says Michael Potteiger, Generation Connect Instructor.
During one of the Long Community at Highland sessions, resident Doris Jean Ashman was seen practicing her newfound photo skills by taking a selfie using her iPad and knowledge gained from the class. "Technology is a life line for mom and her three daughters who each live two hours away," says daughter Ginny Walsh. But make no mistake, Ashman and her family aren't newbies when it comes to technology. They use Skype, FaceTime, email, Facebook, and mobile devices to communicate with one another from a distance. Technology has been a useful resource, not only for staying connected and up to date with present trends, but Ginny has found it beneficial for recollecting her past. She enjoys doing ancestry research, Brain Gym type exercises, and bird watching on YouTube when she can't get out as often as she would like.
Enhancing Mental Well-Being
Technology certainly changes the way people age and engage with the world around them. In addition to the programs offered through Generation Connect, Presbyterian Senior Living communities use advances in technology to help seniors stay mentally fit. Many of our Personal Care and Assisted Living communities use the It's Never To Late® system. It's Never To Late® is an easy to use touchscreen system that's prepackaged with engaging content to help seniors—specifically those with dementia and memory loss—improve socialization skills and increase quality of life. Residents use the system to safely browse the Internet, access email, and communicate with family members through private video conferencing.
With 10,000 Baby Boomers crossing the 65-year-old threshold every day, technology will continue to become increasingly important to meeting the needs of aging adults. According to PewResearchCenter, the typical Boomer feels nine years younger than they actually are. This affects how seniors view themselves and perceive the world around them. Jacqui Smith, a psychologist from the University of Michigan Institute of Social Research says, "It's good for us to think we're a little better than we actually are." She believes positive thinking and active lifestyles are associated with feelings of hope and well-being.
How You Can Help as a Caregiver
As a caregiver, helping your loved one embrace technology has many benefits. Most importantly, it brings you closer and keeps them younger, more vibrant and healthy. However, getting a loved one who is new to using technology comfortable with it can take time. If your loved one is new to using technology, below are some approaches you can take to ease into the process:
Introduce them to using a cellphone—not just for calling, but for texting as well. There are many senior-friendly smartphones on the market that make it easy to text and send pictures. Some even come equipped with medical care and emergency alert apps.
Let them play around with and get used to using your smartphone or tablet. Show them the pictures you've taken with your smartphone and the apps you use to stay social.
Accompany them to the store to test out various electronic devices so that they can determine the right one for them. Due to dexterity limitations, some seniors may find tablets with larger screens and keypads easier to use. Phablets are also great choices as they are small enough to be used as a phone, but large enough to play games on and engage in other social activities.
Schedule time to sit down with your loved one and go over the basics of Facebook, setting up a profile, and how it can be used to stay connected with friends and family.
If your loved one is comfortable and ready for something a little more in depth, encourage them to register for a few classes. Check with local senior citizen centers, rotary clubs, or churches. To make it less intimidating, ask if you can participate in the class alongside your loved one.
Call on the grandkids to help. Kids have a tendency to bring out the best in people. Recruiting the grandkids to help makes for a great intergenerational activity. Their excitement will rub off on your loved one and the memories will last a lifetime.
At Presbyterian Senior Living, we encourage seniors to remain active and engaged within their communities. We are pleased to offer programs that can help and make a difference in how older adults view themselves and live life.
Looking for more helpful tips on staying connected with your loved ones? Download our "Caregiving During the Holidays" infographic.