Subscribe
Pet Power: The Many Benefits of Pet Ownership for Seniors
Anyone who's ever owned a pet knows that animals offer incomparable companionship. But they offer even more than that, particularly for the elderly. There's no better time to highlight the value of pet ownership for seniors than with today's observation of National Love Your Pet Day Let's take a closer look at why your aging loved one and a pet may be the perfect pair, along with tips for helping seniors find a Fido or Mittens of their own.
The Health Benefits of Pets for Seniors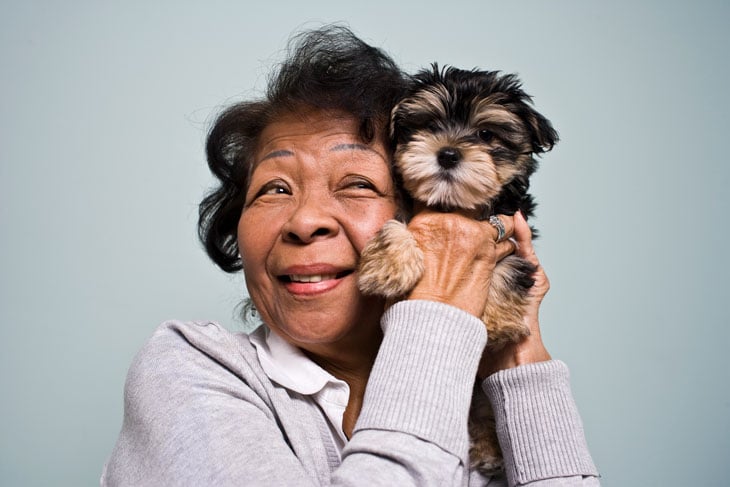 Want to help your aging loved one lower their blood pressure, enjoy better cardiovascular health, and even have fewer hospital visits? Pet ownership can have all of these effects and more. Research even links pet ownership with better survival rates following heart attacks!
But the benefits of owning a pet are far from strictly physical. Seniors with pets are also less lonely; enjoy improved mental health, including elevated levels of calming chemicals serotonin and dopamine; and even lower their likelihood of suffering from depression.
In people suffering from Alzheimer's disease and dementia, pets have been shown to offer positive nonverbal communication and quell anxious outbursts while reducing stress in patients and their caregivers alike.
How do pets have such a powerful impact? In a number of different ways. According to research by the Perelman School of Medicine, not only do they give their owners unconditional love and acceptance, but they also do something even more vital: they give many seniors an otherwise absent sense of responsibility and purpose. And while pets promote immune system-boosting touch, their presence alone is also beneficial.
Finding the Right Pet for Your Aging Loved One
Pets are anything but one-size-fits all. The best type of pet for your senior loved one depends on their unique preferences, capabilities and living environment.
One particularly popular pick for seniors? Small dogs. For starters, there's the fact that people who own dogs live longer than people who own cats, according to Harvard and the American Heart Association. Why? While conclusive proof is still out, experts suggest that it may be linked to both the increased exercise that comes with dog ownership along with their affectionate natures.
If your aging loved one is frail or has mobility issues, cats offer many of the same amazing attributes with fewer daily care, training and physical demands. Not only are cats content to stay indoors, but they require limited daily playtime with no sacrifice of companionship. If your loved one would enjoy a lap pet, a cuddly cat may be the purr-fect match.
Even owning a fish can have benefits for seniors! They're low-maintenance, less-expensive to feed and care for, and can add a sense of tranquility to your senior loved one's living space. If you're looking for something out of the box, there are more than a few senior-friendly pets, including birds, mice and even rats.
One last thing to keep in mind - before making a commitment to a particular pet, do your research to ensure that you're making an informed choice. Certain breeds are more appropriate for seniors than others: The more you know, the less likely you are to make a rash decision which may end with the pet needing to find a new home.
Where to Find a Pet
Worried about finding the perfect pet? Check out your local shelter! There is often a negative stigma that coincides with shelters, but there shouldn't be! Shelters often are one of the best places to find the perfect match. Here are a few reasons why you should consider adopting a shelter pet:
1. Many shelter pets are already trained!
For some seniors, getting a new pet may seem out of the question due to the amount of physical effort it takes to train a new pet. When you adopt a shelter pet, you can be selective and choose a pet that already has training! In shelters you have the potential to find animals with training that ranges from simple house training, to even pets with service animal attributes.
2. Cost is much lower.
Many seniors may be longing to have a pet but are hesitant because of finances. When adopting a shelter pet, there is often a small adoption fee which covers the animal's shots, spaying/neutering procedure, and sometimes even microchipping! This option is financially minuscule in comparison to the steep prices of pure bred animals and the initial costs of shots, spay/neutering, and microchipping individually.
3. You can get to know the pet's personality.
When you buy an animal from a pet store or a breeder, often times you do not get the ability to learn about the pet's personality before purchasing it. With a shelter pet, you have the opportunity to visit the pet and spend as much time as you need with them before committing to taking it home. For seniors, this is a huge advantage. There is nothing worse than buying a pet and realizing they are not a great fit for your life. Often times, that is what puts many animals in shelters to begin with.
4. You feel like you're giving back.
When you adopt a pet you are saving a life. You may not know the past of a pet, but when you adopt you can be sure you know it's future will be a good one. Adopting a pet can be an extremely fulfilling experience and can create a unique bond between you and your pet. Often times shelter pets know that you've saved them and show their appreciation on a daily basis.
5. Shelters typically have more than just cats and dogs!
Most people think that shelters are limited to just cats and dogs, but in many shelters this is not the case! Shelter animals can range from reptiles to guinea pigs to birds.
6. Animals are often healthier.
Typically, people think that shelter pets will be filled with ailments, but they are often healthier than pet store pets! Purebred dogs in particular are more prone to genetic disease and predisposed ailments because of the small gene pool they are bred from. Also, when you buy dogs from pet stories they often come from puppy mills, where dogs rarely ever see the outside of a cage. When you adopt a shelter pet you, are sure that the animal has received a full veterinary exam and is up to date on all of its necessary vaccines and routine medical treatment.
Alternative Options
If your senior loved one is unable to have a pet for any reason, there is an alternative that still allows them to enjoy some of the benefits a pet can offer. A growing trend in senior care is the use of robotic pets! These pets are affordable and have no continuing costs, other than the occasional change of batteries. Robot pets are programmed to do everything from purring at your touch to following your voice with their heads. Whether your senior cannot have a pet due to allergies, mobility issues, or anything in between, a robot pet may be a great alternative! These pets still offer a sense of companionship without the added responsibility of caring for a pet.
---
If you're looking for potential ways to help your aging loved one enjoy a healthier, more meaningful quality of life, National Love Your Pet Day is an ideal time to consider whether a four-footed, two-finned, or feathered friend might be an invaluable solution. Comment below and tell us your pet stories and don't forget to download our free eBook for more ways to enrich your senior loved one's life!