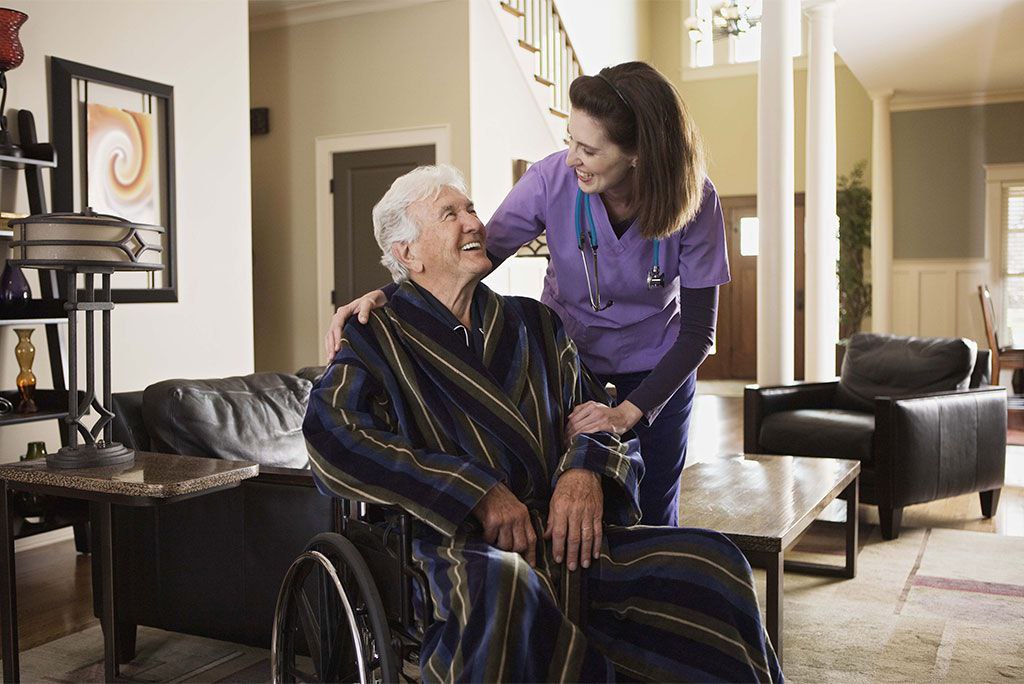 Subscribe
The 3 C's of At-Home Services
Health & Aging | Caregiver Support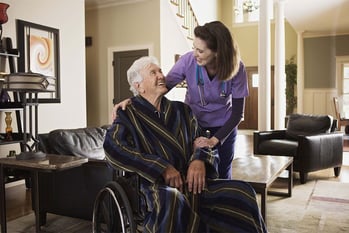 There are many benefits to having a loved one cared for in their home, but finding the right provider is crucial. With At-Home Services, your loved one can age in "our" place while their day-to-day needs are being cared for. Your loved one will have the freedom to maintain their way of living in a healthy, safe environment. Because At-Home Services is focused on meeting the needs of aging adults—by offering personalized services—quality of life is greatly improved.
Offering a variety of services to promote independence and overall well-being, our professionally trained caregivers are always here for you. At-Home Services, for older adults living within our Continuing Care Retirement Communities, include help with bathing, dressing, evening and morning routines; laundry and light housekeeping; cooking, meal preparation, help with errands and shopping; medication reminders; transportation to and from medical appointments; caregiver support services and more.
What Should You Look for in an At-Home Services Provider?
Along with making sure the provider can meet your daily care needs, you should ask the right questions.
Will I have to handle the background checks and screenings on my own?
Is there a limit on the hours and days services are available?
Do you provide ongoing training for caregivers?
What kinds of personal care services do you provide?
What if I just want someone to come and sit with my loved one for a few hours?
Questions you ask should be focused on convenience, comfort, and companionship. Together, these make up the three C's of At-Home Services and can get you one step closer to finding a reputable provider.
1. Convenience
It's impossible to always be there for a loved one. While you want them to remain as independent as possible, you understand the severity of them being left home alone—or worse, being separated from the life they have grown accustomed to. At-Home Services will give you peace of mind knowing your loved one is attentively being cared for in the privacy of their own home. Trained, licensed health care professionals come to your home—making it a convenient option for care.
At Presbyterian Senior Living, we handle the background checks and training of all in-home caregivers so this isn't a burden you have to carry. Whether you require assistance during the day or in the evening, our caregivers are available. Additionally, our services are great for couples, in which one spouse requires more one-on-one assistance. Keeping you and your loved one together is important to living your life without interruption.
2. Comfort
It's no surprise people thrive better in familiar environments; there's no place like home. For complete comfort, independence, and privacy, At-Home Services may be the right option for you. As more and more aging adults express an interest to remain in their homes, aging in place continues to become a hot topic for seniors. The great thing about many Presbyterian Senior Living's communities is that through our At-Home Services, we can assist in developing a package of in-home care services right for you.

When you move into one of our communities that offers At-Home Services, you can rest assured knowing we will do everything we can to keep you and/or a spouse in your home. After all, home is where you are most comfortable. Along with the comforts of home, you'll receive the privacy you deserve. It's no one else's business what you do from day to day. You should be able to live your life the way to see fit and trust that our competent, confidential staff will help you do just that.
3. Companionship
Research reveals there is a link between social needs and health. According to National Institutes of Health, social relationships have an affect on mental and physical health. With At-Home Services, your loved one will stay active and engaged through the friendship of compassionate caregivers. You don't have to worry about depression, loneliness, or social isolation when it comes to your aging loved one. Their mental, social, and physical health will be cared for. So whether it be accompanying your loved one on a walk outdoors, cooking, or enjoying a favorite pastime together, our caregivers can offer your loved one complete, confidential companionship.
Take the time to learn more about At-Home Services at a Presbyterian Senior Living community near you. Our senior care experts are available to answer any question you may have. Contact us or locate a community today.
Discover the 3 C's of At-Home Services for Yourself.
Locate a Community Near You.