Subscribe
Thrive Wellness: PSL Residents Embrace the Season of Giving Through Thrive Olympic Challenge
Philanthropy | Thrive Wellness
Today we wish you a very Happy Thanksgiving! To spread the holiday cheer, we'd like to take a moment to reflect on the Thrive Olympic Challenge and the benefits it brought to not only the residents who participated but also surrounding communities as a whole.
The International Council of Active Aging annually hosts Active Aging Week, a nationwide effort to celebrate active seniors during October. In an effort to put their own spin on Active Aging Week, the residents of the Thrive Wellness steering group brought the Thrive Olympic Challenge idea to life. During the entire month of October, residents throughout various communities in the PSL network planned events and took part in this Active Aging Week-inspired challenge.
"Olympic events" were held in 10 of our Life Plan communities throughout Pennsylvania, Delaware, and Maryland. Residents chose six events honoring the six dimensions of Thrive Wellness: Social, Intellectual, Physical, Spiritual, Emotional, and Vocational. The events held were respectively: Social Mixer, Trivia, a "Move-A-Thon," Nature Scavenger Hunt, Art/Photography Gallery Contest, and Collecting Socks for the Homeless.
Over 35 residents across PSL communities met in July with team members to plan the events, and it was imperative to residents that not everything be competitive. Residents decided to have three competitive events: "Move-A-Thon," Nature Scavenger Hunt, and the Art/Photography contest, while the other events would be non-competitive opportunities for fellowship and a common purpose among residents living in PSL communities.
As a result of some of these challenges, PSL residents had 9,150 hours of movement across all communities for the month of October – a whopping total of 36,598 total miles of movement!
In other words, residents could have moved from the PSL Corporate office in Dillsburg, PA, to San Francisco and back six times!
Or, since the earth's circumference is roughly 25,000 miles – almost one and a half times around the planet!
Additionally, a very significant and impactful purpose came forward right away, as residents decided, in line with the Vocational dimension of Thrive Wellness, to collaborate in their communities to collect socks for the homeless living in their local communities. Residents had a strong desire to give back and positively impact the lives of others in need.
Thanksgiving is a special time of the year– a time when we reflect on the things we hold near and dear to our hearts and the things in our lives for which we are thankful. As residents planned to collect socks for the homeless, a powerful spirit of giving sprung forth in each community. Residents called other residents asking how many socks they were donating and what else was needed. What more could they do? What more could they give?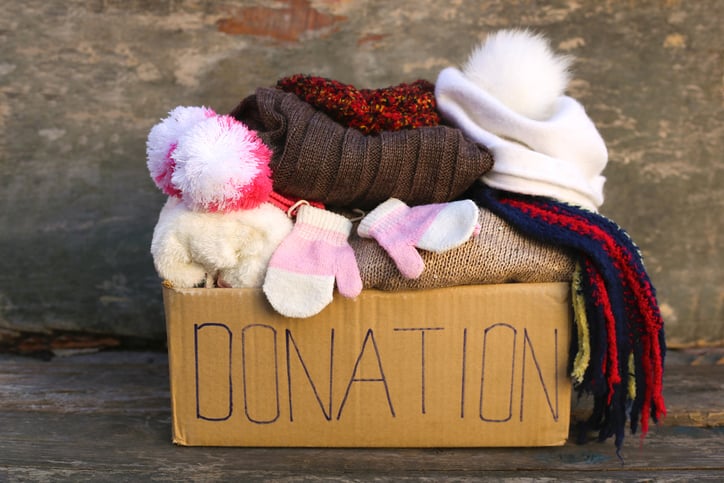 Yes indeed, 'tis the season – the giving season across Presbyterian Senior Living. Donating items to those in need enabled residents to come together with a clear, common purpose to positively impact people living in the greater community outside the boundaries of their Life Plan community itself. One of the items most needed at local homeless shelters is clean, brand-new socks.
However, PSL residents didn't just stop there. In addition to the donations of socks, the spirit of giving called residents to donate six SUV truckloads of clothing to Afghan refugees and several truckloads of baby/children clothing, diapers, towels, personal care items and laundry supplies to a domestic abuse and shelter organization.
During this season of giving, residents made a tremendous, positive impact on the lives of many people in need. As the total numbers of donations were collected, it soon became apparent just how much of an impact residents had made:
Across all Presbyterian Senior Living communities – a total of 3,424 brand-new pairs of socks were donated to the homeless living locally around PSL communities!!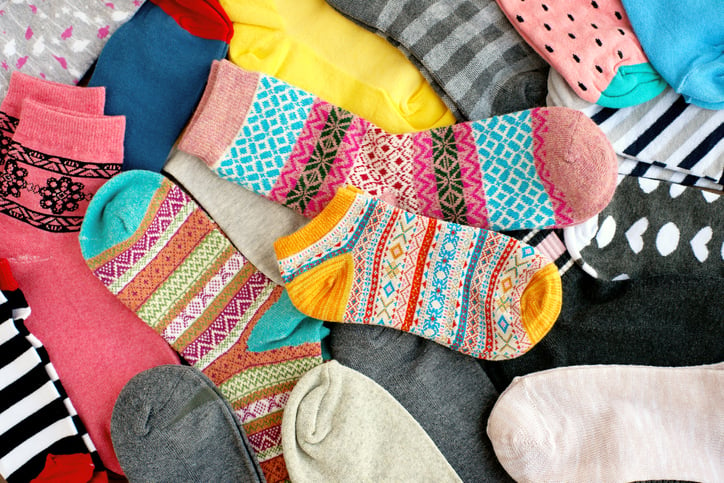 25 organizations across PA, MD, and DE benefited from these donations. Those organizations are:
Bell Family Shelter-York

Bethesda Mission Men's Shelter

Harrisburg, Carlisle CARES Emergency Shelter

Claire House-Lancaster

Coatesville VA Medical Center

Disabled American Veterans-Camp Hill

Domestic Violence Services-Lancaster, Friends of the Poor-Scranton

LifePath Christian Ministries-York

Tomorrows Hope Home-Coalport

VA Hospital-Hollidaysburg

Women's Care Center-York

Women's Center-Bloomsburg

York Helping Hands of the Homeless

House of Ruth

Helping UP Mission

Salvation Army

Safe Harbour

New Bethany Ministries

Northeast Community Center in Bethlehem

American Rescue Mission

Waynesboro Community and Human Services

Alice Paul House

The Sheppard Place

Huntingdon House.
For residents, the inaugural fall Thrive Olympic Challenge provided not just an opportunity to engage with others in friendly competition, but it also brought residents closer together, collaborating in fellowship and giving, and contributing to a much greater common purpose: to help other people in need in the greater community-- for PSL residents, 'tis the season.
---
Looking for an opportunity to give back this holiday season? This year, Presbyterian Senior Living is participating in GivingTuesday in an effort to give back to the residents we serve. Visit www.psl.org/tuesday to learn more about the event and how you can donate today. A little from a lot goes a long way!