Subscribe
Veterans and Surviving Spouses Can Access Benefits through Presbyterian Senior Living
Health & Aging | Miscellaneous | veteran
PSL has long been committed to providing exceptional care and support to veterans and military widows or widowers, including help from lesser-known programs.
Gary Dwyer, Veteran Assistance Specialist at Presbyterian Senior Living, remembers meeting a World War II prisoner of war who was rescued by an American patrol moments before facing execution.
As a result of the traumas he endured, the man was left with lifelong adverse health effects. Despite knowing he was eligible for a military-connected disability benefit, the veteran had not applied for it, believing that his life being spared was compensation enough.
With Gary's assistance, the veteran obtained a 100% service-connected disability benefit with a monthly payment of over $3,000. This not only helped him financially, but the support highlighted the recognition he deserved for his sacrifice.
"These benefits are something veterans deserve," Gary says of often unknown veterans benefits. "To be a POW, he went through a heck of a lot."
It was one of many times when Gary has seen veterans or their surviving spouses fail to access much-deserved benefits tied to military service. With the help of dedicated professionals such as Gary, PSL ensures that veterans and their surviving spouses receive those benefits.
Accessing Essential Benefits
As a veteran with 24 years of Army service, Gary brings a wealth of experience to his position. For 18 years since retiring from the Army, he has assisted veterans with accessing various Department of Veterans Affairs benefits.
Apart from disability benefits such as those owed to the former prisoner of war, Gary assists residents of PSL's independent-living communities and their families in obtaining two critical pensions: one for military veterans and another for surviving spouses. These pensions provide financial assistance to veterans in nursing centers and can significantly alleviate the costs of long-term care.
Many veterans and surviving spouses are unaware that the pensions exist.
"The veterans really need to look into the veteran programs that are out there. Many of the men and women don't take advantage of things available to them," Gary says. "This pension program isn't a secret, but it's not a well-known program."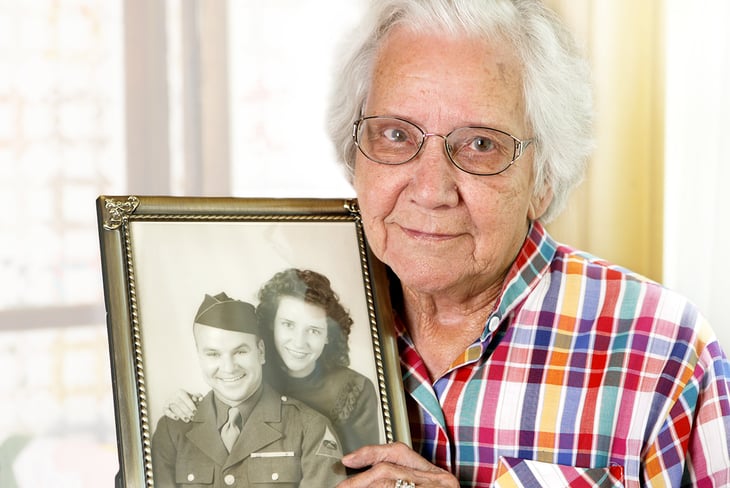 Aid for Veterans, Surviving Spouses
According to Gary, Aid and Attendance benefits for veterans and surviving spouses include two main pensions.
The Improved Veteran Pension provides benefits to veterans with nonservice-related disabilities and age-related disabilities. Veterans must have served during specific wartime periods, such as World War II, the Korean War, the Vietnam War, or the Persian Gulf War. Eligibility is based on combined income and savings, with three levels of pensions.
"Men and women who served in WWII and the Korean War are not expecting the government to have a pension for them," Gary says.
Gary often assists veterans' widows and widowers in accessing benefits. The Improved Death Pension, designed for surviving spouses, is not widely known. It is available to surviving spouses who were married to a veteran at the time of the person's death. The deceased veteran must have met the criteria for the Improved Veteran Pension. As with that pension, eligibility is based on income and savings, with three levels of pensions.
Gary recalls a case in which a PSL community resident had remarried another war veteran after her first husband died in action during World War II. With Gary's guidance, she was able to refile a dependency claim based on her first husband's death, resulting in a greater benefit.
Tax-free Payments
Veterans and surviving spouses who require assistance with daily living activities, including skilled nursing care, personal care, home care, and adult day care, might be eligible for financial assistance through the VA. The income level for qualification is based on medical expenses billed to Medicare and private health insurance, as well as the cost of care.
These VA pension programs provide tax-free payments. Qualifying income levels and monthly payments vary, Gary says. He is always happy to walk PSL residents through the process of determining eligibility and applying for benefits.

Empowering Veterans to Live Full Lives
Gary is a staunch advocate for veterans, urging them to explore pension eligibility and to take advantage of available programs. It is essential for veterans to be aware of their health care options, Gary says. Apart from pensions, the VA health care program provides comprehensive coverage, ensuring that veterans receive necessary medical care.
Through the expertise of individuals such as Gary, PSL is committed to serving veterans in their later years. By helping veterans and surviving spouses to access benefits, including pensions and health care, PSL ensures that veterans and their widows or widowers can thrive in a supportive and caring environment with the respect and financial support they deserve.
To learn more about the benefits available to veterans and surviving spouses, contact Gary Dwyer via email at gdwyer@psl.org or phone at 717-795-0404.