Subscribe
Personal Care, Assisted Living, and Health Center Visiting Options at Presbyterian Senior Living
"When can I visit (my parent, my spouse, my best friend, my child) in person and hold their hand or hug them?" is a question we hear throughout the day.
At this time, the answer relies on many different variables that are unfortunately out of our control. What we do know is that being able to connect with your loved one is essential to you, the resident and to us. Currently, Presbyterian Senior Living offers many options for you to connect with your loved one. I will take a few moments to describe what you can expect and how to access each offering.
The options below are designed for visiting residents at PSL's Personal Care, Assisted Living, or Health Center neighborhoods. Independent Living visitation guidelines and are listed on our COVID-19 Updates and Resources page.
Virtual Video Connections
Virtual video connections can be made using Zoom, and facilitated using PSL's technology that is in place at each community. The virtual visits offer individuals the ability to see each other on video and hear each other in real-time. These are available for all residents regardless of COVID-19 status. Residents with memory loss may have difficulty using or understanding this technology because it is not something they are familiar with, or recognize from their youth.
The family member or friend hoping to connect with a resident must have a laptop, tablet, smartphone, or computer to connect. To register for a virtual video session with your loved one, visit the contact section on our COVID-19 Updates and Resources page and choose the community name where your loved one resides. When you select "Self Schedule Online," you are asked to enter some basic information that will then send you a unique one time link via email to use to connect at the date and time you chose. You will also receive an email shortly before your scheduled visit begins as a reminder.
Window Visits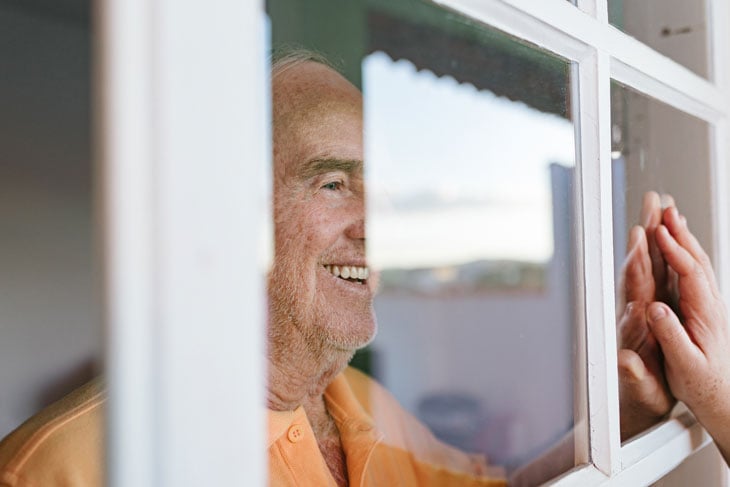 Window visits are an additional way we are connecting residents to their loved ones while ensuring we can maintain resident health and safety by not permitting visitors in the buildings during the pandemic. These are available at each of our communities for residents who do not have COVID-19 and have not had a possible exposure. Typically there is a barrier between the resident and visitor such as a window or plexiglass divider. Masks and social distancing must be maintained.
PSL uses a two-way communication assistance device called Eversound to enhance this visit in the health center setting. Each person wears a headphone and has a small wearable microphone. The headphones are adjustable for the wearer to increase or decrease the volume to hear each other while still wearing a mask, social distancing, and overcoming the physical barrier of the window or plexiglass divider. The headsets and dividers are sanitize these between each use.
For Personal Care and Assisted Living, the community may be using a cell phone or telephone to ensure that each participant hears each other. To register for a window visit, please contact the community directly.
The community scheduling hotline is listed on the contact section on our COVID-19 Updates and Resources page. We do ask that if you are not feeling well, have been diagnosed with COVID-19 or any communicable disease, traveled outside of the state of the community, been exposed to anyone with COVID-19, or have any possible signs or symptoms of COVID-19 that you please not visit and instead utilize the virtual visit option.
Compassionate Visits
Compassionate visits are special exceptions that permit a limited number of family members to visit with loved ones who are at the end of life. The resident's doctor and clinical team determine when these special circumstances exist and reach out to family members to offer the visit as timely as possible.
If this type of visit is needed, the clinical team will review the requirements for visitors with the family and work with the family to physically visit their loved one while wearing the appropriate Personal Protective Equipment and other required measures for safety.
Tips For A Great Visit
While none of the currently-available visit options permit hugs or hand-holding due to social distancing requirements, maintaining your relationship with your loved one is vital and important. During your visit, focus on the positives. Discuss the good things that are occurring, such as a family member's graduation from school, something interesting you are learning, or something new you are experiencing.
Talk about memories and past events that resonate with the person you are visiting. What trips might you have gone on together? Ask questions about the person's childhood or work experiences. Ask for advice on parenting, the best fishing spots, or cooking tips. This might be the perfect time to share recipes, work together to write a life story/biography, or review ancestry lineage together.
---
In order to accommodate everyone, we ask families to limit their visits to 1 time per week so that all residents may have an opportunity to connect with their loved ones. All visits should also be time-limited to allow our team to provide an excellent level of service to all residents and family members. Our team members are doing their best to accommodate everyone and make sure residents are ready and assisted before, during and after their visits.
As this global pandemic continues, PSL is doing everything possible to support your loved one. Following a holistic standpoint, community team members work to engage health center and personal care/assisted living residents. Four of our communities (Kirkland Village, Ware Presbyterian Village, Westminster Village at Dover, and Westminster Village at Allentown) can broadcast programming to residents in their rooms or apartments.
Personal care, assisted living, and health center residents who do not attend hallway/doorway group programming are visited 2-3 times a week. Those who can self-recreate are provided the items they need to do so, while those who cannot are engaged 1 on 1 in sensory stimulation, Compassionate Touch®, music, games, and other items that may be of interest to them.
We have had ice cream carts, craft projects, hallway bingo, trivia contests, scavenger hunts, social bingo, outdoor walks, exercise, etc. The creativity of the community life team and care aides to bring fun to the residents has been amazing. Despite the limitations of social distancing, mask-wearing and infection control processes, they continue to engage residents as they would prefer.
---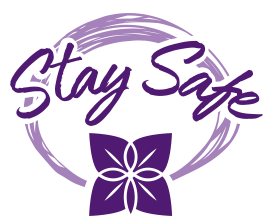 Beyond all of the aforementioned activities, we are reopening dining space and common areas for communities following the Department of Health and Department of Health and Human Services guidelines. You can find the reopening plans for each community on our COVID-19 Updates and Resources page.
As always, thank you for your support and patience as we live and learn through this national pandemic together.