Throughout the hustle and bustle of daily life, it can be challenging to take time to slow down. Add in the holidays, filled with events, shopping, visiting family, and it's easy to get bogged down. The next thing you know, it's the middle of January. Is it possible to make time slow down? If only we had an answer for that! It may not be possible to slow down time physically, but there may be a way to get the most out of our time and increase our happiness over time spent.
Philanthropy | Thrive Wellness
Today we wish you a very Happy Thanksgiving! To spread the holiday cheer, we'd like to take a moment to reflect on the Thrive Olympic Challenge and the benefits it brought to not only the residents who participated but also surrounding communities as a whole.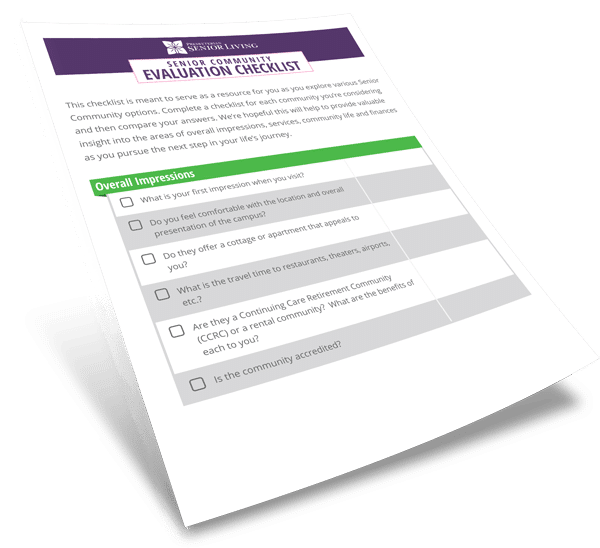 Are You Asking the Right Questions?
Subscribe to the Presbyterian Senior Living blog and receive our free Community Evaluation Checklist to ensure you ask what's most important to you.
October is national breast cancer awareness month. At PSL, we want to do our part to share information in honor of all those who have or are fighting this horrible disease. Unfortunately, "about 1 in 8 U.S. women (about 13%) will develop invasive breast cancer over the course of her lifetime. A man's lifetime risk of breast cancer is about 1 in 833," according to Breastcancer.org.
Autumn is a wonderful season of the year that brings with it many traditions and celebrations. You can see beautiful colors as the leaves change and participate in various fall events such as hayrides, apple picking, corn mazes, etc. When walking or driving through your neighborhood on a nice day, you may even smell the pleasant aromas of fresh fruit pies and baked goods filling the crisp autumn air.
2021 has been an exciting year so far for Thrive Wellness, as community committees have been forming in Presbyterian Senior Living's Continuing Care Retirement Communities. Residents have been leading the efforts, inviting team members to join these important committees that meet monthly in each community.
After three months of planning by the Thrive Wellness Community Committee (TWCC), on July 1st, well over 100 independent living residents came out for a field day and picnic. The purpose was to celebrate the kickoff of Ware's Thrive Wellness initiative.