Health & Aging | Thrive Wellness
The dog days of summer are upon us, and for many, that means spending time outside enjoying backyard BBQs and family get-togethers, pool parties, trips to the beach and outdoor sporting events. Summer is also the time of year when we are most at risk for damage to our skin and eyes from the sun's Ultraviolet rays. July is the American Academy of Ophthalmology's Ultraviolet Safety Awareness Month, and it is its mission to spread awareness about the dangers of UV rays and educate on how to protect our skin and eyes from these harmful rays.
I often tell people that my family and I are "outdoor cats" as we spend a lot of our time at home playing in the yard and gardening, and on the weekends and vacation, camping, canoeing, fishing, hiking and backpacking.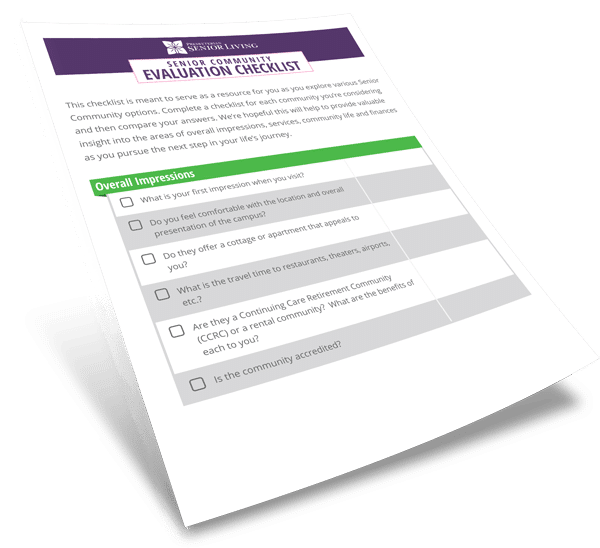 Are You Asking the Right Questions?
Subscribe to the Presbyterian Senior Living blog and receive our free Community Evaluation Checklist to ensure you ask what's most important to you.
I think any married couple would agree that our spouses exert a great deal of influence over our daily routine, habits, and behaviors. Whether it's figuring out how to divide chores or arrange schedules around work, children or leisure time, our spouses affect our behavior probably more than most of us would like to admit. Our exercise habits are no exception and a new study from researchers at Johns Hopkins University, in collaboration with other institutions, examines the effect that our spouses have on our activity levels.
When it comes to making lifestyle choices regarding staying active and fit, there are a myriad of options that can provide significant health benefits. Whether you are lifting weights or using a treadmill, performing yoga or tai chi, participating in a water aerobics class or simply walking with a friend, there are many great senior living lifestyle options for those interested in maintaining or improving their health.
For many people, the goal of exercising is often related to changing our physical appearance or improving our physical health. I can't count how many times I've heard from people that they are trying to "tone up" or shave a few inches from their midsection, lower their blood pressure, or reduce medication. While these goals are all motivational and great reasons to start exercising, rarely do I hear people saying they are exercising to improve their brain health.
When I was eleven years old my older brother brought me to a pick up game of basketball at our local community center that was held every week on Monday nights. At the time, my brother was in high school and as a lowly middle school kid it was intimidating for me to be in the same gym with the older players—a group that was comprised of high school students, recent high school and college graduates, and guys who were firmly entrenched in the "real world" with families and 40 hour-a-week jobs.