March 8 is designated as International Women's Day, which is a time to reflect on progress made, call for change, and celebrate acts of courage and determination by ordinary women who have played an extraordinary role in their countries' history.
As the Thrive Wellness launch continues, we decided to sit down and hear from residents first hand, to hear some of their thoughts and feelings about Thrive. Two resident members of the Thrive Wellness Steering Group, Fred from Ware Presbyterian Village and Barb from Westminster Woods at Huntingdon, sat down with Jim Mangol and were interviewed.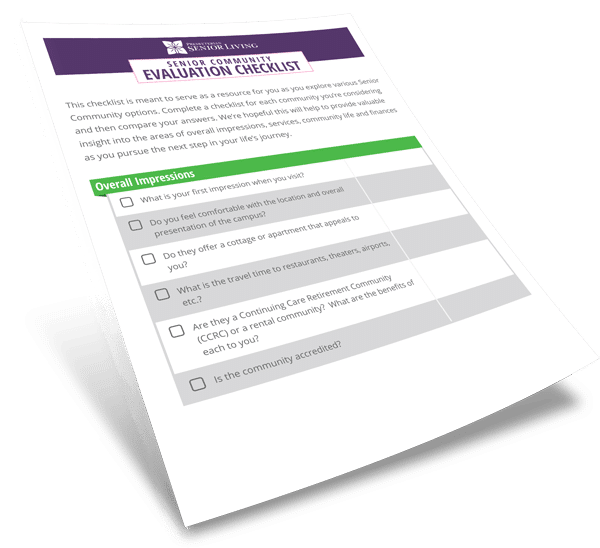 Are You Asking the Right Questions?
Subscribe to the Presbyterian Senior Living blog and receive our free Community Evaluation Checklist to ensure you ask what's most important to you.
February is American Heart Health Month, but it's important to remember the benefits of keeping your heart healthy all year long. The goal of American Heart Health Month is to save lives by preventing one million heart attacks and strokes in the U.S. by the year 2117. As you'll see, maintaining a healthy heart is incredibly important. But thankfully, it's also relatively easy.
It has been well publicized in recent years that a sedentary lifestyle can increase the likelihood of adverse medical conditions. Some of these conditions include diabetes, heart attack, certain cancers, stroke, cognitive decline, and osteoporosis.
February is Black History Month. In celebrating the contributions, the challenges, and the African American community's determination, we wanted to take this opportunity to share how this celebration began.
The Thrive Wellness Steering Group (TWSG) met on January 6th. During this meeting, the team finalized the presentation and education for PSL team members and all residents as part of the Thrive rollout. The next step was to meet with the entire Operations Leadership Team on January 15th to present Thrive Wellness. These leaders from across PSL have all been a part of the whole development process, as they have received several presentations and updates over the last year on Thrive Wellness. This presentation included providing all executive directors and campus leadership with the Thrive Wellness PowerPoint and the Thrive Wellness Community Committee charter for sharing with their resident councils and all residents. Executive Directors will make these presentations soon, along with their steering group representative.