May is Older Americans Month, a time to celebrate those who are over 65, our seniors who have contributed to their families, our communities and our country in countless ways. The celebration of this nationally recognized month was established in 1963 when only 17 million living Americans had reached their 65th birthday. About a third of older Americans lived in poverty, and there were few programs to meet their needs. Interest in older Americans and their concerns was growing. A meeting in April 1963 between President John F. Kennedy and members of the National Council of Senior Citizens led to designating May as "Senior Citizens Month," the prelude to "Older Americans Month."
April is Volunteer Appreciation Month! Every spring, PSL communities honor and celebrate the valuable contributions that volunteers provide them. Volunteers bring their talents, gifts, and skills to share and positively impact the lives of many residents. In this blog, we'll explain why volunteers are such a vital part of our organization, and hear from two avid volunteers at our communities!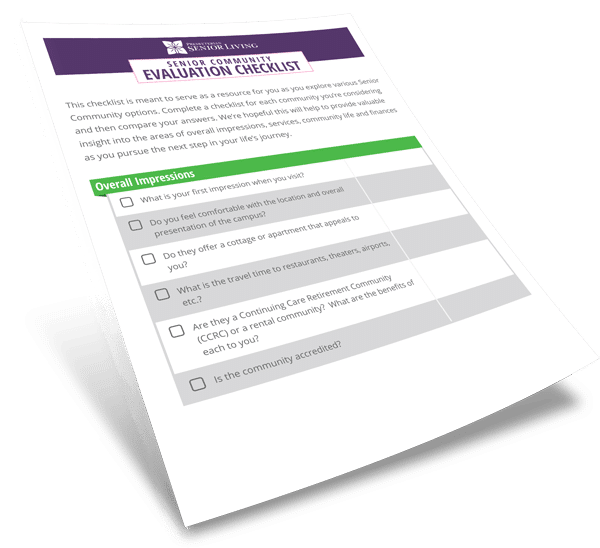 Are You Asking the Right Questions?
Subscribe to the Presbyterian Senior Living blog and receive our free Community Evaluation Checklist to ensure you ask what's most important to you.
Spring brings the promise of warmer weather, outdoor activities, chirping birds, and longer days, but with it also comes the chores you've been putting off all winter. Whether it's giving your car a deep clean or reorganizing your "junk drawer," spring is the best time to dive into your long-awaited cleaning projects and get your home feeling fresh and new. In this blog, we have compiled some helpful spring cleaning tips for seniors.
Scammers and fraud are nothing new, and unfortunately, they've been around for a long time. However, as technology gets more advanced and complicated, the scams people can come up with also get more complex. But even just a little knowledge can help you spot and outwit a scammer. Below are some of the most common scams, and what you should look out for in each of them.
Personal care homes provide seniors with professional assistance when needed and a way to enjoy an active lifestyle. Most personal care and assisted living communities offer meals, housekeeping and transportation services, assistance with the activities of daily living (ADL's), security and 24/7 on-call assistance. Personal care homes provide the opportunity for companionship for those seniors who would benefit from daily support and often host programming in a group setting to promote socialization. Many communities have been successful in adapting activities and engagement to adhere to social distancing guidelines.
As Presbyterian Senior Living continues on our journey towards belonging, we acknowledge that everyone has a bias. It is a part of who we all are. There are multiple resources available that speak to bias and help you understand bias and its role in the workplace or personal relationships.