Caregiver Support | Health & Aging
Often times, seniors need extra attention during winter because they are especially vulnerable to colder temperatures, slipping and falling on snow or becoming homebound and isolated. By implementing winter preparation strategies before snow and frigid temperatures settle in, you can keep your aging loved one safe, healthy and as independent as possible in case you cannot be there when the weather is bad.
In accordance with CDC guidance, PSL is reminding all staff and residents to consider how your holiday plans can be modified to reduce the spread of COVID-19 to keep your friends, families, and communities healthy and safe.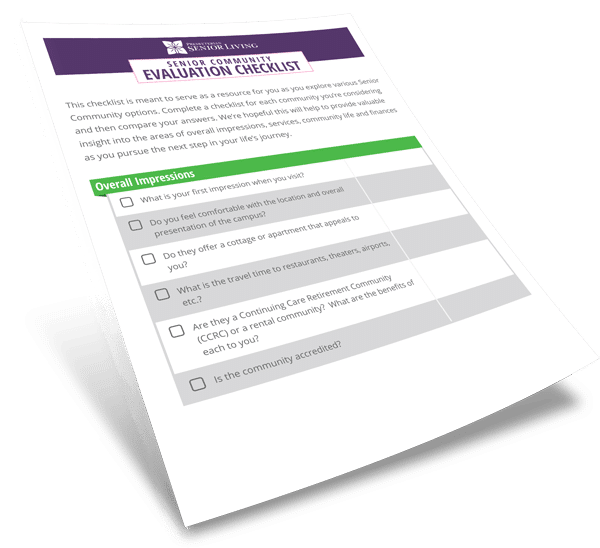 Are You Asking the Right Questions?
Subscribe to the Presbyterian Senior Living blog and receive our free Community Evaluation Checklist to ensure you ask what's most important to you.
The Thrive Wellness Steering Group met for the sixth time on November 4th and discussed the Thrive Wellness communication and messaging with the PSL marketing team as we move forward. The marketing team provided a presentation and then engaged the steering group with several questions to get their direct feedback and suggestions as the Thrive Wellness communication plan is being developed.
Today we celebrate those veterans who served our country. We owe you our thanks, but more than that, we owe you our freedom. There's no way to thank our veterans for everything they sacrificed for our freedom, but on Veterans Day, we have to try. So, thank you to all our service men and women! Below we have highlighted a few stories from veteran residents at our various communities.
Health & Aging | Housing & Development
PSL is pleased to provide Compassionate Touch® during this pandemic to reduce resident loneliness, build relationships, and enhance engagement. Compassionate Touch® is an evidence-informed approach combining skilled touch with compassionate presence to enhance quality of life.
The Thrive Wellness Steering Group met for the fifth time on October 14th. It focused on developing key principles for Thrive based on the common elements, themes, and trends highlighted in the feedback data from all residents' surveys and focus groups. As previously mentioned in this monthly blog series - the steering group studied and analyzed all resident responses. As a result of this, they have been able to "pull" key ideas, common themes, and what PSL residents are saying is most important to them in their wellness journey.