"When can I visit (my parent, my spouse, my best friend, my child) in person and hold their hand or hug them?" is a question we hear throughout the day. At this time, the answer relies on many different variables that are unfortunately out of our control. What we do know is that being able to connect with your loved one is essential to you, the resident and to us.
Technology use among seniors is continuously on the rise. According to an updated poll by the Pew Research Center, adults over the age of 65 are more digitally connected than ever before. And some groups of seniors are even as connected as their under-65 counterparts. However, even with the growing tech-savvy senior population, it can be difficult to know what technology is most useful or beneficial for seniors. The following technologies can improve a senior's life in many ways, from connecting with family to helping with cognitive function.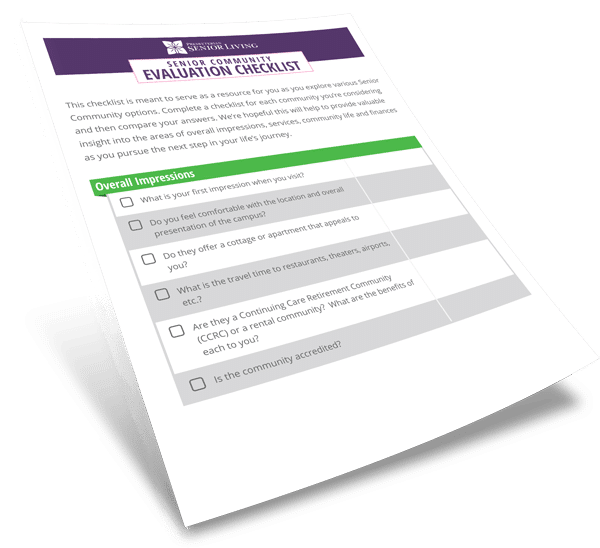 Are You Asking the Right Questions?
Subscribe to the Presbyterian Senior Living blog and receive our free Community Evaluation Checklist to ensure you ask what's most important to you.
An essential component of Thrive Wellness is residents having a voice and opportunities to provide their input as the design and development process continues this year.
Planning for retirement can't begin soon enough. In fact, any good professional financial advisor will strongly recommend having enough social security, pension and investment income to remain financially afloat for at least 20 years following retirement.
Caregiver Support | Finance & Planning
As your parents grow older you may find yourself worrying about their financial situation. Whether it's because of declining health or because their savings are running low, these can be stressful times. But they don't have to be. There are a few simple things you can do to help your parents with their finances that can put them in a more stable situation and give you peace of mind.
Caregiver Support | Personal Care/Assisted Living
Taking on the role of caregiver for a senior loved one can be challenging. You're faced with a number of new responsibilities and unfamiliar feelings, like worrying about handling the additional obligations that come with caregiving, or fear about the future. You may feel guilt for not being able to do more or even anger and resentment towards your senior loved one.