"Happy New Year!" is the standard greeting that is exchanged in the first few days of January. We all wish the best for our friends and family in the months ahead – that they will experience happiness and good health.
Of all of the virtues associated with leadership, humility is the most underappreciated. Books are written about courageous leaders throughout history. Great intellect is cited as essential for visionary leadership in uncertain times. Honesty and integrity, both fundamental to effective leadership, take center stage whenever there is an ethical collapse in the corporate, religious, and governmental arenas. Creativity and innovation are both exciting leadership characteristics that are highly desired. Stories of compassionate and sensitive leaders warm our hearts.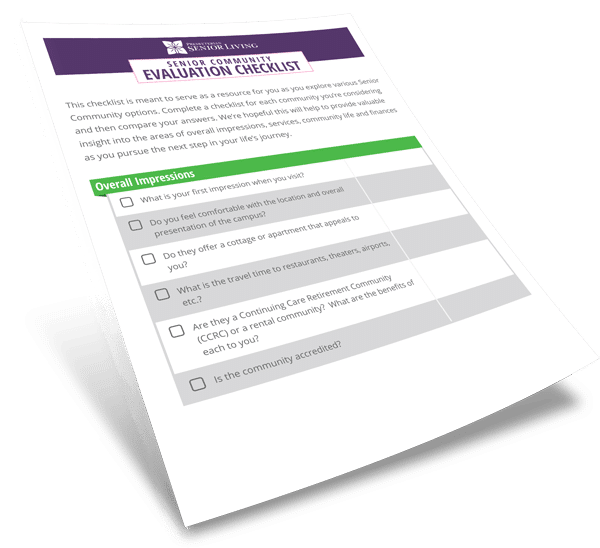 Are You Asking the Right Questions?
Subscribe to the Presbyterian Senior Living blog and receive our free Community Evaluation Checklist to ensure you ask what's most important to you.
Like many other faith based not-for-profit senior care providers, creating a sense of community is a central feature of Presbyterian Senior Living's mission. Our mission statement references creating "vibrant, compassionate and supportive communities" as the primary way we "promote wholeness of body, mind, and spirit."
As you might imagine, with the Presbyterian Senior Living Board announcement of my intended retirement in June of 2019, the subject of change has been on my mind.When I think of my history with Presbyterian Senior Living, I am immediately struck by how much things have changed over time.
One of the pillars of PSL's Leadership culture is the principle of stewardship. At first glance it appears to have a mostly financial focus – The effective application of resources to achieve the mission of the organization. This is consistent with Webster's definition of stewardship: "The conducting, supervising, or managing of something; especially: the careful and responsible management of something entrusted to one's care.
This year our family vacation took us to the Olympic National Park, an amazingly scenic place in the extreme upper northwest corner of Washington State. In addition to being an absolutely stunning place to visit, I was curious to see the town of Sequim, near Port Angeles, the birthplace of Olympic Rower Joe Rantz, the main character in classic Daniel James Brown book The Boys in the Boat (which was also the subject of a PBS special). An inspiring true story, sometimes referred to as "Chariots of Fire with oars", it chronicles the 1936 U.S. men's Olympic eight-oar rowing team.