My favorite story of the discovery of the complexity of relationships comes from an experience I had with my grandson, Ben when he was 5 years old. After spending the morning fishing together at a local farm pond he asked if we could stop at the Dairy Queen for ice cream on the way home. Being a typical over indulgent grandparent, I decided it was a great idea, even though it was less than an hour before lunch.
Integrity is the cornerstone of all human relationships. Integrity is also the central ingredient in trust, honesty, credibility, self-control, courage, and a host of other virtues that we ascribe to great leaders. The absence of integrity is a fatal leadership weakness. But if integrity is such an essential element in human relationships and the behavior and attitudes of leaders, why does it seem to be lacking in so many situations in modern life?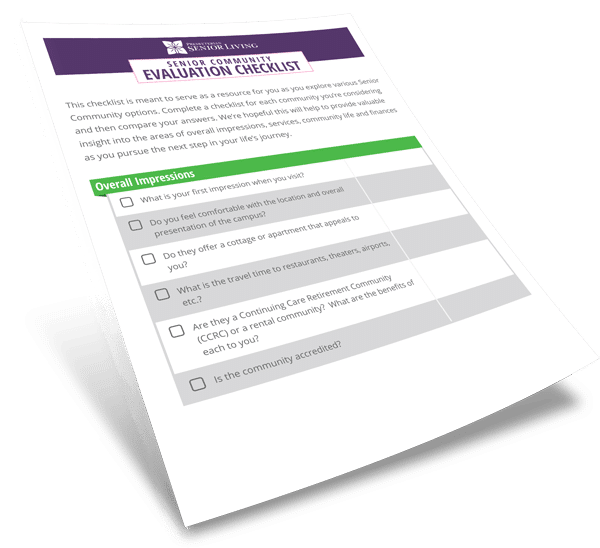 Are You Asking the Right Questions?
Subscribe to the Presbyterian Senior Living blog and receive our free Community Evaluation Checklist to ensure you ask what's most important to you.
When I was working my way through nursing school I had the opportunity to work as a 3-11 chauffer and personal assistant for Cecil Runyan, the CEO and Board Chair of Southeastern Michigan Gas Company. It was a great job for a person working their way through college as I could study in between my various duties. As an 18 year old college student I spent a great deal of time with this 80 year old, cigar chomping, benevolent autocrat. The unexpected blessing was that I had a front row seat to the business world and the philosophical musings of a truly colorful character.
At the end of the year, every business enterprise is faced with the challenge of closing its books. The normal process of getting the invoices from vendors into the accounting system is extended, and areas where expenses are incurred but not yet accounted for require accurate estimates and accruals. It is important that this process is done well, because the beginning of a new period of fiscal measurement requires a fresh start. Failure to begin with a clean slate will mean that in the next year a lot of precious time will be wasted on looking backward to explain variances caused by expenses incurred in an earlier time period when the focus and measurement of progress should be based on current activity. Holding on to leftover baggage from the past can distort the present and cripple the best intentions to move ahead.
Entire books are written about leaving a legacy behind when passing the mantle of leadership to a new generation of leaders. Some of these accounts are written by the individual leader in an effort to put a positive spin on history. From my perspective, the more accurate descriptions of a leader's legacy are written by those he or she may have worked closely with after a bit of time has elapsed. The perspective of time reveals the lasting impact of their work.
The past several months have been marked by a number of events that are accurately described as tragedies. Hurricanes in Texas, Florida and Puerto Rico, the mass shooting in Las Vegas, and the wildfires in the western states of Montana and California are combined into a string of events that is unparalleled in my memory. Some of these are called "natural disasters" while others reflect premeditated, evil intent directed toward an innocent population. Seeing each of these situations on the television screen leaves an indelible mark on each of us, especially if children or the elderly are involved.