There are many types of senior living communities, but two of the most popular are Independent Living and Continuing Care Retirement Communities (CCRC), also known as Life Plan Communities. While neither is inherently better than the other, you may find that one will be a better fit for you and your individual needs.
Affordable Senior Housing | CCRC | Personal Care/Assisted Living | Senior Apartments
Many seniors are looking for a relaxing, yet active place to retire. You want to ensure that the community and the senior living option you choose still affords you the opportunity to get out and try new things. If you're looking for a place to retire that offers enough amenities to keep you busy, the Lehigh Valley, PA area is the perfect spot.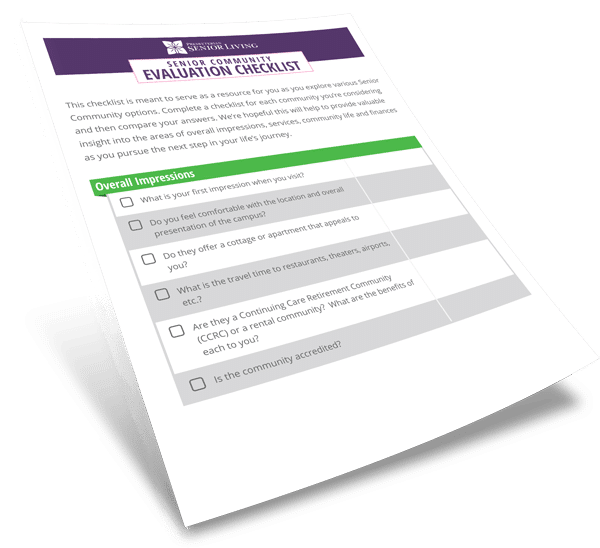 Are You Asking the Right Questions?
Subscribe to the Presbyterian Senior Living blog and receive our free Community Evaluation Checklist to ensure you ask what's most important to you.
Are you considering making the big move from your own home to a senior living community? For many seniors, big changes come with a lot of emotions. As long as you choose the right location for a move to a senior living community, your transition will be an exciting one! If you're looking for living options in the Philadelphia area, you may not be sure what location is best for your lifestyle. Check out these three reasons you should consider senior living in Northwest Philadelphia.
Have you ever found yourself sitting at home on a Saturday morning just wishing you could think of something fun and different to do for the day? If you're a senior living in Glen Arm, Maryland there may be a plethora of things to do right in your backyard that you may not even realize! From outdoor activities to wine tastings, the opportunities are endless. Glen Arm is located only a short drive from both Baltimore and Towson, which makes this an excellent place to retire.
Here at Presbyterian Senior Living, we believe in being stewards to the environment, as everything that we need for our survival and well-being depends, either directly or indirectly, on our natural environment.
When you are in pain it's safe to say you're not enjoying that part of your day and you are looking for relief. Unfortunately, preventing pain 100% of the time is not possible. The good news is that it is possible to effectively manage pain. That was the goal for staff at Presbyterian Senior Living's Windy Hill Village in Phillipsburg, PA. This goal was established after an annual survey in which some residents at Windy Hill Village reported higher than average long-term moderate to severe pain.